https://healthimpactnews.com/2020/warning-3150-injuries-in-first-week-of-illegal-experimental-covid-vaccines-among-american-healthcare-workers-pregnant-women-included/
December 20, 2020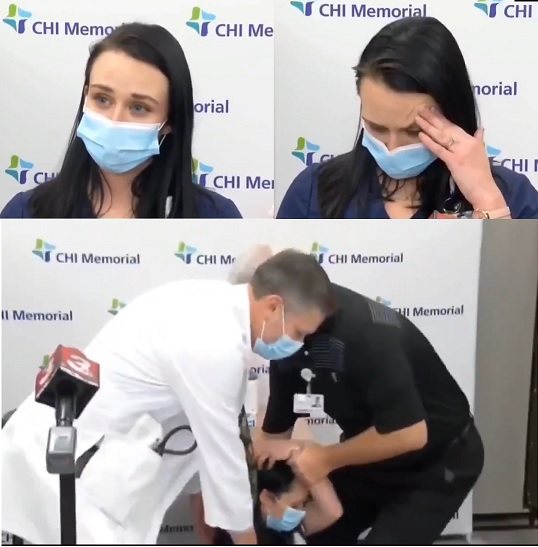 by Brian Shilhavy
Editor, Health Impact News
The first week of injecting American healthcare workers with the experimental illegal Pfizer mRNA vaccine has resulted in over 3000 of these healthcare workers reporting that they were injured to the extent that they could not continue on their jobs and perform normal activities, requiring care from a doctor or healthcare worker.
This report is directly from the CDC and was published yesterday, December 19, 2020.
If the staffing issues and overcrowding at hospitals across the U.S. were being over-exaggerated in the Pharma-controlled corporate media in recent weeks to instill fear over COVID to the public, that is all about to change as the next phase of the experimental COVID vaccine trials is being conducted on the American public, starting with healthcare workers this past week.
Because according to this CDC report, the healthcare system just lost over 3000 staff due to the experimental COVID vaccine, and not COVID itself. (See link for article)
___________________
**UPDATE, April, 2022**
According to this 2020 video and article, Dover, who promptly passed out after the shot, explains she suffers from an overactive vagal response to minor pain which can cause fainting. This article states the hospital where she works verified she is still alive and employed there. This article details how NBC reporter Brandy Zadrozny did a multiple part podcast on Tiffany Dover, claiming to be tired of all the "conspiracy theorists" and the where-abouts of Dover. While she stalked Dover's family, co-workers, and kids for weeks, no new or useful information was presented. She ends up putting someone's voice on the podcast and states it's Tiffany Dover and to just trust her.
Never once did she get Dover on camera.
Please see this article that shows the details, as well as this video exposing many more are passing out and even dying after these injections. Interspersed throughout the video are experts. One states:
"They coded the deaths.  They said, "Did the vaccine cause [death] or was there some other cause?  86% of the time, there's no other cause.  50% of the deaths occur within two days of taking the shot; 80% occur within a week."  ~ Dr McCullough
Now in March, 2022 we find that a CDC peer-reviewed study shows that COVID injection DEATHS represent 1.3% of reported side-effects and 6.6% were serious. This of course led the CDC to quietly adjust their metrics for measuring COVID risk, purposely using manipulation to make it appear the pandemic was easing up. We went from 90% of the country in high-risk red zones to overnight, having less than 30% of the country in high-risk orange zones.  The CDC constantly manipulates and withholds data.  Also remember that historically VAERS only gets about a 1% capture rate.
Between Dec. 14, 2020 and Sept. 16, 2022 the following were reported to VAERS:
1,417,661 adverse events

177,525 hospitalizations

58,024 permanent disabilities

34,107 life threatening reactions

31,071 deaths

1,168 birth defects

Numerous reports of reduced milk flow, green milk, mastitis, and thrombophlebitis in the breast in breast-feeding mothers. Nursing babies also suffering from blood clots, severely inflamed arteries, rashes, vomiting, and even

death

after mothers got the COVID shots.

More than 100 hospitalized in Ontario with heart problems after jab

More than 30,000 reports of menstrual irregularities and vaginal bleeding have been made to the UK system for collecting and monitoring adverse reactions.
CDC Whistleblower states the true number of deaths is over 50,000.
Regarding teens, those getting COVID shots are:
7.5 times more likely to die
15 times more likely to become disabled
44 times more likely to be hospitalized, compared to ALL FDA "approved" vaccines in 2021.
A lawsuit is underway.
**Moderna received 300,000 reports of side-effects after a 3-month period following the launch of its shot according to an internal report from a company that helps manage its reports. This is much higher than what the company has made public**
By comparison, during the same time period VAERS received reports of 83 deaths following flu vaccines.
And for a further perspective on the magnitude of deaths, the current death count exceeds the total number of deaths reported to VAERS for the past 30 years.
Please understand that in 1976 the Swine flu program was halted in nine states after just 3 deaths.  The entire program ended with only 20% of the population vaccinated due to reports of Guillain-Barre.
The reason it was shut down is simple: it happened before vaccine manufacturers got a free pass. 
According to 42 U.S. Code § 300aa–22, "No vaccine manufacturer shall be liable in a civil action for damages arising from a vaccine-related injury or death associated with the administration of a vaccine after October 1, 1988, if the injury or death resulted from side effects that were unavoidable even though the vaccine was properly prepared and was accompanied by proper directions and warnings." Source
In other words, vaccine manufacturers are not liable if someone has an allergic reaction, injury, or dies after being "vaccinated."
Reports to VAERS are voluntary. Historically only 1% of vaccine injuries & deaths are reported. The system has been backlogged by months possibly indicating there are so many reports coming in that that the CDC can't handle them and that the true numbers of adverse reactions are not reflecting reality.
The European Union database now shows nearly

47,000 deaths

and

4,731,833 injuries

following the injections

Go here for a breakdown of the data.
A Health Impact News subscriber in Europe ran the reports for each of the four COVID-19 shots we are including here. It is a lot of work to tabulate each reaction with injuries and fatalities, since there is no place on the EudraVigilance system that tabulates all the results.  Others from Europe have also calculated the numbers and confirmed the totals.*
Go here to listen to a member of the European Parliament speak out against these experimental injections. Each of the members gave powerful testimony for medical freedom.
I will not be reduced to a mere guinea pig by getting vaccinated with an experimental drug, and I will most assuredly not get vaccinated because my government tells me to and promises, in return, I will be granted freedom.

Let's be clear about one thing: No one grants me freedom for I am a free person. ~ Christine Anderson, German member of the European Parliament
Besides getting a free-pass for any injuries caused by the jab, a leaked Zoom call reveals a Pfizer scientist admitting that Israel is a laboratory for the Pfizer shot. Israel has an exclusive agreement to use only Pfizer injections – and by looking at the Israeli population, they can predict what will happen in the U.S. a couple of months later. An Israeli doctor states the "vaccine" is not working as 90% of hospitalizations are among the fully "vaxxed," with many seriously injured.
But it's all good for Pfizer as a leaked document reveals that Pfizer is demanding countries put up sovereign assets, bank reserves, military bases, and embassy buildings as collateral for expected lawsuits.  They also admit in black and white that safety and efficacy is UNKNOWN.
COVID Injections Produce 'Toxic' Effects, British Researchers Call On Governments To 'Halt Use Immediately'.
130 UK medical professionals accuse UK minister and government officials of causing "massive, permanent and unnecessary harm" to the country.
CVS Pharmacist Whistleblower Quits  Over Refusal to give COVID-19 Shots (Video)
The pharmacist states:
CVS was advertising for the longest time for PRN casual pharmacists. They were advertising paying $6500 a week to pharmacists who would go to nursing homes to give COVID shots.

That's $6500.00 a week, per pharmacist per neighborhood area, per community, per city, per region, per county, per state, for the whole United States.  This is mainly a result of Operation Warp Speed from last year, that gave a blank check to Big Pharma to distribute these injections that many doctors and scientists are now calling "bioweapons." 

This is where states are getting their millions of dollars to entice people to get the shots with lotteries, free beer, free marijuana, and many other incentives, along with a $BILLION dollar advertising campaign designed to use propaganda to fool the public into believing that these shots are safe and necessary to "return to normal."  Source
The CDC and FDA met in June and finally admitted that there were hundreds of reported cases of Myocarditis and pericarditis (inflammation of the heart) following mRNA shots. Prior to this meeting, the only thing they were willing to admit was that there were "rare" cases of blood clots in the brain, while choosing to ignore a myriad of other reported conditions, including many other types of blood clots.
Regarding Children
According to a FOIA request, the CDC can not provide a single confirmed COVID death in a child younger than 16.
Injecting children with this experimental gene therapy, who rarely get COVID or transmit it, have more than a 99.9% chance of surviving, and rarely get reinfected is the height of insanity. A team of Johns Hopkins researchers recently reported that when studying a group of about 48,000 children, they found zero COVID deaths among healthy kids, and a new study from Germany shows extremely few deaths among healthy children overall and ZERO deaths in 5-11 year olds, suggesting most studies are designed to distort the risk to kids. Go here to read and listen to Dr. Prasad on how many are citing research that is flawed.
Research from Seattle Children's Hospital found two key markers of heart inflammation within a week of getting a second dose of Pfizer's shot were elevated

Cardiac imaging 3-8 months after they were first examined showed persistent gadolinium enhancement (a heart abnormality).
Follow up imaging revealed abnormal global longitudinal strain (a measure of heart function) in 3/4 of patients.
A cardiologist not involved with the study states that 60-70% of teens who get myocarditis from the COVID shots may be left with a scar in their heart.
A survey among youth whose conditions were reported to the CDC at least 90 days after they first experienced symptoms found that about half were still suffering from at least one symptom, such as chest pain, and 4 in 10 were still on exercise restrictions months after experiencing the inflammation, a parallel survey with the patients' health care providers found.

Providers disclosed that cardiac imaging done months after symptoms appeared still showed abnormalities for some patients, with late gadolinium enhancement being the most frequent.
The problems are likely underreported.

A recent report by Public Health Ontario showed heart inflammation following these shots is significantly more prevalent in young people, with over 100 needing hospitalization for "vaccine"-related heart problems. 
A preprint study, showed healthy boys between ages 12-15 were 4-6 times more likely to be diagnosed with myocarditis from the COVID injections than they were to be hospitalized with COVID.  As of Nov. 24, 2021, VAERS has received 1,949 reports of myocarditis or pericarditis among people ages 30 and younger who got the jab.  There are currently 666 cases of carditis after the shots in the 12-17 age range. To date there have only been 630 deaths in 17 year olds and under who tested positive for COVID, which again, may or may not be the only cause of death.  We can truthfully say that more children have died from the injections than the disease itself, and those numbers are only going to increase.
  A respected geneticist has issued a warning for young people stating,
"the risk is higher to be vaccinated by Astra-Zeneca than not to be vaccinated. That's it. It's as clear as that."
Large U.K. study, the most comprehensive on the topic to date, backs up clinical reports that show children and teens are less likely to be hospitalized or face severe effects from the virus. The UK advisory panel does not recommend COVID injections to healthy 12-15 year olds due to the potential of heart inflammation. They also state children are at such a low risk from COVID that the jabs offer only a marginal benefit.

Finally, the WHO has seen the light and now states, "Children should not be vaccinated for the moment." The WHO truly meant "for the moment" because 48 hours later it did an about face. Seems our public health authorities flip flop more than a waffle maker.
"Breakthrough" Cases
Just today, March 29, 2022 – a 100% "vaccinated" cruise ship (Ruby Princess) was hit with a COVID outbreak. Everyone was tested and had to show proof of "vaccination" before boarding. Those testing positive who were asymptomatic or mildly symptomatic were quarantined and monitored.
While the CDC admits "vaccine" "breakthrough" cases are fully expected & that no "vaccine" is 100% effective, Bloomberg data from 35 states shows 111,748 breakthrough cases in the U.S. through the end of July.
This is 10 TIMES the CDC's count when they stopped tracking breakthrough cases (except for hospitalizations and deaths) in May when the Delta variant appeared.
A current French study shows COVID outbreak in a nursing home where most residents are vaccinated. Several developed severe COVID. Another study showed an outbreak in a Kentucky nursing facility with a 90% vaccination rate.
Further, an Israeli study shows "breakthrough" infections in the fully "vaccinated" can lead to long-haul symptoms. Nearly 20% of the fully "vaxxed" reported they had symptoms 6-weeks after diagnosis.
Israeli data also proves the advantage of natural immunity over "vaccination". It also shows the death rate is higher among the "vaccinated" and infected as well as for death and hospitalization:
Out of more than 7,700 new cases just 72 were were in people infected naturally. That's less than 1% of the new cases, which means reinfection for those with natural immunity amounts to 0.0086%.

By contrast, the vaccinated were 6.72 times more likely to get infected after the shot than after natural infection. 40% of new COVID patients were vaccinated.

The injections also waned early for the most vulnerable – the elderly.
Fully "vaxxed" on a cruise ship test positive for COVID.
This article on breakthrough cases in Massachusetts that resulted in death tries to diminish the fact that all these deaths were in fully "vaccinated" people. What the article refuses to admit is we've been told ad nauseam that these injections would prevent serious illness and death from COVID; however, the data does not support this claim.
This astutely written article methodically goes through all the numbers and proves that insidious misinformation is continually being used to promote the injections. It shows that the death rate of "vaccinated" people infected with COVID can be 3-5.7 times higher than in the unvaccinated.
President Biden went so far as to state if you get the jab you won't even get COVID.
Obviously, they are all wrong and need to state this, but they won't.
A recent study published by King's College in London, which operates the ZOE COVID Study app to monitor COVID infection and vaccination rates found an average of 15,537 new daily symptomatic cases COVID-19 among partly or fully vaccinated people in the United Kingdom—an increase of 40 percent from the previous week. Source
"Vaccinated" people account for 75% of coronavirus infections in Singapore
"Vaccinated" people account for 74% of infections in Cape Cod, Massachusetts.
Two major San Francisco hospitals reported 233 cases of COVID-19 in staff members – of which 80% were fully "vaccinated"
An expert states that 6% of all "break-through"cases result in death, and new data from the UK show:
FULLY VACCINATED PEOPLE ARE 65% MORE LIKELY TO BE HOSPITALIZED & 1540% MORE LIKELY TO DIE DUE TO COVID-19 THAN PEOPLE WHO ARE UNVACCINATED
This fact challenges manufacturer's claims that the injections prevent death from COVID. The CDC has also used a 'slight of hand' by creating new guidelines on post-vaccination viral breakthrough cases by only recording cases involving hospitalizations and deaths, leaving the majority of symptomatic breakthrough cases of the virus unreported. So again, true numbers are going to be much, much higher.
CDC investigations have also found that the amount of virus present in vaccinated people is similar to the levels found in unvaccinated people, showing vaccinated people can easily transmit the virus.
THEY ARE ALSO HIDING THE NUMBER OF FULLY "VACCINATED" WHITE HOUSE STAFFERS WHO HAVE CONTRACTED COVID.
So the "vaccinated" can transmit the virus, become ill with COVID, and even die from COVID. Explain to me how this jab does anything at all besides make you feel good.
COVID shots are Bioweapons
Numerous experts including Dr. Fleming, a Cardiologist, Nuclear Cardiologist Certified in Positron Emission Tomography (PET) with a Juris Prudence Doctor of Law, who is a Researcher, Inventor, and Author states in his book, Is COVID-19 a Bioweapon? A Scientific and and Forensic Investigation states that these injections are nothing more than the genetic code of the COVID-19 bioweapon. This book traces the publication and money trail of COVID-19; showing who is ultimately criminally responsible for the design and development of this weapon, which violates the Biological Weapons Convention (BWC) Treaty, exposing those who have committed crimes against humanity. He also states that a "good" bioweapon doesn't kill people but slowly demoralizes and harms them by causing "slow malicious diseases."
See Dr. Fleming's recent presentation which explains the difference between becoming infected with COVID vs. being infected with the "vaccine." He explains how the spike protein in the injections is fundamentally different from the spike protein obtained through infection and that the prion-like domain (PLD) on the spike protein in the injections caused 95% of humanized mice to die within two weeks of getting the COVID shot. The bioweapon is a prion, not COVID. See Fleming's website to learn more on how the virus is engineered with gain of function creating inflammo thrombotic response with mRNA reverse transcription into cell DNA with prion-like structures present in the virus spike protein.

Fleming isn't alone.
Dentists, Optometrists, Podiatrists, and Veterinarians Can Now Administer COVID-19 injections. The Prep Act protects them from lawsuits if the injected person dies or is injured.
Mounting List of Adverse Reactions & Deaths
**While there is not definitive proof some of these were vaxxed, it is not normal to suddenly drop dead, and the timeline matches injection rollout.  The COVID Blog, where I have obtained many of these deaths, is calling them #ABV or Anything But the "Vaccines".*
32 Canadian doctors fully "vaccinated" die suddenly in past 16 months.
Canadian woman drops dead after getting the booster at Saskatoon Shoppers Drug Mart.  While someone witnessed it, coroner states it's due to "natural" causes.

14-year-old soccer player in Italy died today after suffering cardiac arrest on the pitch five days prior.
51 year old dental hygienist diagnosed with stage 4 colon cancer. Also had damaged liver and was placed in hospice care.  Recently died.
Plane crash killing 11 people – most likely a "vaxxident."  All flight crews, pilots, truckers, passengers, have been required to be fully vaxxed to travel in and out of Canada since Jan. Twelve of this particular plane's final 29 flights went to Canada or originated in Canada (return trips).
Four helicopers, 7 private planes crash in 14 days – at least 20 dead.
33 year old NY fire fighter suffers "sudden medical episode". Dead hours later.
Cops, firefighers, doctors dying "unexpectedly" everywhere.
News Anchor from KJRH-TV, which required all employees to be fully "vaxxed", suffers stroke on air, spends 2 days in the hospital, and will be off air for several weeks.
Hollywood makeup artist dead 9 days after getting monkeypox vaccine.
20 year old Canadian junior hockey player collapsed and died during preseason game.
Brown University student forced to get the vax hospitalized with what appears to be myocarditis.
37 year old mountain biker died in his sleep just two days after winning Scottish championship.
Mother forced to get jab due to needing a possible C-section in hospital now has a hospitalized baby needing a brain scan, and who is constantly shaking and in pain.
43 year old doctor dead from Pfizer side effect: seizures #ABV
Woman hospitalized with joint pain, migraines, hot flashes/chills, double vision, loss of hearing,  and a fever of 102.8
Woman experiences allergic reactions causing anaphylactic shock, discolored skin, passing blood clots, excessive bleeding and hyperventilation – possibly needs her spleen removed
Formerly healthy mother has 3 visits to the ER and neurological exam for 2 days in hospital – now has uncontrollable shaking with no diagnosis or follow-up from CDC/FDA or VAERS.
Mother has red, raw, swollen body & rashes after shot.  The steroids she was given make her suicidal, aggressive, and out of character. On suicide watch.
Mother of four develops shortness of breath, heart palpitations, and 3 abnormal EKGs, but doctor blames anxiety. Finally diagnosed with pericarditus, a known side-effect.
Father lambasts pharmacist after his 7 year old son is hospitalized for myocarditis after the shot.
Once healthy mother spasms uncontrollably after J&J shot. Also has headaches, neck pain, nausea, tremors, difficulty swallowing, speaking, and can only walk with assistance.
Japanese woman loses all her hair (alopecia) within days of COVID shot.
Philippino flight attendant suffers severe asthma which led to cardiac arrest and brain hypoxia.
6 year old Mexican boy faces multiple amputations (hands, feet, and ears).
23 year old Canadian musician dead. 
Fully vaxxed 45 year old Texas history professor dead.
25 year old Wales woman suffers ruptured brain aneurysm, falls out of bed and is dead.
59 year old Argentina professor found dead in car 24 hours after 4th shot.
18 year old HS football and soccer player dead.
41 year old Australia man dies while surfing.
13 year old Zambia girl dies in her sleep.
36 year old California woman dead.
31 year old British actor dies suddenly.
14 year old Argentina girl dies of cardiac arrest at school retreat.
44 year old Italian watchmaker dies in his sleep.
24 year old Irish hurler collapses and dies during a game.
17 year old Mississippi HS football player dies during practice.
23 year old student collapses so hard her face is bruised, rushed to hospital for cardiac arrest.
Quadruple-vaxxed German Minister of Health is sick with COVID and is taking Paxlovid.
Triple-vaxxed German journalist calls unvaxxed "lazy & ignorant", then blames long COVID for deteriorating her health. #ABV
South African died of Guillain-Barre syndrome as a direct result of the J&J shot.
62 year old  Indian man dead days after taking COVID shot.
Chinese woman hospitalized five times, bedbound for 6 months, and told she will be disabled for life.
9 year old boy dead after shot.
Ukranian woman suffers with swollen legs and fluid everywhere.  Must take unpleasant cholesterol lowering drugs and inject her stomach to prevent blood clots. Biopsy shows membranous nephropathy. 
Woman gets pericarditis after shot and can no longer take care of daughter or work.
Magnetized patient after two doses of Moderna. (caused by graphene)
Woman named Flavia now confined to a wheelchair and has severe pain in legs.
Woman named Antonia suffers from an infarction due to thrombosis, double vision, and nerve damage after shot.
53 year old singer dead of cardiac arrest.
Woman suffers from dysautonomia (tremors, fainting, tics, brain fog, memory loss) as well as nausea, fatigue, pain in wrist and hand that got the shot, heart & blood pressure issues, & speech problems.
Columbian singer dead suddenly from cardiac arrest.
Pregnant woman gets jab and then finds out baby no longer has a heart beat.
88 year old NBA legend Bill Russell dead after advertising for COVID shots.
1 year old British baby suffers in utero stroke, blood clots, and has arm amputated at 10 days of age.
23 year old Connecticut woman has seizure and dies (blood clots in lungs).
21 year old U of I swimmer dead.
Two friends die three weeks apart.  One of a ruptured brain aneurysm and th eother from a "medical emergency."  Both were CA healthcare workers mandated to get the shots.
42 year old triple-vaxxed Irish law professor dead.
66 year old NY woman dead.  Autopsy showed "multisymptomatic organ failure" along with cardiac arrythmia and heart disease.
44 year old Tennessee musican and actress dead.
22 year old college student, required to take the jab, dead. (heart attack)
Canadian woman develops brain shocks, nausea, hives, pain & constant shaking.
43 year old man found at home in advanced state of decomposition due to thrombosis that caused an ischemic stroke & internal bleeding following Pfizer jab
Previously healthy man gets arm amputated, congestive heart failure, a blood clot in the heart, double pnuemonia, and he may need his legs amputated also due to blood clots.
Healthy 12 year old dead from heart attack after the injection.
Woman suffers from abnormal T2 signal, abnormal head-up tilt table test, develops autonomic dysfunction, Meniere's disease, vertigo, cervical dysfunction, 12 days after Pfizer shot.
Young girl's kidneys shut down, has internal bleeding, dead.
Young woman who had her eczema under control breaks out worse and worse with painful eczema with each COVID shot
38 year old woman's hair falls out, is hospitalized and intubated 5 times, suffers uncontrollable movement, & muscle spasms, now diagnosed with progressive neurological disease
36 year old TikTok star dead after hearing voices in her head.
33 year old man hospitalized after 2nd dose of Moderna.
23 month old Australian toddler dead (aggressive inflammation of brain & spinal cord)
27 year old resident doctor collapses and dies.
43 year old Canadian needs emergency surgery to remove 7 feet of intestines filled with blood clots.
Mainstream media veteran collapses during broadcast.
35 year old Colorado nurse dead.
14 year old Manitoba girl dead.
32 year old NY doctor dead.
41 year old Michigan entrepreneur dead.
20 year old UW-Whitewater basketball player dies while playing ball.
46 year old former "Top Chef" contestant dead of heart attack.
46 year old YouTuber & Bodybuilder dead.
51 year old Scottish woman has 8 fingers amputated, with organs shutting down due to blood clots throughout her entire body.  Toes affected too.
73 year old Austrian conductor dead after collapsing during a performance. #ABV
35 year old former Notre Dame football star dead after cardiac arrest during a run.  #ABV
50 year old NFL football star  & Super Bowl winner dead. #ABV
41 year old America's Got Talent star dead. #ABV
44 year old actress and singer dead. #ABV
American Pickers star hospitalized after sudden stroke. #ABV
Fully vaxxed and boosted 39 year old Australian MP develops post-injection kidney cancer
Woman develops seizures, uncontrollable spasms, irregular heart rate, rashes, and requires a walker.
Woman gets shot to see grandparents, but now hates herself for it due to side-effects. Couldn't see grandparents anyway due to health guidelines.
Woman gets body-wide rash and sores two days after second dose.
Young man gets arrhythmia, chest pains, rapid heartbeat, high blood pressure, fatigue, blisters, fainting and dizziness, lack of feeling in hands.
Woman forced to get jab for her job convulsed for two full days. Swollen tongue, blurry vision, metalic taste, 3-7 convulsions daily, involuntary body movements, high heart rate, can't focus.
Three Canadian doctors dead within 3 day window just days after they gave the 4th shot.
Emergency doctor dies while out running
Doctor dead after COVID jab.
Former SC star quarterback, dead at 43. #ABV
Teacher coerced to get jab to keep job got body-wide rashes & is hospitalized.
Woman has chest pains, random dizziness, cold chills, pins and needles through body, heart palpitations, fatigue, inflammation, nerve damage and shaking after shot but was told it's anxiety.
Two Ontario brothers who got the boosters together, die suddenly and unexpectedly of heart attacks
North Carolina woman (fully vaxxed) suffers post-shot blood clots, amputations, surgeries, ventilators but blames COVID.
Canadian woman gets post-injection autoimmune issues (relapse-remitting MS) & a rash but repeats the lie that it would have been worse if she wasn't "vaxxed"
25 year old Norwegian beauty entrepreneur suffers menstrual bleeding everyday for a year since her 2nd Pfizer shot.
39 year old narrowly escapes amputation after Turkish doctors pull several 4 inch long blood clots out of his leg. Got the J&J shot to travel.
Woman gets seizures & shaking after shot. Can no longer work or drive.
48 year old caregiver coerced into shot suffered metalic taste in mouth and swollen tongue.  Now has two day long seizures.  Can't work.
Formerly fit man who climbed mountains now can't ride his bike for 10 min after shot.
Air Force Major suffers heart inflammation, tinnitus, brain fog, myalgia, bruising, and other symptoms after coerced COVID shot.
At least 58 infants had life-threatening side efects after shots.
2 month old suffers cardiac arrest one hour after shot.
27 babies suffer "neuroleptic malignant syndrome" a life-threatening reaction like those who react to antipsychotic drugs which causes high fever, muscle stiffness, altered mental status, excessive sweating & saliva, wide swings in blood pressure, and dysautonomia after COVID shot.

2 year old hallucinates within 6 hours of shot.
8 year old hallucinates, feels like bugs are crawling on her, is suicidal after shot
2-3 year olds getting seizures 2-5 days after shot

8 year old Mexican boy died 5 days after the Pfizer shot
Oregon Ducks tight end died in a "tragic accident," which is happening at an unprecedented scale nowadays, but is of course, is #ABV (anything but the "vaccine")
3 minute vido from Twitter threads on separate cases of adverse reactions & death after jabs
Woman suffers from POTS, cardotidynia, neuropathy, tremors, & loss of vision after Pfizer shot
Fully "Vaxxed" popular TikTok content creator diagnosed with a seizure disorder
"Vaxxed" Guitarist found unconscious, taken to hospital where he was intubated & in a coma for 3 weeks. Blood clots shut down his kidneys & other organs leading to 8 fingers being amputated
12 more "sudden and unexpected" deaths (including a Stevens Point, Wisconsin 15 year old)
36 year old YouTuber gets post-injection ovarian cancer diagnosis
Former NFL player dead post "vax"
Netflix star suddenly dead
11 year old dies in his sleep
25 year old Irish man drops dead at store
18 year old Austrailian rugby star suddenly dead
Carlos Santa collapses on stage. Heat, dehydration, & age were blamed
54 year old magazine founder suddenly dead
56 year old baseball broadcaster drops dead in parking lot
38 year old British mom drops dead walking daughter to school.
17 year old Welsh girl from haemophagocytic lymphohistiocytosis, a disease that causes the immune system to aggressively attack healthy blood cells and tissues, which is a known adverse event to the mRNA injections.
26 year old NFL player dead post "vax". Media blames drugs despite never testing positive for banned substances.
23 year old YouTuber gets post-injection cancer, tells 11 million fans to get "vaccinated", and is dead within 10 months.
44 year old father gets post-injection brain cancer. Dead 3 weeks later.
Woman suffers body-wide tremors in ER where staff have difficulty putting in an IV.  Still suffering 4 months later.
36 year old doctor dead after shot.
55 year old actor dead after shot.
16 year old dead after shot.
European musician, Zion, dead from brain hemmorage after shot. It took a year, but Girlfriend is the 1st person awarded 120,000 pounds for damage. 
48 year old singer dead of acute heart failure caused by extensive myocardial infarction.
Former Miss Brazil dead at 27 after shot. Died from a brain hemorrhage and heart attack on operating table for a simple tonsil surgery.
Italian teacher dead after shot.
Austrailian Cooksuck food blogger, comedian, and Sydney band member dead after jab.
32 year old Canadian comedian dead. 
71 year old BBC presenter dead
15 year old suffers injection induced cardiac arrest
Woman suffers intense coughing and tremors lasting 4-5 hours after shot.
Woman hospitalized with blood clot in stomach & deep vein thrombosis after shot.
Mixed martial artist dead after massive heart attack
32 year old Pennsylvania woman develops POTS, chronic nerve, muscle, joint & jaw pain with neck stiffness
59 year old New Yorker goes to ER due to leg numbness, and now has peripheral neuropathy with tingling and rashes and bruising
43 year old Spaniard develops headache, dizziness, pain in eyes, earaches, sensitiveity to light, extreme fatigue, insomnia, head zapping, pain and numbness in legs, chest palpitations, breathlessness, pins & needles sensation, and anxiety
Santa Fe woman develops hair loss, heart palpitations, involuntary muscle movement, pain, & insomnia
48 year old Floridian gets arm pain, swelling around eyes, debilitating headache, dizziness, & fatigue, brain fog, short-term memory issues, neck pain, pins & needles sensations
37 year old Canadian woman has anaphylactic reaction within 10 min of shot, full blown hives, cough, tongue, face, and neck swelling.  Now suffers daily anaphylactic mast-cell attacks that require epinephrine
Young woman diagnosed with Lupus after shot. (Bruises all over body, joint and chest pain, sun and light sensitivity, extreme fatigue, hair loss, and various rashes)
Irish woman experiences bruising, loss of vision, pain, and facial paralysis after jab. Doctors gave her a diagnosis that is incurable & refractory. She has filed a criminal complaint & now runs a support gruop for those similarly affected.
Man now bedridden after Pfizer jab.
Vaxxed teen develops COVID, requires double leg amputation.
16 year old Czech Republic tennis player required to take the jab to play, collapses.
Young New Zealand girl hospitalized with severe pain in her head after shot.

21 year old Canadian woman in and out of hospital who can barely sit up in a chair, has severe non-stop pain, and tachycardia.
Woman diagnosed with alopecia after jab.
Woman gets joint pain, fever, inflammed head, leg weakness, couldn't lift head, can no longer walk. Prescribed anxiety & myasthenia gravis medications.
Canadian mother suffers seizures, strokes, & vasculitis requiring brain surgery
14 year old daughter of Illinois Representative dead after shot.
31 year old vaxxed WBTV worker dead.
Vaxxed Australian comedian who compared unvaxxed to feces is dead.
Teenager required to get jab to stay on sports team suffers neurological damage, faints, shakes uncontrollably, visits ER.  Uncertain future.
16 year old experiences stabbing pain under rib cage & nausea, but doctors take out a perfectly health appendex. Develops severe tics – lasting 4 hours, passes out from exhaustion.  Light and noise sensativities, memory loss, legs collapse.
Woman experiences "normal" side effects until she developed severe neck pain, and tingling and numbness on her left side & limited mobility after Pfizer jab.
38 year old Ontario woman develops blood clots, convulsions, fatigue, burning veins, pain, and neurological issues after Pfizer jab.
Indiana woman develops Guillian-Barre & paralyzed after COVID jab. In rehab now.
Brazilian girl suffers stroke after shot and is relearning how to walk after COVID shot.
German TV host pushing COVID shots collapses on camera.
Another German TV host collapses on camera.
German news report on woman requiring emergency operation due to thrombosis in the brain.
Young man from Germany hospitalized with heart muscle inflammation after shot.
German woman with heart muscle inflammation after shot.
41 year old Arkansas woman gets swollen lips, tightness in throat, rashes, body pain and an autoimmune disease after two shots of Pfizer.
Formerly healthy man forced to get jab to keep job, hospitalized for pneumonia & still suffering a year later from nausea, chronic fatigue, and headaches.  Diagnosed with gastroparesis & pitutary disorder.
Woman vaxxed at grocery store hospitalized with heart attack and blood clots in lungs.
Canadian care worker forced to get jab to keep job suffers muscle cramps, convulsions, temporary blindness, heart palpitations, shortness of breath, & depression after shot.
26 year old man suffers uncontrollable convulsions after Moderna shot.
Ontario Man suffers difficulty walking after getting AstraZeneca shot.
After promoting COVID shots via commercials, Comedian Gilbert Gottfried dead. Triple jabbed, he developed ventricular tachycardia.
Previously athletic young woman has to relearn to walk after shot.
Young woman dead after booster.
ESPN analyst not able to cover NFL draft due to blood clot.
47 year old Canadian woman goes to ER twice and struggles with severe pain.
Autopsy reveals death due to COVID shots/booster.  Daughter develops itchy rash for 3 weeks that her doctor states was due to 'vaccine' shedding from her father.
Woman gets severe swelling around eyes, & multiple rashes after jab.
8 year old gets enlarged heart, continual seizures, after Pfizer shot and sent to psych ward after being accused of doing drugs.
Ontario student dismissed by doctors after getting chest pains after Pfizer jab. Due to not getting 2nd dose, she is not allowed to enter the University campus.
38 year old "vaxxed" editor at USA Today has heart attack & is found dead on his couch.
3 more athletes collapse and die (heart attacks, brain bleeds, cardiorespiratory arrest, etc.)
59 year old banking regulator dead after Pfizer jabs.
33 year old, previously physically active, healthy woman now has involuntary muscle contractions, weakness, shaking, and can barely walk after shot.
24 year dead of sudden ruptured brain aneurysm –also had injection site, muscle, & back pain.
Woman can't feel lower part of her face including her teeth after shot. Doctors brush her off.
World champion inline skater feels faint, numbness in teeth & cheeks, headaches, tingling arms, eye-balls hurt & blurred vision, & shortness of breath. Couldn't walk or talk & had a stroke.
22 year old gets myocarditis after Pfizer shot.
8 year old develops Stevens-Johnson syndrome after Pfizer shot.
36 year old woman dead. Pathologist states COVID jab is likely the cause.
31 year old pregnant woman in 2nd trimester & her baby dead (massive brain hemorrhage).
South African media personality, Kuli Roberts, dead after Pfizer jab.
Woman develops painful body-wide rash. Can't do normal functions & hardly gets out of bed.
Thousands of women reporting mentrual side-effects (missed periods, more bleeding, pain)
26 year old dead of myocarditis. Autopsy found COVID shot a contributing factor. He had successfully recovered from reversing a brain aneurysm and had "a healthy, strong heart," based on echocardiograms conducted before his surgeries.
22 year old forced to get jab to keep job, gets blood clot which caused severe pain in arm.
Woman disabled after COVID shot.  Suffered from black outs.  Hospitalized for 4 days.
8 year old develops post-injection neurological disorder & struggles to walk and talk.
5 year old Filipino girl hospitalized and on life support less than 13 hours after shot.
54 year old triple-vaxxed Australian TV personality blames "long COVID" for her pericarditis and deteriorating health.
7 more "vaxxed" young people die suddenly and unexpectedly.
US military personnel continue to suddenly and unexpectedly die as mainstream media blame suicides. Fort Bragg has stopped releasing details of deaths.
42 year old quadruple-vaxxed Canadian ER doc sick with COVID & admits all docs in his department who got COVID were triple-vaxxed. Abruptly disappears from Twitter.
44 year old diagnosed with aggressive post-injection brain cancer.  Dead 3 weeks later.
Within minutes of shot, woman can hardly walk, suffers with weakness, tremors, headaches, and pain.
Canadian man can barely stand even a year after shot.
Frontline worker in Singapore lost feeling in her legs. Still struggling neurologically a year later.  Doctors blame her DNA.
Previously healthy man forced to get jab to keep job now has myocarditis. Has chest pain, shortness of breath, brain fog, high troponin level. Cardiologist got him a vaccine exemption but due to his company's 'vaccine' mandate he was stood down without pay.  Must keep heart rate low. He also tested positive for COVID even after shot.
Pilot forced to get jab to keep job, passes out and suffers a heart attack minutes after landing the plane.  Will probably never be able to fly again.
Previously healthy woman develops heart inflammation, numbness, seizures, and high blood pressure after Moderna shot.
23 year old drops dead at work after 2nd shot. Coroner finds an enlarged heart.
Woman gets racing heart rate, trouble breathing, & dizziness after shot. Symptoms worsened requiring a trip to the hospital.
Woman gets shot to travel but now has a painful lump on arm. Can't sleep on her side now.
Young woman has severe head pain after shot. ER gave her no treatment & said she was fine.
57 year old Scottish man has leg amputated due to blood clots after shot.  This is not rare.
Hour long video of COVID shot effects. People dropping and spasming uncontrollably.

8 minute video by The American Journal showing people with adverse neurological, pulmonary side effects, such as spasms, seizures and lung clots.
4 cases of erythema multiforme (EM) within 10 days of Pfizer shots (rashes and lesions in mouth, face, and body)
Previously healthy Danny Hubbard needs round the clock care. Can't open left eye or speak, has 24/7 muscle jerks, tremors, and seizures after jab.
Woman who used to debunk vax reactions ends up in hospital with severe heart issues
New Zealand man rushed to hospital 9 times.  Diagnosed with pericarditis after jab.
ESPN football analyst to miss NFL draft coverage due to blood clots after jab.
Triple vaxxed cricketer in coma after suffering massive hart attack after jab.
27 year old Italian pro swimmer dies suddenly and unexpectedly of a heart attack.
56 year old fully vaxxed NY cop dies after getting jaundice, liver problems including blockage and scar tissue requiring a biopsy. 
Fully vaxxed and boosted comedian dead from heart issues.
Doctor profusely vomits after COVID shot, was put on the ventilator four times due to an inability to breathe, had nausea, dizziness, heart palpitations, put on blood thinners, had abdominal distention, GI bleed, & collapsing vocal cords.
Champion shooter admitted to hospital for Guillian-Barre syndrome 10 days after shot.  She was paralyzed from head to toe, & couldn't swallow.
Fully vaxxed and boosted man now has hives and extreme skin sensitivity.
Fuly vaxxed woman taken to ER for symptoms of heart attack and blood clots.
22 year old Utah woman with 6 pre-existing conditions required to get jab for heart transplant suffers skin reaction, (painful blistering) needs oxygen to breathe.
Fully vaxxed 54 year old free-lance journalist dead. His hatred of the unvaxxed is palpable.
Son describes the Creutzfeldt-Jakob Disease (CJD like mad cow disease) that took his mom's life after her second shot. (Fixed eyes, howling, non-stop violent tremors, couldn't walk or feed self)
Canadian woman still suffers severe debilitating neurological symptoms a year after shot.
35 year old paralyzed after Pfizer shot.
NBA point guard hospitalized for blood clots. States he never recovered after the "vaccine"
19 year old UW Madison senior dead 2 months before graduating
63 year old Mayor dead after battle with Creutzfeldt-Jakob disease
88 year old "vaxxed" Alaska Congressman dead mid-flight from LA to Seattle
38 year old Fort Bragg Soldier found dead in his truck
42 year old "vaxxed" Brazilian journalist dead (heart attack)
56 year old "vaxxed" & boosted martial arts legend dead (cardiac arrest)
Former Dancing on Ice winner gets Shingles after booster shot
47 year old nurse has leg amputated following "vaccine" induced thrombosis (VITT)
36 year old bedridden for months (litany of adverse reactions) gaslit by doctors & nurses
Board of Director Chairman dead, 1 year after board mandated COVID shot
33 year old gets blood clots and 2 cardiac arrests after Pfizer
25 year old with paralysis & Henoch-Schonlein syndrome (small vessel vasculitis) after shot
24 year old nurse dead (ruptured brain aneurysm) after AstraZeneca shot
6 year old dead after 2nd Pfizer shot.
24 year old athlete suffers litany of issues, diagnosed with "Long COVID" through 'vaccination'
52 year old fashion publicist dead.
38 year old Youtube Flogger gets pulmonary embolism with blood clots in lungs
Woman felt "off" after shot, then experienced: heart rate spike, chest pain, dizziness, blurry vision, shortness of breath, high blood pressure, tremoring.
34 year old dead (acute aortic dissection) 15 days after Pfizer shot. His mother had to file a report to VAERS because the hospital didn't.
25 year old preschool teacher with fatigue, headaches, stomach camps/earaches- Dead days later.
21 year old college football player dead.
23 year old water polo player exits pool during game, collapses, dies.
51 year old swimming coach dead four months after Pfizer booster.
52 year old woman suffers tremors, neurological issues. Docs blame alcohol withdrawal.
Double-jabbed 17 year old develops fever, chest pain, and nose bleeding.
Truck slams into parked boat. Driver just "vaxxed" was unconscious behind the wheel. Two people nearly hit. (Beware of your environment)
37 year old attorney dead from cardiac arrest after COVID jab.
Man develops uncontrollable spasms after COVID shot.
Woman develops uncontrollable spasms after COVID shot.
Another woman develops uncontrollable spasms, pain, & immobilization.
Yet another woman develops violent tremors in right arm as well as brain fog.
Woman explains how after her father got jab he developed blood clots and then lung cancer. Her son, became ill after the shots.
Woman reduced to using walker, has spasms affecting her ability to do simple activities.
Woman develops facial swelling and pain.
Woman becomes paralyzed from the neck down, hours after jab. Has to use walker now.
60 year old Missouri woman dead 5 months after 2nd Pfizer jab. (Creutzfeldt-Jakob Disease a fatal degenerative brain disorder), that is a prion disease a researcher has already linked to mRNA shots and functional brain disorders (FND)
Australian man gets pericarditis after jab & misses 10 weeks of work.
45 year old German mayor dead.
Foo Fighters drummer complains of chest pains, then dies. (authorities blame drugs despite an interview that he was sober.  A forensic examination found that Mr. Hawkins' heart weighed about 600 grams, which is double the size for the average man his age, and is a main symptom of myocarditis.
Two competitive cyclists due suddenly, another suffers heart attack.
German whistleblower states 7 of 31 nursing home residents dead after forced mRNA shots.
Woman develops life-shortening autoimmune disorder (Scleroderma) after Pfizer jab.
36 year old Louisville COVID "vaccine" coordinator unexpectedly dies.
52 year old fully "vaxxed" Australian Senator dead after heart attack.
Deion Sanders develops 3 femoral blood clots, gets 2 toes amputated.
Man passes blood, vomits, is hospitalized and has multiple surgeries after jab.
Italian sports announcer suddenly develops neurological jerking and falls down.
Woman suffers with body sores, exhaustion, stage 2 liver disease, after jab.
Man gets fever, chest pains, shortness of breath & is diagnosed with pericarditis.
16-year-old Australian now crippled with convulsions, persistent nausea and visible tics. Health officials admit "there is no question Faith has had a delayed reaction to the second Pfizer vaccination".

34 year old UK mother dead from catastrophic brain bleed 9 days after shot. Doctors ruled it was "vaccine" induced thrombotic thrombocytopenia (VITT)
31 year old UK father dead from "vaccine"-induced brain hemorrhage
Formerly healthy mom gets uncontrollable tremors, can't hold a pen, drive, or walk, after jab.
Caretaker who got jab to save job now has body-wide tremors and is unable to do her job.
52 Australian cricket icon tells world to "get vaccinated & learn to live with it," suffers heart attack and dies.
78 year old man develops bullous pemphigoid and dies 3 months later.
42 year old music exec. dead suffers massive heart attack. Dead one week later.
South African man suffers brain hemorrhage and dies after promoting shots on social media.
Jackson State University football coach develops 3 femoral blood clots & has 2 toes amputated.
Young man paralyzed from the waist down 12 days after J&J shot. Neurologist concerned it's a myelinic form of post-vaccinal acute disseminated encephalomyelitis (ADEM).
Director of Mayo Clinic's Vaccine Research Group develops life-altering tinnitus.  He states millions globally could also be suffering the same fate.
"Vaxxed" & boosted couple DIE from COVID.
52 year old woman dead from "vaccine" induced thrombocytopenia (blood clots) from J&J shot.  'Powers that be' still state it's "rare."  Scroll through and determine for yourself just how rare blood clots are, with what I now label "clot-shots."
Pilot gets brain swelling, tunnel vision, & 6 spinal taps after jab.  Can never fly again.
Previously healthy woman gets lumpy facial sores, & heart palpitations.
Woman gets full-body convulsions, dizziness, blacking out, metal taste in mouth, tremors, tinnitus, & pinching in spine.
30 year old British man suffers severe spinal cord deterioration & is paralyzed from chest down 3 weeks after shot.
25 year old healthcare worker develops gruesome skin disease (erythema multiforme) after shot.
CA woman gets multi-system inflammatory syndrome 2 days after shot. Now bedridden.
8-year-old boy dead after jab. Doctor who filed the report blamed multisystem inflammatory syndrome.
Nurse and mother couldn't lift her arm for 3 days, developed fatigue, severe pain in her elbows, knees, and ankles, got shingles and sharp pains in her chest, legs, and back, blurred vision, numbness, burning sensations, involuntary muscle jerking, tingling, lost neck function, memory loss, throat tightness, and internal vibrations.
2nd year pre-med student suffers nausea & vomiting hours after Pfizer jab. Next came back pain, severe rash, blood in his urine, and a 3 month hospital stay.  He developed cataracts and tinnitus that progressed to deafness and kidney failure.
Woman with epilepsy, which was in remission, and other autoimmune disorders, gets epilepsy back after COVID shot. 
52 year old woman dead after J&J shot.  (Blood clotting disorder)
Woman loses ability to talk or walk normally, clean, cook, or hold her baby, yet doctors gaslight her and deny the link to the injections.
Man suffers near blindness & detached retina when a vein burst in his eye.  He was denied an exemption from further COVID shots.
Two teenage boys died in their sleep after 2nd Pfizer shot, confirmed by epidemiologists.
Young Irish man has pain and heart problems after COVID jab.
Mother dead of cardiac arrest after COVID jab.
Within 10 minutes of jab, woman can barely move legs and needs a walker. Nonstop headaches, nausea, and other serious problems.
Highschooler suffers fevers, vomiting, headache, stroke (brain bleed & blood clots), coma, after J&J shot.  Now wheelchair bound.
Woman goes to the ER 30 times (code stroke symptoms) after Pfizer jab. Suffering severe neurological issues.
Woman suffers severe allergy after 2nd Pfizer jab. Hives, fatigue, hair loss, no energy, and is very sick.
Minnesota Representative dead after fighting a battle with kidney cancer, was "vaccinated" and also got COVID.
39 year old Brazilian woman gets blood clots, has leg amputated 15 days after shot.
34 year old Canadian man collapses & dies in front of his children.
36 year old CA Sheriff's deputy dies unexpectedly after heart attack.
Canadian man spends 10 days in hospital to treat post mRNA shot heart attack.
Woman felt "weird" & delirious after COVID shot blacked out and began seizing, was intubated, and struggled with fear and anxiety.

Woman states her body was magnetized after 2nd COVID shot. She developed GBS, postural orthostatic tachycardia syndrome and pericarditis.  She states VAERS is a bust with only 50 employees involved.
Two Young mothers lose babies after COVID shots. One baby developed severe blood clot and brain bleeding.
Comedienne Chelsea Handler's comedy tour "Vaccinated and Horny" is cancelled due to a "health scare." She admits the first shot made her deaf in one ear and that she "feels sick."
49 year old Australian radio and TV personality gets shingles, a common and well documented adverse reaction two months after booster.
38 year old Canadian woman gets blood clots, convulsions after one shot.
25 year old doctor dead 1 month after Pfizer booster shot.
Dr. Malone states 2nd Moderna shot almost killed him.
Argentinian reporter collapses on-air.
List of world class athletes who either died or suffered severe injuries after COVID shot.
Former pro football player dead 5 days after booster shot.
Ballgirl at Australian Open collapses on court during match.
Woman develops 3 lumps on her head following first COVID shot. Doctor tells her not to take any more shots, as they will soon be halted globally due to new info not avail. to the public.
Female Olympic athlete diagnosed with pericarditis after booster shot.
Punk icon put in induced coma 1 month after COVID booster. Has bleeding in the brain.
6 year old boy from Portugal dead from cardiac arrest after first Pfizer shot.
10 year old Brazilian girl suffers cardiac arrest 12 hours after first Pfizer shot.
25 year old Greek man dead after 2nd Pfizer dose.
Hungarian Olympic Gold medalist ill after shot, dies from COVID.
Vietnamese teenager dead less than 12 hours after 2nd Pfizer dose.
Australian Mayer in and out of hospital after COVID shot, bedridden for more than 35 days.
Previously healthy young man suffers life-altering injuries after shot.
S. Korean radio host quits due to vision loss after booster shot.
Sunderland goalkeeper develops inflammation of the heart after shot.
Another four soccer matches halted due to medical emergencies in players and spectators.
49 year old New Mexico Senator, fully vaxxed & boosted suffers stroke and is hospitalized
24 year old student dead from myocarditis after 2nd Pfizer jab.
Fully "vaxxed" 31 year old fitness trainer dead.
6 year old MN boy develops myocarditis, can't eat on his own or swallow saliva.
Comedian collapses on stage immediately after bragging, "I'm vaxxed, doubled vaxxed, boosted…."  Spokesperson blames dehydration, resulting in a skull fracture. She appears on Ask Dr. Drew who told her his friend was destroyed by the booster and can't walk.

8 days after man was forced to get jab to keep job, he had a basil ganglia hemorrhagic stroke which left him unable to walk or use his left arm. Employer refuses to cover medical costs.
20 year old Florida model has both legs amputated after COVID jab
28 year old British woman gets seizures, dissociative amnesia, and episodic paralysis after Pfizer shot.
74 year old doubled vaxxed Austrailian music icon dead. Media blames COVID.
21 year old Greek soccer player collapses and dies. 
Dr. Neil Singh Dhalla dead 4 days after getting COVID booster. Autopsy said myocarditis.
Toronto father tells board members his 17 year old son, forced to get vaxxed to play hockey, developed a rash, went to the hospital – sent home with Advil.  Mom found him dead on the floor.
Healthy Louisiana man develops autoimmune disease, then dies after 2nd COVID shot. Doctors agree that the COVID "vaccine" caused an immune response that led to the development of the autoimmune disease.
Ontario woman develops POTS and dysautonomia, and is unemployed after Moderna shot.
53 year old triple vaxxed Manitoba teacher dead after "sudden intense illness." Media blame COVID.
Australian epidemiologist and WHO adviser who called unvaxxed "self-centered" got severe headaches. Diagnosed with a cancerous brain tumor.
70 year old that stated, "get the vaccine, not dewormer," dead 10 weeks after Moderna booster.
COVID jab victims talk about the health horrors they've suffered since they took COVID shots — the safety of which is actually still unknown. "Don't get this poison," ~ jab victim

Wheelchair bound Australian woman gets heart palpitations, aches, fever, chest pains, breathing difficulty. Diagnosed with pericarditis. 
Prince Edward Island woman gets Pfizer shot and within minutes has a metallic taste in her mouth, gets dizzy (fell & broke her nose), nauseous, couldn't swallow, arm numbness & pain, headaches, brain fog & spaciness, was able to get an exemption.
46 year old Canadian woman gets severe Bell's Palsy, tonsil stones, and had to get a feeding tube for 18 days in hospital & it's only getting worse.  She states, "I hear there is over 200 of us."
Mother warns others about breastfeeding after COVID shots. Son got body wide rash.
Girl shakes uncontrollably & can't hold up her head. Doctor said,"there is no point in doing any more tests."
17 year old athlete hospitalized for 9 days with clot in jugular vein and  2 brain blood clots
43 year old CBC radio host dead after post-Moderna "serious illness"
Adele concert cancelled after fully-vaxxed crew comes down with COVID.
Woman suffers heart attack, jaw pain, and seizures after COVID jab. High troponin levels.
Woman suffers powerful seizures and is in agony days after COVID shot. Even after being unconscious, doctors tell her it's all psychological.
Man records himself having seizures after developing a blood clot after getting the shot.

70 year old Florida man dead after 2nd dose.
Fully "vaccinated" Carlos Martin of the music group II Divo, dead after being hospitalized for COVID & put in an induced coma.
BBC presenter, Lisa Shaw, dead 3 weeks after shot. (coroner rules it a vaccine-related death)
Woman undergoing physical therapy for shakes and paralysis.

23 year old Australian horse stable foreman dead 7 weeks after shot.
31 year old mom suffers chest cavity inflammation.
Australian woman's baby suffers in utero brain bleed, stillborn 12 days after mom's 2nd shot.
Arizona woman now has myocarditis and vasculitis.
30 year old British woman stop menstruating for 11 months after COVID jab – told it was a "normal" side-effect. Fired for not getting 2nd shot.
12 year old hospitalized after shot, now can't walk.
12 year old dead day after COVID jab.
Military woman mandated to get COVID jabs now has severe COVID.
Australia woman says "Pfizer 'vaccine' ruined my life" after post injection Guillain-Bare and dysautonomia diagnoses.
20 year old Ghana student dead 2 days after jab.
Spanish basketball player collapses & convulses on court
49 year old Wall Street Journal & NY Times Writer dead hours after jab.
40 year old French man gets chest pain & shortness of breath after jab. Diagnosed with post-injection pericarditis.
22 year old college student suffers 94-straight days of vaginal bleeding after Moderna shot.
24 year old missionary & numerous others dead after church policy mandates jabs for those traveling outside their own country. (See link for LDS church stock holdings in J&J, Apple, Microsoft, Google, Amazon, Facebook, and more.  It owns $81 million in Pfizer.)
Covidblog receiving 2-3 emails per day reporting deaths and maimings since "vaccine" mandate went into effect in the Philippines. Their President not only mandated that all non-vaxxed people stay-at-home indefinitely, but also ordered police to arrest any non-vaxxed person who violates the order. 
American actor & comedian Bob Saget dead one month after COVID booster shot.
14 year old Israeli American girl dead from heart attack after COVID shot.
13 year old "vaxxed" N.J. boy dies of cardiac arrest.
32 year old Olympic diver dead months after jab.
28 year old Brazilian singer dead 6 weeks after jab. (pulmonary embolism)
Brazilian TV personality suffers cardiac arrest during live broadcast 1 week after COVID jab.
25 year old Guatemalan football player dead after heart attack.
Triple 'vaxxed' healthy Swiss marathon record holder & Olympic athlete gets myocarditis after booster shot. Now unable to compete.
Fully 'vaxxed' tennis star forced to quit game after chest pain & breathing difficulties.
Double 'vaxxed' healthy 23-year-old healthy scientist, & power lifter champion, died after testing positive for Covid-19.
NY Times editor dead of heart attack one day after booster shot.
Social Media Influencer gets Bell's Palsy after COVID jab.
Previously healthy Canadian girl in wheelchair after Pfizer (Electric shocks & numbness in legs)
Dancer Maxwell Harris diagnosed with pericarditis after jabs. No exercise for a year, & uncertain future.
Woman forced to get COVID jab for her job now without job – needs a walker and help to do basic personal tasks, but is not permitted an exemption for the 2nd shot nor compensation. Ignored by MSM.

Casey Hodgkinson has been wheelchair bound since first Pfizer shot. Also has body spasms.
Formerly healthy 19 year old Australian vomiting, fever, shaking, sore joints, blurred vision, headache, pain all over after 2nd Pfizer jab. D-dimer test positive, rushed to the ER – has blood clots body-wide including her lungs, chest, and lungs.  Back in ER with chest pain. 
News video shows death & adverse effects from around the world.
80 year old gets bruises, black blisters, and shakes, spending 17 days in the hospital with brain bleeding & a platelet count of zero.  Now needs 20 pills a day to survive.
Healthy 33 year old New Zealand nurse gets pericarditis after 2nd shot & is seventh person admitted that day with heart problems after shot.
Australian tennis player Pat Cash states doctors convinced his 89-year-old mother to get the COVID-19 injection which resulted in days of headaches, two strokes, and a heart attack. Nothing was reported.

Fully "vaxxed" immunocompromised woman (RA, hypothyroid, diabetes) gets COVID and dies.
120 teens hospitalized, 3 dead following Pfizer "vaccine" rollout in Vietnam.
15 year old German girl dead after massive heart attack 10 days after 2nd Pfizer shot.
Australian dad gets shot to keep job – diagnosed with pericarditis. Second shot forthcoming.
33 year old occupational therapist has heart problems & was "afraid I'm going to die." Gets zero help from doctors.
44 year old Australian truck driver suffers uncontrollable convulsions & seizures after COVID shot.
39 year old Canadian woman gets injected to travel, dead 4 days later.
Former Pro-basketball player diagnosed with pericarditis after 2nd Pfizer shot.
Formerly healthy 23 year regrets getting COVID shot. Now having seizures and is unable to walk.
List of 75 athletes who collapsed or died during sporting events from June to October 2021.
35 year old Florida man gets jabbed for job, suffers massive heart attack, dead 12 days later.
35 year old Hawaii woman diagnosed with pericarditis after Pfizer jab.
54 year old Canadian woman hospitalized with severe damage to vital organs including a swollen liver & phrenic nerve paralysis (right lung collapsed) requiring an oxygen tank.
Wisconsin news anchor posts photos of whole family getting jabbed. Husband hospitalized days later – she blames COVID.
5 year old dead, 4 days after Pfizer shot.
7 year old has stroke and brain hemorrhage after jab.
43 year old healthy father of seven gets cerebral stroke after J&J shot (can't talk or walk)
48 year old Greek politician dead (heart attack) after stating it should be mandatory & berating the unvaccinated.
15 year old dead (cardiac arrest) at her own birthday party, months after jab.
26 year old dead 12 days after Pfizer jab.
13 year old goes blind 10 days after Pfizer jab.
World's static breath-hold free diver gets myopericarditis after jab.
Professional tennis player reacts to COVID jab. Unable to exercise intensely.
Triathlete suffers shortness of breath & low back pain – pulmonary embolism after jab.
49 year old Texan who recovered from COVID required to be fully "vaxxed" to get lung transplant, DEAD after 2nd jab.
Woman states 13 year old girl's heart stopped after COVID jab required for sports.
40 year old musician dead after COVID jab.
17 year old dead after COVID jab.
15 year old dead (collapsed while running & died later that night)
14 year old collapsed and died.
28 year old actor "passes away unexpectedly".
65 year old Australian indigenous elder dead 6 days after jab in televised event.
Woman diagnosed with pericarditis & pulmonary embolism after 2nd jab. Now requires steroids, antibiotics, anti-inflammatories, nitroglycerin pills for chest pains & future pace-maker.
Woman states Pfizer jab gave her body chills, stuffy nose, cough, and excruciating pain in her bones and muscles.
Fully "vaxxed" Canadian Senator dies of COVID.
Man testifies COVID jab gave him incontinence, ED, and paralyzed him.
Man regrets getting jab due to giving him foggy brain, ear ringing, and the inability to walk.
Fully "vaxxed" man tells the unvaccinated to "stand your ground." The jab debilitated him.
Woman videos widespread neurological injection reaction.
CA actress calls religious exemptions "dumb excuses", has miscarriage 3 weeks after shot
UK man's death confirmed to be caused by shot, family still urges others to get jabbed
46 year old editor "dies suddenly" from blood clots
41 year old bodybuilder hopes Ivermectin "weeds out idiots," suffers coronary artery dissection 6 months after 2nd jab
Beloved father dies even though he was "fully vaxxed"
16 year old from Thailand dead days after 2nd shot (blood clots blocking vessels in both lungs)
ABC Australian journalist develops pericarditis after jab. (Third Australian journalist to develop the heart condition after shots)
19 year old Australian horse trainer develops blood clots and can no longer work
Grieving mother whose daughter died due to Covid shot tells Congress "#No Mandate, #Let's Go Brandon"
Pro-vaccine nurse states the Pfizer booster caused uncontrollable muscle spasms prohibiting her from doing her job and speaking normally
52 year old cardiologist & hospital director dead after belittling the unvaccinated
56 year old CA man dead 10 weeks after shot
Utah woman with significant neurological injury after AstraZeneca trial.
63 year old cancer survivor says Pfizer injection injuries 'far worse' than cancer (GBS, CIDP, horrific pain, unable to walk)
12 year old German boy dies 2 days after jab
12 year old girl from Thailand fighting for her life after jab (coronary thrombosis)
12 year old South Carolina girl hemorrhaged and is dead 22 days after jab
13 year old girl from Maryland died 15 days after jab (heart condition)
17 year old Texan girl dead 33 days after jab (hyperglycemia)
12 year old girl dead 22 days after jab (respiratory tract hemorrhage)
16 year old Minnesota girl with numerous preexisting conditions gets painful, gruesome vaginal ulcers 6 days after shot
41 year old who stated "I don't give a sh*t what happens to you," to antivaxxers dead 7 weeks after jab
20 year old Australian woman paralyzed 3 days after shot
Florida woman gets Guillain-Barre & POTS diagnoses after jab
23 year old New Zealand woman: uncontrollable convulsions, can't walk or talk days after shot
37 year old Australian Police officer gets Bill's Palsy, ruptured aneurysm and stroke 2 weeks after jab
28 year old NY bodybuilder dead 4 days after 2nd jab
Filmmaker dead of massive heart attack 2 months after 2nd jab
59 year old Tamil movie actor suffers severe heart attack and dies a day after getting jab on TV to promote "vaccine" acceptance
Actor and model dead at 40 due to massive heart attack (no definitive proof he was "vaccinated)
NBA player got blood clots after jab, but team officials told him to 'Keep Quiet'
60 year old woman dead from blood clots after jab
45 year old FBI Special Agent dead less than 24 hours after jab
56 year old Radio Host dead 2 months after jab
Tennessee man dead after jab
24 year old Italian man dead 10 days after jab
circumstantial evidence shows cardiologist was "fully vaccinated" when he crashed his private plane killing another
Three Ohio judges "die unexpectedly" in nine-day span after vaxx mandate in Cuyahoga County
48-year-old Florida event planner dead days after first mRNA injection
17-year-old Canadian girl loses use of her left leg and foot four days after second Pfizer mRNA injection
49-year-old British woman had part of her skull removed, now permanently disabled after jab
43-year-old Mississippi man has stroke, paralyzed hours after experimental J&Johnson shot
'healthy' equestrian star from Australia rushed to hospital with blood clots after jab
31 year old Greek man dies 3 weeks after J&J shot.
29 year old Tamil actress dies 3 months after shot.
14 year old boy dies from massive brain bleed hours after 2nd shot.
20 year old South Korean student dies after Moderna shot. Investigation shows the jab is to blame.
13 year old girl dies less than 24 hours after 2nd Pfizer jab.
22 year old man from Thailand dies 2 days after AstraZeneca jab.
13 year old boy dies 6 weeks after Pfizer jab. Investigation started.
Fully "vaccinated" Colin Powel dies of COVID complications
21 year old fully "vaccinated" student dies of COVID. Mainstream media calls it a "breakthrough" death.
First nurse to get the COVID shot in Karl Bremer Hospital in South Africa died after contracting COVID.
British woman develops gruesome skin disorder after 2nd shot.
Washington state woman dies of blood-clotting syndrome after J&J shot.
Healthy young mom dies of "vaccine" induced blood clot. Twitter censors her obituary.
Denver policeman crippled after mandatory jab to keep job.
Moving video of a multitude of damaged people after jabs. Heartbreaking.
Horribly deformed baby born to mother who got COVID shot. I believe the baby died based upon the usage of past tense in the FB post.
FL firefighters receiving excessive amount of 911 calls from COVID "Vaccine" reactions. Transporting more "vaccinated" with adverse reactions or COVID than unvaccinated. Hospital in denial.
Former 2017 Davis Cup winner (tennis) announced he will no longer compete this year due to the crippling effects of the COVID shot. (violent near-paralyzing pains across his body)
19 year old Ukrainian student gets COVID jab behind his parents' back, dead 7 hours later.
64 year old physician "horribly ill" and "incapacitated" after getting shot (severe paresthesias, chest tightness, tremor, dizziness, headaches)
16 year old Brazilian girl develops blood clots, dead 8 days after jab.
49 year old Italian woman dead 12 hours after jab.
67 year old that said,"damn the unvaccinated," dead 12 days after jabs.
25 year old football player mandated to get the jab collapsed after game, dead shortly after.
Woman diagnosed with acute disseminated encephalomyelitis (ADEM) after COVID jab. MRI showed widespread demyelinating lesions.
Baseball pitcher blames COVID shot for arthritis in elbow.
25 year old Italian actress develops pericarditis days after 2nd shot, but would still do it again.
16 year old Italian girl dead less than 24 hours after 2nd shot.
55 year old oil worker diagnosed with dementia 10 days after 2nd shot.
40 year old Florida woman suffers skin disorder after 2nd shot.
Virginia woman suffers anaphylactic shock 8 hours after 1st shot.
33 year old California woman paralyzed after J & J shot.
23 year old Floridian suffers 9 seizures in 24 hours, severe neurological trauma, hospitalized 5 times in 4 weeks since jab.
5th year medical student says, "this vaccine wants to take my life." Dead 14 days later.
Healthy 77 year old dead 8 days after 3rd booster.
22 year old Iowa doctorate student hospitalized with myocarditis after coerced jab. Future uncertain.
31 year old pregnant woman dead 10 days after jab.
Fully "vaccinated" former boxing champion hospitalized with COVID.
20 year old British woman with stabbing & shooting pains, unable to walk after 2nd jab.
Fully "vaxxed" Floridian with leukemia dies of COVID.
57 year old W. Virginia woman dead after jab.
33 year old NFL defensive end diagnosed with blood clots and has spleen removed after jab. Has to miss entire football season.
61 year old Canadian woman gets painful skin disease after jab. Was told "don't talk to media" by health 'authorities'.
Australian journalist hospitalized with pericarditis 25 days after Pfizer jab.
17 year old Welsh girl hospitalized with blood clots in lungs after shot.
64 year old woman develops Creutzfeld-Jakob Disease (human form of Mad Cow disease) after jab, dead 3 months after second dose.
Despite taking every precaution, fully "vaccinated" Southwest Airlines flight attendant dies of COVID.
16 year old Tennessean collapses at school, dies days later after jab.
38 year old Italian volleyball player develops pericarditis after second jab.
31 Ohio woman talked into getting jab by doctor develops blood clots, myocarditis 3 days later
44 year old BBC Radio Host dead from COVID jab complications (thrombotic thrombocytopenia)
Chinese man dead after Pfizer shots. (couldn't walk 2 weeks after jab, then diagnosed with boblet cell adenocarcinoma, a tumor forming cancer before succumbing)
41 year old wheelchair bound after jab. (They are threatening her doctor who firmly blames the shots & is treating her with HCQ and Ivermectin, which she states are helping a bit.)
Go here for many more examples of damage and death after the Pfizer jab.
49 year old woman develops life-threatening skin-rotting disorder 1 week after jab.
41 year old Washington man dead 43 days after shots.
34 year old Massachusetts woman has seizure while driving 5 days after shot. (Continues to suffer from seizures)
23 year old soccer player suffers massive "brain bleed" – dead 4 days after COVID shot. Mainstream media covers up the injection connection.
42 year old New Zealand hip hop artist mocks lockdown protesters – dead 28 days after jab.
33 year old New Zealand actor dead 15 days after jab.
18 year old Portuguese college student dead 5 days after COVID jab. Police blame alcohol.
27 year old Australian reporter hospitalized with pericarditis 10 days after shots. (Says she'd get shots again)
Australian MP gets Bell's Palsy after shot – still gets 2nd shot.
Brunei woman suffers convulsions & partial paralysis after 2nd shot. (Docs say it's hormones).
LA pediatric dentist has still born baby 12 weeks after jab.
39 year old French man dead 40 hours after 2nd shot.
63 year old CEO taunts unvaccinated before dying 18 months after jab.
Fully COVID "Vaccinated" man dies of COVID. (Mostly stayed indoors and wore a mask) But with religious fervor the doctor believes he would have suffered more if he hadn't been vaccinated. Last time I checked, it doesn't get much worse than death.
40 year old Ohio woman loses friends, gains enemies for chronicling her spiraling health after 2nd shot.
Actress Sally Kirkland, healthy before the injections, remains in constant pain 5 months after getting the jabs. She states, "Like I know my own name, I would advise you not to do the vaccine."
San Antonio couple both dead after COVID vax. Daughter states she believes the shot reduced their suffering before they died after getting it. Texas claims 43 breakthrough deaths. (deaths from COVID in fully "vaccinated" people)
14 year old boy diagnosed with heart inflammation & "post vaccine myocarditis" after getting COVID jab. Mother states CDC doesn't explain that "mild myocarditis" means hospital care and indefinite follow-up care.
Former Marine health care worker required to get COVID jab for employment, dead after 2nd dose.
23 year old woman dead from blood clot after COVID jab.
French man dead after COVID jab.
Women experiencing enlarged breast lymph nodes after COVID jab.
25 year old Ohio man develops myocarditis & is hospitalized. Doctors initially refused to connect the dots. Finally a doctor stated, "Everybody has allergic reactions and your son just had an allergic reaction to the vaccine." Nobody reported it to VAERS even though health care providers are legally required to.
Woman develops tiny blood spots all over her body, muscle aches & fatigue after 2nd shot. She needed 2 platelet transfusions, and IVIG. Diagnosed with immune thrombocytopenia (ITP), the authors decided ITP is a severe adverse effect of the Pfizer shot.
22 year old French man dead 9 hours after first shot.
64 year old retired journalist dead 12 weeks after second shot.
49 year old Italian woman in intensive care for 3 weeks, dead four weeks after first shot.
65 year old "Braveheart" actor dead six days after booster shot.
Comedian states severe symptoms never went away after COVID shots. (fevers, body aches, joint pain, exhaustion and a stiff neck) He was also told by a doctor he has brain inflammation likely caused by the spike protein in the Moderna vaccine.
80 fully "vaccinated' Mass. residents have died from COVID-19 as breakthrough cases surpass 5,000.
27 fully "vaccinated" people have died from COVID in Tennessee, health department says.
Fully "vaccinated" New Orleans woman dies of COVID.
151 dead, 563 hospitalized in fully "vaccinated" people in Illinois.
33 year old NY man dead after cursing unvaccinated as 'idiots and morons'.
35 year old South African digital media strategist dead 3 days after first shot.
42 year old British soccer coach develops blood clots and permanent heart damage after first shot.
40 year old Australian woman has 3 brain surgeries, 5 seizures, & stroke after first shot.
Medical assistant loses hands and legs after 2nd shot. (She is suffering excruciating pain)
30 year old Carolina woman develops dystonia (severe convulsions) after shot.
Colorado woman gets Bell's Palsy, inability to swallow, neck pain, dystonia (uncontrollable convulsions).
39 year old Canadian man gets dystonia & seizures after shot. (Trouble walking & breathing) Ivermectin is keeping him functional.
18 year old Italian volleyball player dead 27 days after first shot.
3 teenagers suddenly collapse and die after shots.
49 fully "vaccinated" people in N.J. have died of COVID.
Man suffers two contralateral Bell's palsy episodes after each injection.
Preschool teacher from Utah was has developed life-altering injuries after participating in AstraZeneca's "vaccine" clinical trial. She has accumulated more than $250,000 in medical bills
Texas realtor diagnosed with GBS after J&J injection. Has to walk with a walker now.
26 year old British woman suffers 14 anaphylactic shocks in month since second shot.
57 year old British man diagnosed with GBS and is paralyzed after shot.
21 year old CA student's tremors and random paralysis progressively worsening after 2nd shot.
20 year old Pre-med student dead after shot.
45 year old gets mandatory injection to continue working at Johns Hopkins University. Dead 6 days later.
Air Force Veteran dead after shot.
26 year old man dead two weeks after first dose of Moderna.
Ohio man dead after seizures in ICU from COVID injection.
35 year old journalist dead 14 weeks after shot.
64 year old Canadian man suffers sudden aortic dissection, dead 30 days after shot.
Two Jamaican cricket players collapse on field 3 days after shot.
18 year old Italian girl dead after shots. Neurosurgeon performing her autopsy states , "I had never seen a brain reduced in those conditions by a thrombosis so extensive and so serious."
63 year old Oregon woman afraid she'll die any day after the J & J shot. (She's coughing up chunks of blood, had a fever, cramps in her legs, and is severely fatigued. An ER visit revealed blood clots in her brain, lungs, stomach, and throat.)
UK woman unable to speak after 2nd AstraZeneca shot.
6-year old son warns dad "don't get the J&J shot daddy," dead 9 weeks later.
Pakistani police superintendent drops dead minutes after shot.
1st autopsy of vaccinated patient shows viral RNA in nearly all organs examined.
68 year old woman dead after shot.
Young man suffers severe pain after shot. Cardiologist states his heart looks like a 60-year old's despite being very health conscious.
Mother and son both hospitalized after COVID shots for blood clots.
Curling coach suffers heart attack and dies after shot.
Mother of 3 dies after COVID injection causes blood clots in brain and stroke.
BBC star, model and mother died 1 week after Covid vaccine cause severe stomach cramps, blood clots and bleeding.
59 year old Warrington, UK man died from blood clots after COVID jab.
Hundreds of "vaccinated" Indonesian health workers get COVID-19, dozens in hospital
500 spontaneous abortions after COVID shots.
Bartender stating, "Shut the hell up and get your vaccine" dead 5 weeks after COVID shots.
UK expert warns of sterility after the injections, while MSM continues to deny it. We were warned last year.
56 year old Greek woman dead within minutes after 2nd shot.
4 British Airways Pilots DEAD after shots. Airlines cancel thousands of flights due to "staffing shortages"
Airline companies in Spain and Russia: COVID "vaccinated" people should not fly due to risk of blood clots.
12 Belgium retirement home residents DEAD who were fully-"vaccinated".
50 year old California teacher dead after 2nd shot.
13 year old Michigan boy develops myocarditis and dies 3 days after 2nd shot.
Death rate & hospitalizations from COVID Delta variant 6 times higher for "vaccinated" than unvaccinated.
19 year old requires heart transplant then dies after Covid jab.
53 year old BBC sports reporter develops brain tumor and is dead 11 weeks after shot.
46-year-old British software developer who mocks "anti-vaxxers," diagnosed with Guillain-Barré Syndrome 3 weeks after shot
55-year-old Filipino actress dead 3 weeks after second shot
186 "break through" cases resulting in 29 hospitalizations and 2 deaths in Las Vegas.
California mother has seizure and cardiac arrest and a week in ICU after COVID shot. She died.
Another California mother is in a coma and has been unresponsive since May 21 after 2nd COVID shot.
61 year old Maryland woman dead within 24 hours after shot.
39 year old woman dead 12 hours after shot. The shot was a "prerequisite" to donating an organ to her husband.
35 year old woman developed blood clot issues requiring brain surgery after COVID shot. She died from a bleed in the brain while recovering from surgery.
32 year old man has major stroke and then died after shot.
54 year old Australian filmmaker dead 2 months after jab.
Swollen joints, still limping 3 weeks after COVID shot.
12 DEAD, Four Miscarriages 1 Week Following COVID-19 Injections in Hong Kong.
CDC vaccine tracking system developer dead two months after shot.
52 year old Atlanta news anchor develops 2 brain tumors 12 days after jab.
52 year old Canadian woman develops blood clots in brain – dead 12 days after shot.
50 year old Canadian woman dead 7 days after shot.
Toronto actress develops Bell's Palsy after shot.
44 year old BBC presenter dies of blood clots after injection.
NJ bishop hospitalized for blood clots after COVID jab.
Another woman stuck with medical bills (over $1 million) after blood clots caused most of her organs to shut down, the need to remove most of her small intestine necessitating a permanent feeding tube, and physical therapy to relearn how to walk and use a fork.
18 Connecticut teens hospitalized with heart problems after injection. Watch the news story.
Comic book artist dies after developing blood clots after Moderna injection.
Young mother dies nine days after getting AstraZeneca injection.
Former Malaysian Olympic archer dies 10 days after injection (blocked coronary artery)
78-year-old Bollywood music composer dead six days after second AstraZeneca shot
62 year old New Jersey woman suffers blood clots, collapsed lung 10 days after J&J shot
74 year old Australian man dead after doctors refuse to treat blood clots after COVID njections.
58 year old British man has leg amputated after infection following AstraZeneca shot.
Chicago man gets COVID jab, 5 days later has heart attack, dies 12 days later.
Young mom suffers brain hemorrhage after J&J shot.
32 year old single mom intubated after Pfizer shot. Now in physical therapy to learn to walk & talk again. She owes $160K in medical bills.
Musician Eric Clapton regrets getting COVID jabs that caused his hands and feet to be "useless" for 2 weeks causing him to fear he would never play music again.
75 year old Madison, WI woman dead after injections.
Former head of Indian Medical Association dies from COVID after being fully "vaccinated."
British model in Cypress dies after shot (blood clot). Cyprus health authorities now investigating see if the "serious thrombotic episode" was linked to the AstraZeneca jab.
43 year old Canadian man has 7 feet of intestines removed after vaccine-induced blood clots. He states he wasn't adequately warned of vaccine risks. A University of Toronto professor, epidemiologist, and infectious disease specialist believes that Canada may have initially missed signals that COVID injections given to older people caused strokes.
65 year old Air Force Veteran dies after jab.
Syracuse teachers union president dead 10 weeks after second shot. (This and a few other "near-term" deaths have occurred. Dr. Tenpenny states the real damage begins from day 42 on after the injections are given, specifically with ADE.)
37 year old ballerina dead 2 weeks after shots.
32 year old German psychologist dead 12 days after shots.
Australian student nurse gets blot clots (TTS) after COVID jab. It took 5 trips to the hospital before a correct diagnosis.
Pregnant Brazilian woman dies after the jab, 2 Brazilian states suspend shots for pregnant women.
20 of 26 "fully vaccinated" Kentucky nursing home residents positive for COVID.
Nearly 20,000 'eye disorders' including blindness reported in Europe, following injections.
Yale public health professor states 60% of new COVID-19 cases have received the injections.
Two young mothers paralyzed after injections.
Third-grade teacher develops GBS after J&J shots. (developed numbness and couldn't walk)
Canadian woman dead after shots (blood clots that caused a stroke).
After mocking "anti-vaxxers," another man dead 7 days after getting the J&J shot.
Healthy 17 year old athlete develops blood clots in and outside his brain after shots. (Heartbreaking video)
16-year old Wisconsin teen dead after injections.
Health care workers no longer able to work speak out about tremors, memory loss, and "full-body convulsions" after shots.
Ohio doctor dead after mockingly writing his own obituary.
The Israeli People`s Committee, an independent organization relying on publicly available information, states that risk of death is greater after the second injection with a high rate of cardiac related injuries. They also ask that the radical idea of vaccinating children be completely rejected. "Never has a vaccine injured so many! "
"Doctors for COVID Ethics" recently gave evidence regarding risks. The science shows these injections are dangerous, unnecessary, and lack efficacy.
World renown vaccine specialist, Geert Vanden Bossche, states mass vaccination drives viral immune escape, and countries undertaking mass vaccination, (UK, Israel, USA), will initially experience a drop in infectivity rates, but they will inevitably suffer a steep incline in severe COVID cases in the weeks to come.
Increasing "vaxxidents" are occurring. In once such case, a driver who had just received his second COVID-19 injection, "went blank and started holding his chest." (Thankfully his wife steered the car to safety.)
Women getting shots, and women NOT getting the shots but are around those who have, are reporting severe cramping, heavy bleeding for days on end, post-menopausal women suddenly menstruating, and irregular periods. (Women are up to 4 times more likely to experience adverse reactions to these injections than men.) More reports also coming in on miscarriages, hemorrhaging, passing clots, delayed cycles, and abnormal pain, and milk supply stops after nursing mothers get injection.
UK miscarriages, in just 6 weeks, skyrocket 366% after shot.
We've been warned about self-replicating "vaccines" that spread like a disease. The link also explains "virally spread immunocontraception." i.e. sterility. Ten institutions, primarily in the U.S. but also Europe and Australia are currently doing significant work in the area. This research has been bankrolled by the National Science Foundation, the National Institutes of Health, and the Department of Health and Human Services. Private organizations like the Gates Foundation and academic institutions have also financed projects. Recently, the Defense Advanced Research Projects Agency (DARPA) has gotten involved in the research. The concern is dual-use – that the same research that is used to develop self-spreading vaccines to prevent disease, could also be used to deliberately cause harm, and which could be uncontrollable and irreversible.
America's Frontline Doctors state the spike proteins in these injections are pathogenic ("disease causing") just like the full virus, and that a person's body is being suddenly flooded with 13 trillion of particles which bind more tightly than the fully intact virus. Because of the biomimicry (similarity) on the spike protein, shedding appears to be causing wide variety of autoimmune disease (where the body attacks its own tissue) in some persons.
5 doctors state the injections are bioweapons. (This was never a viral illness but blood poisoning due to a spike protein. The injections are NOT "vaccines" but cause YOU to manufacture spike proteins – perhaps indefinitely – the very thing causing illness. Those getting the shots are now transmitting this spike protein to those who are foregoing the shots. Those getting the shots should be quarantined.
Coroner's office investigating death of CA woman who died several days after 2nd injection.
Despite being fully "vaccinated",

58 year old Israeli fashion icon

dead

.

(European new sources are blaming the "South African variant of COVID-19″).
54 year old Canadian woman, 48 year old Australian woman, 27 year old British engineer, 35 year old Ionia Co. woman, ALL DEAD after injections. Nearly all developed blood clots.
Judith Reisman, adversary of the porn industry dies 10 days after shot.
A 30 year old Bay Area man's case is the first instance of U.S. public health officials acknowledging "vaccine-induced thrombotic thrombocytopenia syndrome". (After J&J injection)
VAERS data show reports of blood clotting disorders after all three EUA "vaccines."
Leaked study states Pfizer injection may cause heart inflammation in those under age 30.
Dozens in Central Florida contract COVID after getting shots.
246 fully "vaccinated" Michigan residents get COVID, 3 dead.
British Columbian doctor defies gag order and states shots killed and permanently disabled Indigenous people in his community. (The doctor states this method of intimidation is being used against other doctors who have become too afraid to speak out, because the College of Physicians and Surgeons has great authority to shut down doctors' careers, or heavily fine them – just like with those who dare to treat Lyme/MSIDS.)
Indian actor turned "health ambassador" dies 2 days after shot. (Last month, an analysis of 79 Indians who died after a dose of a COVID-19 vaccine found that around half suffered strokes or heart attacks.)
44-year old pastor dead after second shot.
In California, recalled dictator Gavin Newsom, is partnering with two hundred "faith based" organizations to set up "pop up" vaccine clinics. What were once reverent churches, are now being converted to government and vaccine worship centers.
Pro-"vaccine" cybersecurity expert dead after shot.
Study states Pfizer's COVID injection may trigger Herpes virus that causes Shingles. Two centers in Israel have recorded six such cases.
20-year old Scottish man dead 12 hours after shot. (Whole body pain, high temperature, suffered a seizure where foam was coming out of his mouth)
21 year old dead 24 hours after shot.
33 year old hospitalized for 'mysterious' paralysis' 12 hours after shot.
Healthy 43 year old suffers stroke from blood clot hours after shot.
30 year old actress dead.
18-year-old has undergone three brain surgeries related to dangerous blood clots.
61-year-old Darlene Blackwell died two days after shot. (massive bleeding in her brain)
MSNBC legal analyst dead one month after shot.
British educator dead 6 weeks after shot.
27 year old Chicago resident doctor dead 3 months after jab.
24 year old Texas nurse has seizures, brain aneurysm two hours after shot.
67 year old woman from Malta dead 3 weeks after shot.
82 year old Australian woman dead 3 hours after shot.
Medicare/Medicaid program giving Texas doctors DOUBLE the normal reimbursement per injection. Shots are "free" to the patients.
Israeli woman dead after shot. (Started with

muscle pains, discomfort, trouble breathing and chest pains. Diagnosed

with myocarditis)
Texas teen diagnosed with Guillain-Barre weeks after injection.
Two more Italian teachers dead. (both were blood clotting issues)
Radiologists are finding a side effect of the injection looks like breast cancer. (For more on harm caused by mammograms.)
Wisconsin music teacher dead 4 days after injection.
65 year old Greek woman dead 30 minutes after shot.
German whistleblower says 7 of 31 residents immediately died after forced injections.
78 year old woman immediately complains of discomfort, passes out in observation room, and then dies.
Female military member dies 2 days after shot.
College professor dead 48 hours after J & J shot. (stroke)
37 year old Italian professor dead. (cerebral hemorrhage)
31 year old Italian professor dead 3 weeks after shot.
32 year old stagehand dead 24 hours after shot. His parents issue a warning.
Kansas City Council Woman dead hours after shot. (allergic reaction)
Two Australian seniors die after shot. Both were reportedly in good health prior to the injections, but both developed pneumonia after the shots and died soon after.
COVID is spiking in states with the highest vaccination rates.
Serious illness in Denmark, including death after jab. (Blood clots and cerebral hemorrhage)
Nine Irish nursing home residents die of COVID despite being mRNA "vaccinated. The Irish Health Products Regulatory Authority said it has received reports of 17 elderly people dying after receiving experimental shots as of early march.
Manslaughter investigation into whether injection caused the death of Italian teacher hours after shot.
Australian sailors are suffering widespread adverse reactions, but only sanitized media news reports of "mild side effects" are to be found despite the fact the ship's crew needed hospitalization. Tellingly, the government is quietly "walking away" from mass vaccination plans.
Pregnant Pediatric nurse delivers stillborn baby eight days after second injection. (Details in link)
Surgical Tech dies 4 days after the jab.
Twenty nations halt COVID shot after reports of blood clots. (But we are told benefits outweigh risks) Chief physician and professor Pål Andre Holme has come forward stating the injection triggered a powerful immune response caused by specific antibodies against blood platelets.
UK changes stance on pregnant women getting the injection – causing at least 20 miscarriages so far.
Australian Health Minister admitted to hospital after injection.
South Korea reports 7 deaths and 2,800 adverse reactions.
Austria's Federal Office for Safety in Health Care (BASG) is suspending administration of Oxford/AstraZeneca viral vector "vaccines" after one death and another severe adverse effect.
46 Spanish nursing home residents in Andalusia, 22 in Chiclani, and another nine in Lagartera die from the shot and all experience a COVID outbreak after the injection. Health officials have halted the second shot due to the deaths.
32 dead

and

137 infected

in NY nursing home after shot.

"The outbreak started at the same time the facility started to administer the COVID-19 vaccine."6
28 and more die in Israel.
23 from Norway die after shot. The agency noted that the vaccine may indeed have caused side effects that led to "a more serious course of existing diseases in older people."
22 elderly die in the Netherlands within a week of the injection and many become infected.
22UK nursing home residents died after shot. (COVID is blamed but deaths occurred after the injection. Many are testing positive after the injection.)
12 die in Wale's nursing home, while 36 residents and 54 staff are now testing positive for COVID.
9 die in India and 16 are hospitalized.
8 German nursing home residents die after being forcibly injected. "We're dealing with homicide, maybe even murder." – Attorney Reiner Fuellmich Source According to the Defender, 25% died immediately after the injection and 36% were severely injured within a short time.
Four Italian healthcare workers die.
Two nuns die in Kentucky and 28 out of 35 test positive after the injection.
Two die in South Dakota.
Polish doctor mocks "anti-vaxxers", dies days after the shot.
Wisconsin healthcare worker dies days after injection.
Dr. Sara Beltran Ponce of Milwaukee, WI miscarries 3 days after injection.
So many French health workers suffered from side-effects that the French vaccination task force recommended staggering the vaccination schedule for people working in the same care unit.
Dozens of Italian teachers too ill to teach after the jab.
Entire Ohio School District cancels class due to vast injection reactions.
39 year old dies within hours of shot.
73 year old Iowan dead hours after shot.
70 year old Floridian dead 72 hours after shot.
28 year old physical therapist dead 2 days after shot.
Former anchorwoman dead one day after shot.
Doctor dead.
Memphis doctor dead (The CDC is calling it a rare COVID-related syndrome but he died weeks after the injection and he already had natural COVID antibodies. https://covidcalltohumanity.org/what-is-pathogenic-priming/) This update states multi-system inflammatory syndrome (MIS) is more common in children and looks like Kawasaki disease (they've already tried blaming Kawasaki on COVID but were called out as it's a common vaccine reaction. MIS is a reaction in someone who has had COVID weeks or months earlier and mounted a severe, delayed immune reaction, which often causes significant organ damage. (Expect to see more of this)
Hank Aaron dies after 1st dose.
58 year old dies one hour after 1st dose (flash pulmonary edema likely caused by

anaphylaxis

which many people have experienced after receiving the COVID vaccine), an autopsy was refused.
X-ray tech dies.
Nurse aid dies 48-hours after shot (mandatory to keep her job).
CA man dies.
OBGYN dies after Pfizer shot.

It began with a strong set of

petechiae on his feet and hands

which sent him to the ER. A CBC showed his

platelet count to be 0.

Experts from all over the country were involved in his care, but nothing could raise his platelets causing a

hemorrhagic stroke and death. "I think it is a medical certainty that the vaccine was related." Dr. Jerry L. Spivak, an expert on blood disorders at Johns Hopkins University.

Pediatric Assistant

dies.
Israeli man dies within 2 hours.
Elderly person dies.
Numerous vaccine trial participants die. (Even those given a 'placebo' are often given another vaccine)

Greek nurse

paralyzed.
12 deaf and 5 blind in the UK after shot.
Israeli teenager hospitalized with myocarditis.
23 year develops "Life threatening syndrome" with heart damage after vaccine.

Nurse explains how the COVID shot gave her

Bell's Palsy:

https://www.youtube.com/watch
Mexican doctor suffers seizures and is paralyzed.
27-year-old Canadian healthcare worker faints & has multiple seizures & requires CPR.
Peruvian suffers Guillain Barre-like symptoms after shot.
Indiana woman with tongue spasms and whole body convulsions. Doctors blame "stress": https://www.bitchute.com/video/kIeJo0ti5JDn/ (FB is removing posts as fast as they are put up)
Frontline Wisconsin worker suffers severe allergic reaction to shot (doctors said second dose could kill her)
Louisiana woman uncontrollably convulses.
Painful side-effects in those with facial fillers.
Get injection, come down with COVID? 240 get COVID-19 after shot but we're told it wasn't due to the vaccine. The media is calling them "Break through cases."
CA nurse tests positive for COVID after shot.
But these deaths and life-altering outcomes due to injections don't matter because it's "for the greater good."
A Canadian doctor has been removed from hospital duty simply for telling others about about his vaccine injured patients. This has resulted in his income being slashed by half, which he explained is "the price of advocating for the safety of my patients."
For more:
Public 'authorities' renamed vaccine "Adverse Reactions" to "Immune Responses" for the COVID-19, hoping to downplay vaccine concerns:
https://madisonarealymesupportgroup.com/2020/12/14/adverse-reactions-renamed-immune-responses-by-health-advisers-and-21-serious-possible-adverse-outcomes-to-covid-19-vaccine/ (Many other links about the vaccine within article)
And here we learn that the CDC is thwarting efforts tracking adverse reactions: https://madisonarealymesupportgroup.com/2020/12/30/cdc-thwarts-efforts-to-track-covid-19-vaccine-adverse-reactions/
The WHO and Fauci freely admit the vaccine may not prevent infection or transmission: https://madisonarealymesupportgroup.com/2021/01/05/clinical-considerations-for-covid-19-vaccines-who-fauci-warn-vaccine-may-not-prevent-infection-and-transmission/