https://slaynews.com/news/who-listening-surveillance-systems-monitor-americans-speech-misinformation/
WHO to Use 'Listening Surveillance Systems' to Monitor Americans' Speech for 'Misinformation'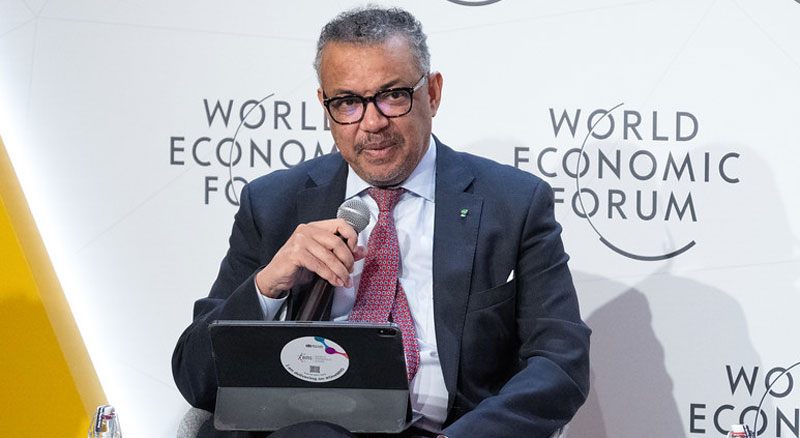 Congress is launching an investigation into the World Health Organization (WHO) after details emerged of the United Nations health body's disturbing Orwellian plan to combat so-called "misinformation."
The WHO's pandemic prevention initiative, the Preparedness and Resilience for Emerging Threats (PRET), pushes plans to use "social listening surveillance systems" to monitor the public's speech for "misinformation."
However, PRET has been met with a backlash as more people start to push back against unelected bodies who are trying to suppress speech and potentially override sovereignty.
PRET aims to "guide countries in pandemic planning," according to documents from the UN agency.
(See link for article)
**Comment**
BTW: many in our own government want censorship and increased control of free speech.
http://  Approx. 6 Min
WHO 'Desperate' To Have Global Pandemic Treaty
May 27, 2023
Sky News host Rowan Dean says the World Health Organization is "desperate to have some kind of global pandemic treaty" to give them a greater say during a pandemic crisis. "At its worst the reality is, or the fear is that the World Health Organization will have the powers to be able to say 'such and such state … is in a pandemic and situation and must be locked down', even if that entity says, 'no, we're not' or disputes it," Mr Dean said.
PRET proves that desperation, along with the recent WHO warning that the public must prepare for a disease "even deadlier" than COVID.  
Predictably, WHO mouthpiece, GPMD Co-Chair Joy Phumaphi says we need the next pandemic exercise:
"We … suggest that member states, together with other key stakeholders, carry out a simulation exercise based on the draft Accord and the draft IHR (International Health Regulations) amendments later this year before they are finalized and adopted," urged GPMD Co-Chair Joy Phumaphi. "A simulation exercise beforehand and robust monitoring and accountability following their adoption are two ways you can ensure these important instruments fulfill their potential and that we are ready for the next pandemic."
The WHO, known for its closed-door meetings recently met to discuss the IHR Amendments.  Go here for the WHO update from the World Health Assembly.  The power grab of a Pandemic Treaty which would supersede the U.S. Constitution is very real, and very frightening.  We need to exit the WHO that has been described as "rotting from the head."
Sign the petition to stop the WHO power grab.
Serious concerns about the new WHO treaty and International health regulations
http://  Approx. 6 M
Pandemic Treaty Update: Analysis of the Bureau's Text
For more:
_______________
CDC Warns About Uptick in Metapneumovirus
Metapneumovirus, like all viruses, can be dangerous for people with weakened immune systems as well as children and older adults. And, similarly to many respiratory viruses, it usually improves within 2-5 days, however, for the unlucky few it can turn into more serious conditions such as bronchitis and pneumonia.
The key point:  there is no vaccine and antibiotics do not apply because it is not a bacterial disease, so naturally the CDC is all over this because "vaccines" and lucrative drugs are their business.
An infectious disease specialist at Boston Children's Hospital told USA Today that this "uptick" could be because we have more ability to test for these viruses than ever before. Nobody at the CDC wants to talk about good hygiene, diet, immune supports, or simple at-home treatments.    Source
https://petermcculloughmd.substack.com/p/which-virus-will-cause-the-next-pandemic
Which Virus Will Cause the Next Pandemic?
Experts Predict Virus Will Be Airborne–Narrows Field Considerably
By Peter A. McCullough, MD, MPH
We are constantly being barraged by fear-mongering messages about a "next pandemic" as if new global catastrophes have been put on a schedule. I have remarked that it would be quite difficult to anticipate an organism arriving from nature and afflicting the entire world's population of any mammal, let alone man.
Neumann and Kawaoka published a review of past pandemics, a broad list of viral threats, and then indicated that the likely winner would be a zoonosis (virus that jumped from a bat or rodent) to a human. Additionally, for human to human spread it would need to be airborne and highly contagious. We learned with the fizzled Monkeypox scare that homo-bi-sexual transmission from man to man was not enough the scare the world into mass vaccination or hold the public captive very long in the news cycle. President Biden dropped the US Monkeypox Emergency in January 31, 2023 with no press release.
The list of possibilities for future pandemics is listed in the table. Most have no antiviral therapy that is specific, however, the authors fail to mention viricidal nasal sprays/gargles, vitamin D, curcumin, hydroxychloroquine, ivermectin, favipiravir, famotidine, or other agents to mitigate viral specific inflammation such as maraviroc and nonspecific agents including corticosteroids and colchicine.  (See link for article)
___________________
**Comment**
I highly recommend you educate yourself on how to strengthen the immune system and find an independent doctor who utilizes immune treatments as a strategy for disease.  It's become clear that 'pandemics' along with 'vaccines' and lucrative yet ineffective and dangerous drugs are big, big business and are part and parcel of a highly orchestrated and planned endgame that has absolutely nothing to do with health.
For more:
https://madisonarealymesupportgroup.com/2021/04/05/censored-dr-peter-mccullough-testifies-how-successful-home-treatments-for-covid-make-experimental-vaccines-unnecessary-home-treatment-protocol-by-aaps-included/
https://madisonarealymesupportgroup.com/2021/04/27/covid-natural-remedies-banned-as-doj-ftc-seek-to-silence-doctors-promoting-vitamin-d-c-zinc-etc/
https://madisonarealymesupportgroup.com/2021/11/02/how-dr-zelenko-bypassed-the-hydroxychloroquine-hcq-ban-to-beat-covid/
(This safe, cheap treatment can be used any time symptoms start.  You simply need a nebulizer, distilled water, 12% food grade hydrogen peroxide, Himalayan sea salt, and a glass storage bottle that seals properly.  Store in the refrigerator until needed.  The final solution is a 3% hydrogen peroxide treatment.  Details in link on how to use.)
According to Dr. Lee Merritt, patients should be taking the following supplements:  vitamins D,C, NAC, zinc, quercetin, and selenium.
I personally had this spike protein illness (and my husband was coming down with it as well) which causes blood poisoning.  It wasn't fun.  I was flat on my back for 12 days with an unstoppable fever and aches.  It all began in my chest (pressure and tickling dry cough).  I was weakening by the day due to nausea and the inability to eat or break the fever.  What turned me around were

two treatments of blood ozone
25gms of IV vitamin C
IVERMECTIN  (I've heard ivermectin works on some 300 viruses & is an anticancer agent)
You must take Ivermectin on a full stomach to get it into the cells where the spike protein is.  I'm happy to report that both my husband and I beat this with the appropriate treatment.