https://newrepublic.com/article/163658/what-happened-lyme-disease-vaccine
The Lyme Vaccine That Got Away
Twenty years ago, you could get a vaccine for Lyme disease. Now you can't. What happened?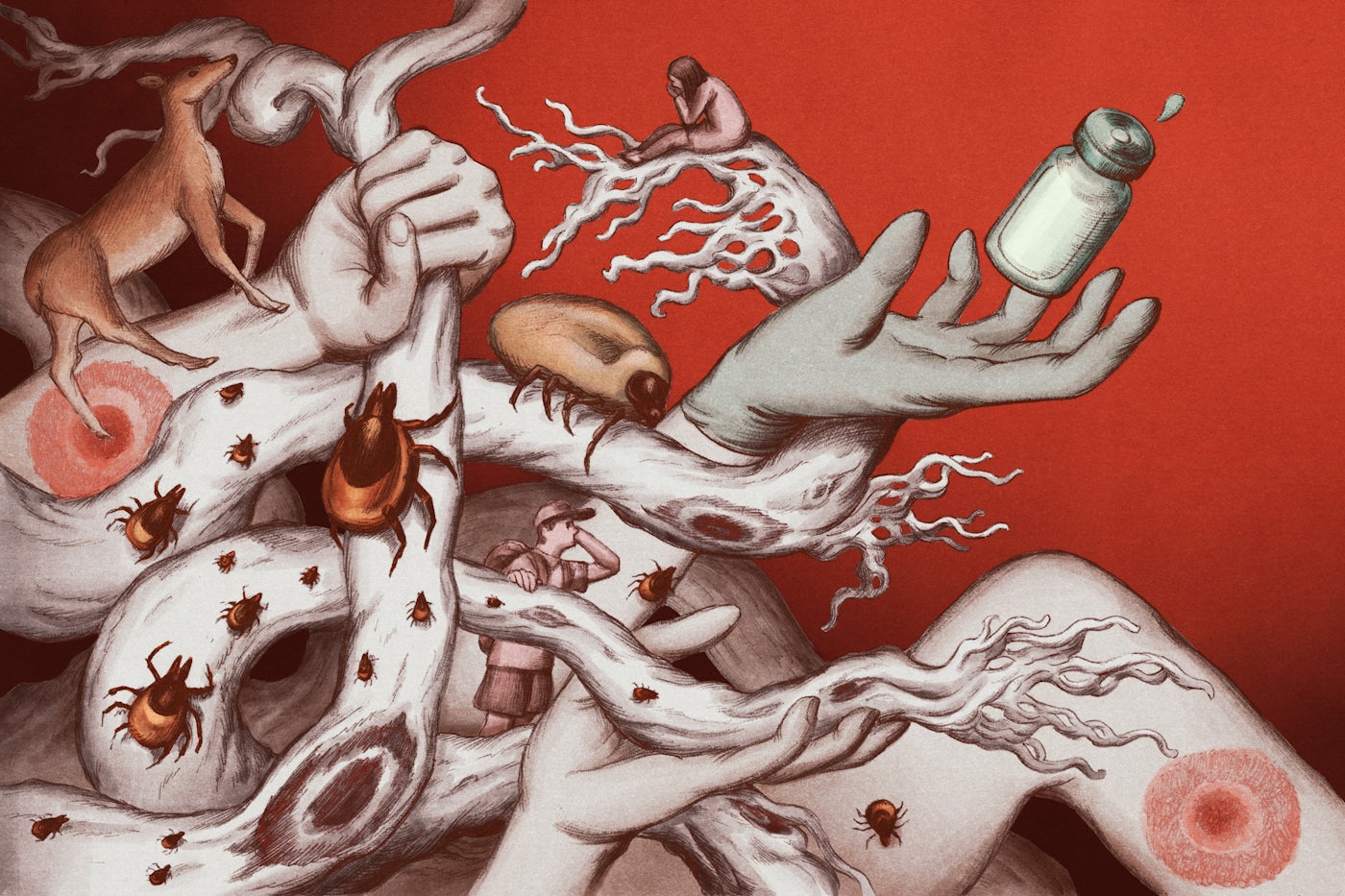 Illustration by Julie Benbassat
The article then glorifies Klempner's Lyme PrEP, which we keep being told isn't a vaccine but a monoclonal antibody "preventative treatment," that directly gives you the antibody.  What they fail to mention is Lymerix as well as Lyme PrEP both use OspA  – the very antigen of Lyme disease that is blamed for causing devastating Lyme-like symptoms. They erroneously state it's "just antibodies."  If only it were that simple.  Antibodies, as stated previously, are not always harmless. Watch this brief video to understand the interplay between antigens and antibodies.

Klempner, similar to other Lyme Cabal players has a history with biological weapons as both director and investigator of a bioweapons lab.  He's been accused of research fraud, and single-handedly has convinced mainstream medicine that extended treatment won't help Lyme/MSIDS patients. The infamous "Klempner" trials has ruled Lyme-land for over 20 years.
Klempner was also the trial administrator of the Connaught OspA Lyme vaccine in the 1990s, and is quite aware of the adverse effects of injecting OspA into people.  He also was an author of the 2006 IDSA guidelines that were the subject of an investigation by Senator Richard Blumenthal which exposed undisclosed financial conflicts in many of the panelists as well as the fact they simply ignored alternative medical opinion (which is happening again with COVID). Those guidelines relied heavily on his 2001 "retreatment" study in which most of the participants had not been treated in the first place. 
To state that Lyme patients and advocates do not trust Klempner would be the understatement of the year and further, I'm with Lyme advocate Carl Tuttle: we don't want any Lyme vaccines until the issue of chronic/persistent infection is acknowledged. As you can see from this article, there are those who still believe what we are suffering from is a "scam that should be condemned".
The authors then regurgitate that since COVID is a "public health issue" it's important that EVERYONE get the vaccine because of person to person spread of infection, but that Lyme is different because it's solely spread by ticks, even though experts have disputed this oft repeated dogma.  This "for the greater good" narrative is continually used by vaccine zealots but ignores individual freedoms as well as individual medical/health status, including the very real issue of natural immunity which is currently being ignored, not to mention the elephant in the room which is effective, safe treatments which have been proven to be successful.
They then mention Sam Telford, also part of the Lyme Cabal, who blames the spread of deer, and suburbanization in America, never once mentioning experimentation on ticks by infecting them with numerous pathogens and releasing them, in fact dropping them, from airplanes.  Telford, a professor of infectious disease and global health at Tufts University, helped discover the mechanism that led to the development of Lymerix and ran one of the clinical trials that tested it. He is now part of a group of biotech professionals who have formed an alliance and want to bring back the vaccine. This article, written by a doctor, methodically records the devastation Lymerix caused but which is completely ignored by Cabalists like Telford who continue to state Lymerix was "effective." Telford, a Chronic Lyme denialist, teaches biosecurity, specializes in the bioweapon Tularemia, and was the director of a bio-level 3 lab in Groton, Massachusetts that works on dangerous, tickborne diseases on the government's select agent list.  He's funded by the NIH and the military-industrial complex.
They then wrap it up by stating the conversation parallels everything else going on: climate change, sociological issues and economics, drug company treatment choices, and marketing.
Again, articles like this one give me gray hair and make me want to swear – a lot.