The following information isn't new.  Dr. McCullough continues to remind the public that studies showing the COVID shots alter DNA and may pass the genetic code to fetuses have gone unchallenged.  Similarly to Dr. John Campbell's appraisal, we hear nothing from corrupt public health 'authorities,' other than silence.  Now, the FDA wants people to be "vaccinated" yearly with a clot shot is linked with more reports of adverse reactions and death than any other vaccine in the history of VAERS, which only has a 1% capture rate.
https://www.newstarget.com/2023-01-25-mrna-vaccine-experiment-does-alter-human-dna.html
The mRNA "vaccine" experiment does alter human DNA and may pass genetic code from parent to child, warns Dr. McCullough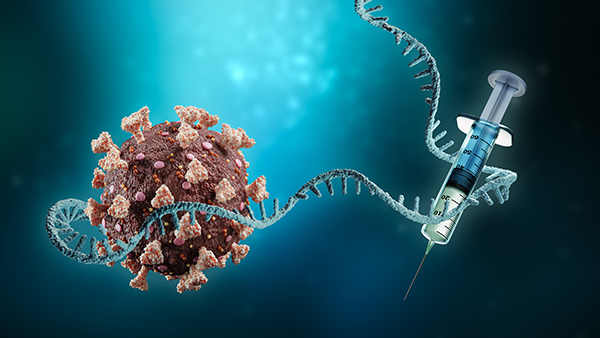 Dr. Peter McCullough, the leading cardiologist fighting for the health of the next generation, gave a grave warning about the long-term effects of the mRNA "vaccine" experiment.
"Once people take these vaccines, it's long lasting, it may get into the nucleus, change the human genome, and pass down to daughter cells… which means that this could actually be passed down to the progeny of vaccinated young parents," he said. "There couldn't be worse news right now. We were hoping this vaccine would be in and out of the body. It looks like it's long lasting, causing a tremendous amount of damage."
Vaccine spike protein doesn't degrade, persists in lymph nodes, causes immune imprinting
Dr. McCullough mentioned two important studies that have gone unchallenged. In a study at Stanford, the Pfizer spike protein mRNA actually persists in the lymph nodes for several months, instead of degrading in the deltoid muscle, as was initially promised by the vaccine manufacturers. The scientists found that this predisposes the vaccinated individual to some degree of immune imprinting. In other words, the person's immune system is being engineered to have preferential responses to the viral variants it initially encountered, negatively affecting the development of antibodies against new viral variants that will continue to challenge the immune system.
Basically, the mRNA vaccines are programming human immune systems for failure, making it harder for immune cells to respond to the ever-changing mutations that are taking place in coronaviruses. Because the spike proteins from the mRNA persist in the body for weeks (and months in some cases), vaccinated individuals are not having robust immune responses; instead, they are being burdened by long term cardio-toxins. The vaccine's lipid nano-particle delivery system is so stealth, it is able to deliver the mRNA instructions to several organs such as liver, spleen, heart, kidney, lung, and brain.
The Pfizer mRNA vaccine is reverse transcribed in human liver cell lines
Pfizer's bio-distribution study showed that the spike proteins target the liver, causing enlarged liver, vacuolation, increased gamma glutamyl transferase levels, and increased levels of aspartate transaminase and alkaline phosphatase.
In the other study that Dr. McCullough referenced, scientists found that the entire genetic code from Pfizer's vaccine gets installed into human liver cell lines.   (See link for article)
________________
https://childrenshealthdefense.org/defender/chd-lawsuit-fda-vaers-covid-vaccine-injuries-deaths/
CHD Sues FDA to Obtain Documents Related to VAERS Reports on COVID Vaccine Injuries, Deaths
Children's Health Defense today filed a federal lawsuit against the U.S. Food and Drug Administration to obtain documents related to the agency's safety monitoring of COVID-19 vaccines through the Vaccine Adverse Events Reporting System database.
Children's Health Defense (CHD) today filed a lawsuit in D.C. Federal Court against the U.S. Food and Drug Administration (FDA) to obtain documents related to the agency's safety monitoring of the COVID-19 vaccines through the Vaccine Adverse Events Reporting System (VAERS) database.
The lawsuit alleges the FDA violated provisions of the Freedom of Information Act (FOIA) by refusing to provide key analysis of reports in the vaccine safety database.
CHD submitted the FOIA request in July 2022.
The FDA claimed the records sought are fully exempt from disclosure under FOIA because they are part of internal and intra-agency memoranda that include opinions and discussions protected by law, and because the records include discussions of legal and policy matters protected by attorney-client privilege.
Mary Holland, CHD president and general counsel, took issue with the FDA's position.
"The public must have truthful, complete information about the risks and benefits of these drugs, and others," Holland told The Defender.
FDA analyzes VAERS data but doesn't make its results public
(See link for article)
________________
**Comment**
We pay for this agency yet we don't get to see what we pay for.
Withholding, hiding, deleting, manipulating, botching, falsifying, and twisting data is what these corrupt public health agencies do best.
And in case you are wondering what waived good"vaccine" manufacturing practices as well as liability and informed consent, look no further than laws that were changed under Obama in 2016:  https://frankspeech.com/video/obama-changed-laws-2016-waved-good-manufacturing-practices-informed-consent-and-liability
Obama and 114 Congress change of informed consent
According to these documents, as long as medical professionals are following the government, they are not liable – even if you die.
This is called "medical kidnapping."
If you go to a hospital today, you do not have any rights and will be subjected to whatever whims the staff are following that are coming down from the government.
For more: