https://petersweden.substack.com/p/throwing-away-doses
Sweden THROWS AWAY 8.5 million doses of covid vaccines
People don't want this anymore.
Finally we have some good news, this time coming out of my home country of Sweden.
Just a few weeks after a massive conference in Stockholm where top doctors warned about the dangers of the mRNA shots, news is coming out that Sweden has thrown away almost 8.5 million doses of the covid shots.
That means that around 1/5th of all covid vaccines Sweden bought has been destroyed. The cost to the taxpayer of buying in these shots only to be thrown away was a whopping $144 million. That is money that went straight down the drain because the state bought something that people do not want.
And they even admit that the reason they have been forced to throw away all these doses is because people do not want them anymore. The people are sick and tired of these garbage and dangerous shots.  (See link for article)
_______________
https://www.nbcnews.com/health/health-news/hopes-test-marburg-virus-vaccine-equatorial-guinea-outbreak-rcna70595
WHO hopes to test an experimental Marburg virus vaccine amid an outbreak in Equatorial Guinea
The World Health Organization convened an urgent meeting to evaluate vaccine candidates after
nine deaths
and
16 suspected cases
were reported.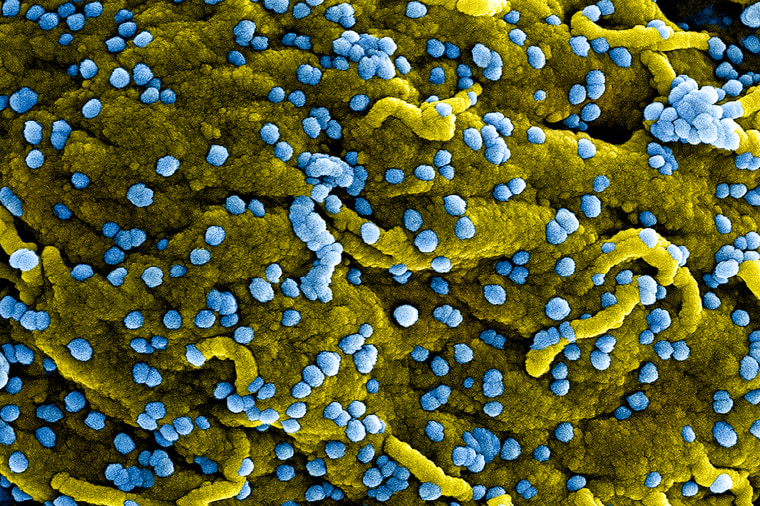 Marburg virus particles (blue) both budding and attached to the surface of infected cells (yellow).Image Point FR / NIH/NIAID/BSIP/Universal Images Group via Getty Images
The World Health Organization hopes to test an experimental Marburg vaccine in Equatorial Guinea, which announced its first outbreak of the virus Monday.

Nine deaths have been confirmed, while 16 suspected patients are in quarantine. Health officials are also monitoring 15 asymptomatic close contacts of infected people.

On Tuesday, the WHO convened an urgent meeting to evaluate several possible vaccine candidates that could be administered during the outbreak. The meeting brought together a consortium of vaccine developers, researchers and government officials — a group the WHO created in 2021 to advance a Marburg vaccine.

Past outbreaks, mostly in Africa, have had death rates of 24% to 88%, depending on the virus strain and the strength of efforts to control transmission.
(See link for article)
_________________
Vaccines Are "In." Treatments Are So Pre-2020.
Important excerpts:
"….some at the meeting pointed out that there may not be enough cases in this outbreak to properly evaluate a vaccine."

"If you look at the past history of Marburg outbreaks, they're generally quite small, and the interventions that have been put in place have limited their size," said John Edmunds, an epidemiology professor at the London School of Hygiene and Tropical Medicine.
Somehow, I don't think these little factoids will matter.
Worth pondering:
Some oral Poliovirus vaccines were contaminated with infectious simian virus 40 present in monkey kidney cells USED TO GROW the vaccine.  One of the many animal-derived ingredients used in vaccines and openly admitted by the CDC is African Green Monkey kidney cells.
Where does the Marburg virus originate from? Fruit bats, but the first ever patient group it was detected in had been exposed to African green monkeys.
I'm sure this is all purely coincidental.
_________________
https://www.dailymail.co.uk/health/article-11736753/US-test-avian-flu-shot-poultry-counter-record-outbreak
Vaccine mandates could be back… for CHICKENS: US will test first avian flu shot on poultry in years to counter record outbreak
Scientists will begin testing the first vaccines for birds in years amid 58mn dead
The avian flu is common in wild birds but most of the birds affected are domestic
Testing the vaccine in birds across the US is a massive undertaking for the USDA
US health officials are gearing up to test a vaccine for poultry to combat the worst bird flu crisis on record — which is raising fears about human spillover.
The Department of Agriculture is involved in developing an updated shot and hopes to start trialing it soon, though it has not offered a timeline. The actual testing process, one it begins, would take at least three months.
While animal vaccines can take years to be licensed parts of the process can be accelerated in emergency cases.
Concerns about the avian flu strain currently circulating have risen in recent weeks after it became evident that it spread from birds to several mammals, including otters and foxes.
Excerpt:
Scientists at the University of Wisconsin's School of Veterinary Medicine for example are working on an avian flu vaccine that uses tiny particles even smaller than the width of a human hair to deliver immunity by sending pathogen-like signals to cells.

If an updated shot proves effective, that would open the door to USDA approval followed by a thorough vaccination campaign that seeks to reach the affected commercial poultry industry.
(See link for article)
________________
**Comment**
All I'm saying is that there is a long gravy-train of vaccines in the works now that it is widely known that the COVID shots are worse than worthless.  They not only potentially change your genetic DNA, they are outright killing people.  Corrupt public health 'authorities' now feel the sharks circling in the water and are attempting to distance themselves, hoping we will all simply forget what they did to us for the past 3 years.
Nope.  Ain't gonna happen.
For more:
In truth, one month before the H1N1 "pandemic," the WHO declared H1N1 a Level-6 "pandemic" based on 20 cases.  It also changed the definition of "Level-6 Pandemic" so that severe destruction and widespread human death were no longer required. The origins of H1N1 were found in an industrial pig farm in Mexico where there was pig feces all over the property.  When workers became ill, unknown chemicals were sprayed causing more workers to become ill. People were diagnosed similarly to how people are being diagnosed with COVID – by either "eyeballing sick people with 'flu symptoms'" and automatically claiming Swine Flu was the cause, OR by PCR.