https://www.theblaze.com/news/monkeypox-global-health-emergency-who
The World Health Organization (WHO) has declared the monkeypox outbreak a global health emergency.
"I have decided that the global monkeypox outbreak represents a public health emergency of international concern," WHO Director-General Tedros Adhanom Ghebreyesus announced on Saturday morning during a briefing in Geneva.
Members of an expert committee met on Thursday to decide if the current monkeypox outbreak should be escalated to a public health emergency of international concern (PHEIC). Of the virologists, vaccinologists, epidemiologists, and health experts, nine voted against declaring monkeypox a PHEIC, and six voted in favor, according to Reuters.
The International Health Regulations Emergency Committee were "resolved by consensus to advise the WHO Director-General that at this stage the outbreak should be determined to not constitute a PHEIC."
"However, the Committee unanimously acknowledged the emergency nature of the event and that controlling the further spread of outbreak requires intense response efforts," according to the WHO. "The Committee advised that the event should be closely monitored and reviewed after a few weeks, once more information about the current unknowns becomes available, to determine if significant changes have occurred that may warrant a reconsideration of their advice."
(See link for article)
__________________
SUMMARY:
Tedros overrode the committee & gave monkeypox the highest level of alert.  So much for having experts and a committee.
The big takeaway is the designation gives the WHO authority to raise public awareness to

raise funding and resources

from member nations.  In short, this is a great moneymaker and we don't want to miss out on that.
This is the

7th alert declared since 2007. 

The other six were:

H1N1 influenza pandemic of 2009 (the fast-tracked H1N1 vaccine increased miscarriages, narcolepsy, and febrile convulsions in 1 in every 110 in Australia). The WHO by May, 2006 stated H1N1 only killed 100 people. H1N1 is another scam.
Ebola outbreak in West Africa from 2013 to 2015 (Please read Dr. Rowan's successful experience with ozone in Sierra Leone.
Ebola outbreak in the Democratic Republic of the Congo from 2018 to 2020
Zika outbreak in 2016. (Please read this showing they took TWO tissue samples from TWO fetuses containing Zika to "prove" causation.  Rather than taking years to complete lab work, they took ONE paper & plopped it into Shepherd's criteria where it only met 3 of the 7 criteria, to establish a causal link).  Zika was another scam.
poliovirus that started in 2014
COVID-19 pandemic.  A complete and utter scam.

Tedros admits the outbreak is concentrated in gay men, particularly those who have multiple partners.
There is a total of FIVE monkeypox deaths worldwide
Predictably, BARDA has purchased a total of 6.9 million monkeypox vaccines through mid-2023.
Experts are warning that using a small pox vaccine to prevent monkeypox could cause a global smallpox (vaccinia) epidemic.
_____________________
https://www.scientificamerican.com/article/new-york-polio-case-revives-questions-about-live-oral-vaccine/
New York Polio Case Revives Questions About Live Oral Vaccine
An unvaccinated person became infected with the virus, which can be traced to a live, weakened virus commonly used in the oral polio vaccine abroad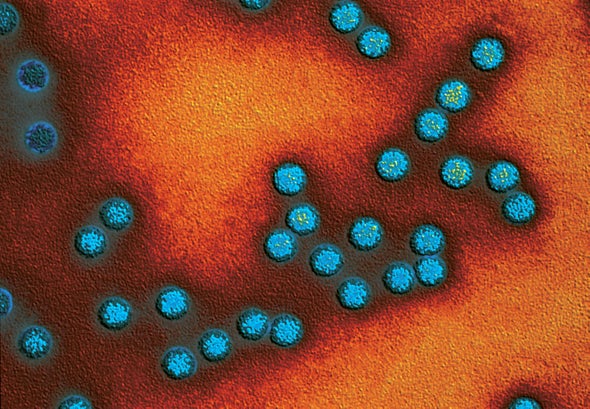 Excerpt:
The New York patient reportedly contracted a form of polio that can be traced back to the live, but weakened, poliovirus used in the oral polio vaccine. This version of the vaccine has not been used in the U.S. since 2000. Health officials said the virus affecting the male patient, who has muscle weakness and paralysis, likely originated somewhere overseas, where oral vaccines are still administered.
(See link for article)
___________________
**COMMENT**
The article misleadingly states that vaccines introduce a harmless version of a pathogen to your body to train your immune system to fight off the real germ if you ever encounter it.
This is the narrative we've been told ad nauseum, yet people are damaged and killed by vaccines daily.
For a great read on the biological mechanisms of vaccine injury please read part 1 and part 2.  This reality is similar to the reality of chronic Lyme/MSIDS. It just isn't discussed, believed, or acted upon by mainstream medicine.  And similarly, according to mainstream medicine, both topics (Lyme/MSIDS & vaccines) state everything is rare, even when it isn't.
Regarding polio, many believe routine vaccination may have replaced one disease with another and that acute flaccid myelitis (AFM) outbreaks – a polio-like disease- have been recorded on a biennial basis.
For decades, it's been known that under certain conditions a phenomenon referred to as "provocation polio" can occur after injections, including injections of vaccines. Yet this issue is being largely, if not entirely, ignored in today's discussions about AFM.
And while we all envision frightening posters of kids in iron lungs, the very contagious enterovirus infection usually causes mild flu-like symptoms or no symptoms at all, and most people recover from polio without lasting health problems (nonparalytic polio).
While the global poliovirus eradication effort appears to have been successful, the consequences of routine use of OPV are not fully known. In 2009, the World Health Organization warned that live polio vaccine may be responsible for a rise in vaccine strain polio termed Vaccine Derived Polio Disease (VDPD).
Not only has live vaccine strain poliovirus been found to cause paralytic disease in some cases, but evidence also shows that mutated vaccine-derived viruses are responsible for some outbreaks.15,16 As reported by NPR in 2017:
"For the first time, the number of children paralyzed by mutant strains of the polio vaccine are greater than the number of children paralyzed by polio itself. So far in 2017, there have been only six cases of 'wild' polio reported anywhere in the world …  Source

We are always given part of the truth – not the whole enchilada. Vaccines have always come with risks and always will.  
The polio case might be a foreshadowing of smallpox in the future.