https://www.theepochtimes.com/fauci-braces-for-house-gop-investigations-benghazi-hearings-all-over-again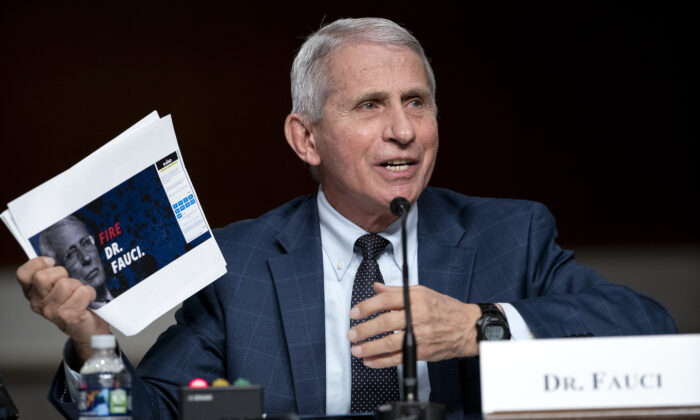 Fauci Braces for House GOP Investigations: 'Benghazi Hearings All Over Again'
White House COVID-19 adviser Dr. Anthony Fauci said he expects to be investigated by Republicans if they take back control of the House during the 2022 midterm elections.
"It's Benghazi hearings all over again," Fauci told The Washington Post on March 15 in reference to numerous GOP lawmakers saying they will look into alleged gain-of-function research at the Wuhan Institute of Virology in China, located near where the first COVID-19 cases were officially reported in late 2019.
Fauci, an unelected federal official who has headed the National Institute of Allergy and Infectious Diseases (NIAID) since 1984, claimed that potential hearings "will distract me from doing my job, the way it's doing right now." Should there be hearings and an investigation, Fauci said, "there will be nothing there."  (See link for article)
__________________
**Comment**
Ironic he mentions Benghazi. 
A 48-page supplementary report on it says:
"What we did find was a tragic failure of leadership – in the run-up to the attack and the night of – and an administration that, so blinded by politics and its desire to win an election, disregarded a basic duty of government: tell the people the truth. And for those reasons Benghazi is, and always will be, an American tragedy."
Jordan, from Ohio, and Pompeo, from Kansas, were equally blunt in their condemnation of Clinton in particular.
"Secretary Clinton and the administration told one story privately – that Benghazi was a terrorist attack – and told another story publicly – blaming a video-inspired protest," they wrote.
And never forget that the investigations indirectly led to the private email scandal.
Fauci, seems to be closer to truth than even he realizes.
Similarly to Benghazi, COVID has been labeled a tragic failure of leadership driven by politics.  And Fauci has said one thing only to state just the opposite so many times it's become the norm.  Political motives have been proven due to the glaring fact that effective, cheap treatments for COVID have been completely squashed, ignored, and banned with 'authorities' myopically pushing COVID injections that:
Even CDC's Walensky has belatedly come forth admitting the myopic focus on COVID shots as a 'cure all' was short-sighted, but her suspiciously timed statement occurs right before mid-term elections. Unfortunately, her admission is too little too late for those dead or maimed, as well as the fact the "vaccine" only narrative has caused a new form of segregation and division that are still alive & well.
Comparing Fauci's potential investigation to Benghazi has some merit after all.
For more: