https://childrenshealthdefense.org/defender/dr-patricia-lee-fda-cdc-vaccine-related-injuries
Physician to FDA, CDC: In 20 Years of Practicing Medicine, 'I've Never Witnessed So Many Vaccine-Related Injuries'
Dr. Patricia Lee, a licensed physician in California, said her experience with patients harmed by the COVID vaccine "does not comport with claims made by federal health authorities regarding the safety of COVID-19 vaccines."
© [10/13/21] Children's Health Defense, Inc. This work is reproduced and distributed with the permission of Children's Health Defense, Inc. Want to learn more from Children's Health Defense? Sign up for free news and updates from Robert F. Kennedy, Jr. and the Children's Health Defense. Your donation will help to support us in our efforts.
In a letter dated Sept. 28 to officials at the U.S. Food and Drug Administration (FDA) and Centers for Disease Control and Prevention (CDC), an ICU physician detailed her concerns about the adverse reactions, including deaths, she witnessed in people who had received a COVID vaccine.
Dr. Patricia Lee, a licensed physician in California, said her experience with patients harmed by the vaccine:
"does not comport with claims made by federal health authorities regarding the safety of COVID-19 vaccines."
In the letter, Lee described observing "entirely healthy individuals suffering serious, often fatal, injuries," including transverse myelitis, resulting in quadriplegia, pneumocystis pneumonia, multi-system organ failure, cerebral venous sinus thrombosis, postpartum hemorrhagic shock and septic shock.
Lee, a practicing physician for more than 20 years, said she "never witnessed so many vaccine-related injuries until this year."
Lee told Dr. Peter Marks, director of the FDA's Center for Biologics Evaluation and Research, and Dr. Tom Shimabukuro with the CDC's COVID-19 Vaccine Task Force Vaccine Safety Team, that while "causation is difficult to prove definitively, it is my clinical judgment that each of these injuries were caused by a COVID-19 vaccine, because there was no other plausible explanation for these injuries other than the fact that the patients had recently been vaccinated."
Lee acknowledged that her report reflects the experience of a single physician. However, she wrote, it appears "statistically improbable" that any one physician should witness this many COVID-19 vaccine injuries if the federal health authority claims regarding the vaccines' safety were accurate.
"I can no longer silently accept the serious harm being caused by the COVID-19 vaccines," Lee concluded. "It is my sincere hope that the reaction to this letter will not be to focus on me, but rather to focus on addressing the serious safety issues with these products that, without doubt, you have either missed or are choosing to ignore."
Since the issuing of the original letter, Lee's attorneys sent another letter to the CDC and FDA saying that the agencies' "failure to respond is highly concerning," adding that they are seeking a response so they can "arrange a discussion and information gathering session between Dr. Lee and the appropriate representatives at the CDC and FDA."
_____________
https://www.newstarget.com/2021-10-31-hundreds-of-thousands-covid-vaccine-injuries-backlogged-not-entered-into-vaers
Hundreds of thousands of covid vaccine injuries BACKLOGGED and not yet entered into VAERS … far greater numbers of injuries and deaths are still to come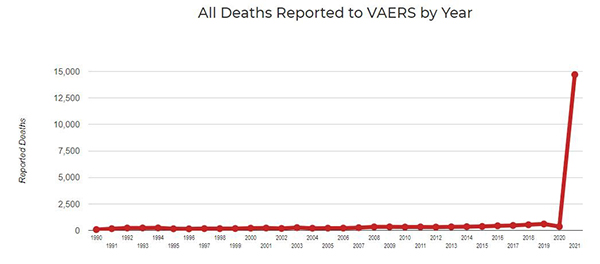 On the latest episode of "Doctors and Scientists," Dr. Brian Hooker Ph.D., P.E., was interviewed Dr. Jessica Rose, Ph.D. to discuss the failures of the vaccine injury surveillance system that was set up by the CDC and FDA over thirty years ago. Dr. Rose is an expert in bio-mathematics and molecular research.
In January of 2021, she utilized her skills as a computational biologist and began analyzing data in the Vaccine Adverse Events Reporting System (VAERS). Each week, she downloaded publicly-available data sets from VAERS, comparing inputs week-to-week. She discovered that vaccine injury reports went missing from one week to the next. Each week, the data is updated in the VAERS system. She found that some of the data is overwritten, vanished from the system. She also found that "hundreds of thousands" of covid vaccine injury reports were backlogged and did not appear in a timely manner to alert healthcare professionals to serious issues with the vaccine. (See link for article)
______________
Important excerpts:
Some issues are under-reported by a factor of thirty-one, and other, more common side effects can be under-reported by a factor of one hundred.
This might be the biggest flaw with the system yet: The agencies that are supposed to oversee the data and alert the public to medical atrocities are the same entities trying to push a narrative forward – that vaccines are "safe and effective."
_________________
https://rumble.com/voalls-dr.-richard-fleming-pfizer-vaccine-causes-blood-clots-under-microscope.html  Video Here
COVID injection DANGER: Pfizer jab causes blood clots under microscope
"Add the Pfizer vaccine and the red blood cells lose their oxygen carrying capacity and the red blood cells start to clot... This is exactly what we are seeing with the VAERS reporting. This is exactly what we are seeing with neurologic harm, with cardiac harm, with blood clots occurring in the body. This is proof positive that these vaccines cause this type of damage under the microscope just by simply being added to the blood of a human being…
I think it is time the FDA and CDC do their job instead of giving it lip-service." Dr. Richard Flemming
For more:
Hypercoagulation (thick blood) and blood clotting has been found in Lyme/MSIDS patients. Many patients improve on blood thinners.