**UPDATE**
https://standforhealthfreedom.com/action/exit-who/  Go here to contact your reps to EXIT THE WHO by supporting HR79 (WHO Withdrawal Act)
https://www.theepochtimes.com/biden-admin-negotiates-deal-to-give-who-authority-over-us-pandemic-policies
Biden Admin Negotiates Deal to Give WHO Authority Over US Pandemic Policies
New international health accord avoids necessary Senate approval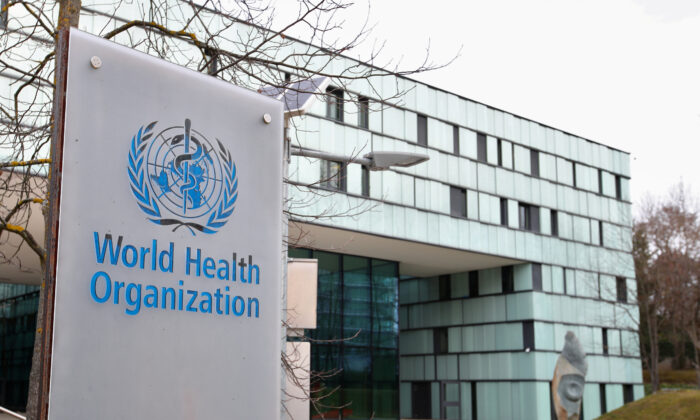 The Biden administration is preparing to sign up the United States to a "legally binding" accord with the World Health Organization (WHO) that would give the Geneva-based United Nations health agency the authority to dictate America's policies during a pandemic.
Despite widespread criticism of the WHO's response to the COVID pandemic, U.S. Health and Human Services Secretary Xavier Becerra joined with WHO Director-General Tedros Adhanom Ghebreyesus in September 2022 to announce "the U.S.-WHO Strategic Dialogue." Together, they developed a "platform to maximize the longstanding U.S.–WHO partnership, and to protect and promote the health of all people around the globe, including the American people."  (See link for article)
SUMMARY:
the "zero draft" (pdf) of a pandemic treaty now seeks ratification by all 194 WHO member states, then there's a meeting on Feb 27 when members will then sign the document.
the zero draft grants the

WHO the power to declare and manage a global pandemic emergency

. Once a health emergency is declared, all signatories, including the United States, would submit to the authority of the WHO regarding treatments, government regulations such as lockdowns and vaccine mandates, global supply chains, and monitoring and surveillance of populations.
all of this gives the WHO their long sought after highly restrictive centralized, vaccine and medication-based response to control populations.
the zero draft is part of a two-track effort with an initiative by the World Health Assembly to create new global pandemic regulations that would

supersede the laws of member states.
"Both [initiatives] are fatally dangerous," Francis Boyle, professor of international law at the University of Illinois College of Law, told The Epoch Times. "Either one or both would set up a worldwide medical police state under the control of the WHO, and in particular WHO Director-General Tedros.

If either one or both of these go through, Tedros or his successor will be able to issue orders that will go all the way down the pipe to your primary care physicians."
zero draft would require nations to monitor and regulate against "substandard and falsified pandemic-related products," which simply means

they tell doctors what they can use.

Period.
there's a clause in the draft to make it legally binding without being ratified by legislatures, which simply means :
"Whoever drafted this clause knew as much about U.S. constitutional law and international law as I did, and deliberately drafted it to circumvent the power of the Senate to give its advice and consent to treaties, to provisionally bring it into force immediately upon signature," Boyle said. In addition, "the Biden administration will take the position that this is an international executive agreement that the president can conclude of his own accord without approval by Congress and is binding on the United States of America, including all state and local democratically elected officials, governors, attorney generals, and health officials."
the Biden admin found that U.S. health care doesn't fall under the authority of the federal government – it's in the domain of the states.  To circumvent this impediment, they went to the WHO to get around domestic opposition.
despite admission from the WHO's Independent Panel on the "toxic cocktail" of bad decisions regarding the COVID pandemic made by the WHO, their answer is greater centralization, more power, and more money to the corrupt WHO.
the agreement calls for "One Health Surveillance," (also embraced by the UN, CDC, World Bank, and other globalists) which now includes

all human activities

and includes all the popular buzz words: climate, racism, carbon emissions, etc. The definition of this little ditty will be pounded out in the future but member states are required to invest, implement, and strengthen it.
member states agree to support the official narrative and will counteract 'misinformation.'
the agreement redefines sovereignty and human rights from individual rights to

collective

rights as can be seen in countries like Austria who criminalized the refusal to take the COVID shot, and states like NY that mandated "vaccine" passports, segregating residents into a privileged class and a second-tier unvaccinated class.
Do we believe in equality, or do we believe in a feudal system where a few people are at the top, controlling society, telling others what to do?
https://merylnass.substack.com/p/sir-jeremy-farrar-helped-fauci-cover
Sir Jeremy Farrar who helped Fauci cover up the origin of COVID, was central in the Recovery and Solidarity trials that overdosed 2600 patients with hydroxychloroquine, now heads to WHO for world takeover
So it is good to read between the lines and see what his forked tongue has to say–what narratives is he pushing now? Full text with comments below.
'There may still be

surprises

': Jeremy Farrar warns of pandemic perils ahead.
[He is asking for $3.5 Billion for CEPI to develop pandemic vaccines, and $100-200 Billion for pandemic preparedness, and a 15x increase in the WHO budget—you bet he's gonna warn us about surprises and tell us he can buy us safety.—Nass]
(See link for article)
_________________
**Comment**
Nass takes the article about Farrar written by The Guardian, and makes important comments & reminders we need to be aware of:
He filed to find drugs for COVID and learned that you lose a lot of money if you find a cure.
Viruses always continue to mutate but he attempts to

use fear

about variants if the virus is allowed to continue to circulate.
He pushes

fear of the flu

, particularly H1N1 for which his company CEPI has promised a vaccine in 100 days, but hasn't promised safety and efficacy or liability
He insists the world should be ready for the next pandemic, despite the US having spent $150 Billion since the anthrax letters, yet we had nothing when COVID erupted or was deliberately thrown at us.
Nass reminds us that

Farrar deliberately killed people to prevent HCQ

being used for COVID, by overdosing 1,591 patients, of whom 396 died in the UK alone
When Farrar complains about exhausted and undervalued healthcare workers, Nass points out these

workers were forced

to either use useless and harmful treatments and vaccines, quit their jobs or be fired.
When he speaks of his consideration of resigning over the outcomes of bad decisions (preventable deaths) Nass points out these bad decisions included

withholding effective drugs, locking people down over and over, and then blaming others

when these policies predictably kill a lot of people.
Farrar, called the Bill Gates of Europe, states he's been targeted on social media and has received death threats.
Nass reminds that it was Farrar who organized the phone call with Fauci and a dozen others in which

they decided how to organize a coverup of the origin of COVID

by writing a paper insisting it couldn't have come from a lab. Wellcome staff helped write it anonymously, but were listed in a press release from Scripps which Nass exposed here, here, and here.
While Farrar states that conspiracy theories are amplified now and get more airtime, Nass points out intelligence agencies have done nothing but attempt to control every narrative with Farrar never taking responsibility for anything, and who is always ready with a quip that sounds good, and then misdirects – just like Fauci and Walensky.
His role at WHO is new and yet to be defined.
Being a good globalist, he listed all the buzz words including climate crisis, pandemics, and equity, which Nass points out are

all being used by the WHO to take over world sovereignty to control us.

Lastly, he states that if we revert to making policies with a lack of evidence the world will be in a worse place, but Nass points out that he was at the forefront of imposing policies with absolutely no evidence behind them.