https://popularrationalism.substack.com/p/acip-fda-cdc-have-no-data-but-approve
ACIP, FDA, CDC Have No Data, But Approve Boosters For All
The Public Can See What They Did. You Can Help Others Learn About It.
Yesterday, U.S. Rep. Troy Carter asked the Biden administration for third-party monitoring of air emissions in the Mississippi River corridor between Baton Rouge and New Orleans — and for money to study the cumulative impact of those emissions on public health. (The Advocate). Currently, petroleum companies monitor their own emissions.
Yesterday, no one asked the Biden administration for third-party monitoring of vaccines used across the country in millions of people — nor for money to study the cumulative impact of those injections on public health. Currently, vaccine manufacturers conduct their own safety studies.
We have an EPA and state agencies that supposed to be monitoring the emissions of corporations and the CDC and FDA to track vaccine safety, yet we are allowing the very companies who profit massively from their products to tell us, now through press releases – that their products are safe.
The suppression of information on social media is nearly complete. So, it's probably not a surprise that you missed the details of the piss-poor regulatory review processes of boosters for adults that went down yesterday across the agencies. I'm sure you heard that the new recommendations are "Boosters for All". You may have even heard of some press releases from vaccine manufacturers that boosters help – and of course the legacy media made certain that you heard Fauci's opinion.
But it's very likely you didn't have time to sit through another day of meetings and track what hat-tricks the FDA, CDC and ACIP pulled yesterday.
The good news is that people did take the time, and that other people I know send me important things.
So, I'm going to put screen shots of yesterday's ACIP meeting reviewing the level of evidence available to inform them on their historic and important vote to recommend, and if thereby mandate, pending court cases against OSHA, third boosters for all.
You won't believe what you see.
Keep in mind that last we checked, every member of the ACIP committee has conflicts of interest with vaccine manufacturers.
Thank you, Patricia N. for doing your part to watch-dog the fascists in control of our government agencies that are supposed to be protecting us.
Are we going to take this laying down?
Tell your Senator and Congressional representative that we need to ban conflicts of interest among ACIP members and their families.
Tell your Senator and Congressional representative that the people who approved these boosters on NO DATA must step down.
What You Can Do
You've read what's going on in Gibraltar now that they are boosting. If not: After fully vaccinating their population, and a summer of no problems, they started boosting. They have had to cancel Christmas. I'll be publishing this kind of analysis on Popular Rationalism until we see a wholescale reform consistent with #PlanB.
So, yes, share on social media. And for that I thank you. But if you give a gift subscription to your Congressional Representatives and Senators (or people close to them), your school board members, your doctors, etc.), they will receive Popular Rationalism right in their inbox.
Let's turn this thing around.
_________________
**Comment**
Predictably, and within days of each other, Gates and Fauci admit the COVID jabs aren't effective. Their coordinated answer, predictably, is more boosters!
Robert F. Kennedy, Jr.'s forthcoming book "The Real Anthony Fauci" explores the "carefully constructed Pharma-Fauci-Gates alliance," and details how "Gates and Fauci engaged in almost daily communications throughout the lockdown, and coordinated virtually every decision about COVID-19 countermeasures with each other." Source
Despite nearly 900,000 adverse reactions reported to VAERS, the corrupt FDA & CDC sign off on Pfizer and Moderna boosters for all adults without any input from its advisory committee which voted 16 to 2 against boosters in September citing lack of data. Yet here we are in the COVID world of the absurd where facts and data no longer matter.
In this article we learn that Children's Health Defense Fund has filed a lawsuit against the FDA due to the fact you cannot have a vaccine that is both an emergency use product and a licensed product at the same time. That's against the law, but the government has done it anyway. The request for an injunction was initially thrown out, but CHD is still pursuing the case.
Again, the only FDA approved COVID injection for adults is for Pfizer/BioTech's Comirnaty, which currently isn't available. The experimental, emergency use (EUA) Pfizer shot is being substituted for Comirnaty but the two are legally distinct from one another, which means you could sue Pfizer if you were injured by Comirnaty when it comes out – but this must be done before it is added to the recommended childhood vaccination schedule. Confused yet? That's exactly what they hope and want.
Dr. Meryl Nass states the following:
"I concluded that the legal distinctions were the fact that under EUA, there was essentially no manufacturer liability, but once the vaccine got licensed, the manufacturer would be subject to liability claims unless and until the vaccine was placed on the childhood schedule or recommended in pregnancy, in which case it would then fall … under the NVICP," Nass says.

"Right now, Comirnaty is still not in that injury compensation program, and it's licensed, so it no longer falls under the CICP. So, it is in fact subject to liability if you get injured with a bottle that says Comirnaty on it. Of course, if you're Pfizer, what do you want to do?
You don't want to make that licensed product available until several months have gone by and Comirnaty has been put into the National Vaccine Injury Compensation Program. So, Pfizer and FDA have not made the licensed product available yet.
What has happened instead, in the military, is the FDA has made a secret deal with the military and said, certain emergency use lots can be considered equivalent to the licensed vaccine, and [told military medical staff] which QR codes — which lots can be used. [These specific lots] can then be given to soldiers as if they're licensed.
Subsequently, we're told that military clinics are actually putting Comirnaty labels onto bottles that are under EUA. Now, that probably can happen in the military, but only in the military, because there are likely to be memoranda of understanding within the military that we haven't seen yet that say soldiers cannot sue Pfizer for injuries …
In the military, the government and Pfizer feel like they have set up a situation where nobody can sue, but in the civilian world, that has not happened, and so there is no Comirnaty available.
Yet, on the basis that FDA licensed this product, the federal government is still telling employers that they can mandate it and that they must fire employees that have not taken the vaccine, or they will lose government contracts. We're in a very interesting situation that is ripe for litigation, and Children's Health Defense, which is an organization I represent, is litigating some of this.
However, the litigation situation has been very difficult since the pandemic began. Cases that normally would've been easy wins are being thrown out by the courts, both in the U.S. and in Europe. Something strange has happened and the judges are looking for any way out, so they don't have to rule on the merits of these cases."
___________________
https://healthimpactnews.com/2021/vaccinated-doctors-are-dying-and-unvaccinated-doctors-are-quitting-or-being-fired-who-will-run-the-hospitals/
Vaccinated Doctors are Dying and Unvaccinated Doctors are Quitting or Being Fired: Who will Run the Hospitals?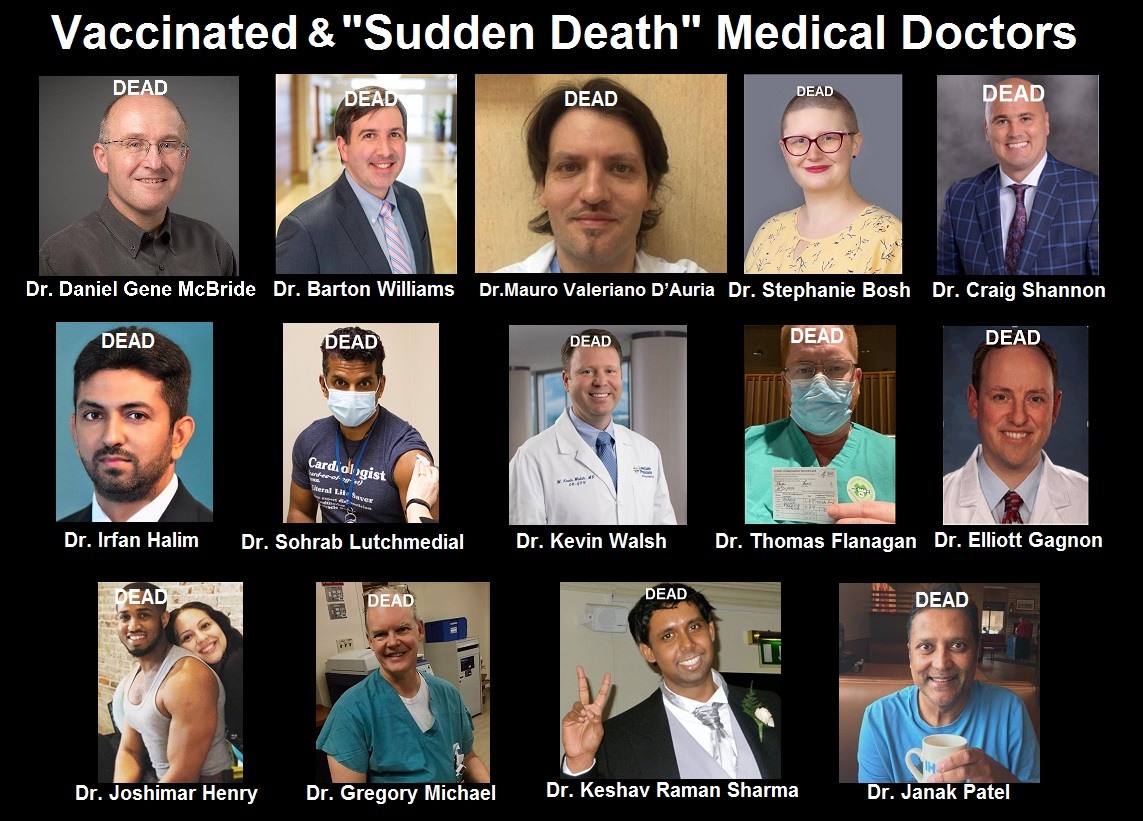 by Brian Shilhavy, Nov. 19, 2021
Editor, Health Impact News
Since the roll out of the experimental COVID-19 shots began we have reported many sad stories of medical professionals dying or being crippled by the experimental shots.
The corporate media tries to hide these stories, because it is bad business for their main sponsors, large pharmaceutical companies like Pfizer.
It has been widely reported in the Alternative Media this week that the public is catching on to the fact that when publicly visible people die, the corporate media is hiding their COVID-19 vaccination status, so searches such as "died suddenly" or "died unexpectedly" have soared in recent weeks, as this is how the corporate media typically now reports these deaths of otherwise healthy, young people.
So here is an update of medical doctors who have died after receiving a COVID-19 shot, or when their vaccination status is not mentioned, died suddenly or unexpectedly.
If this is just a small sampling of the total deaths that have become known through media reports, the hospital system could be in serious trouble, as many unvaccinated medical doctors have already been either fired or have quit due to COVID-19 vaccine mandates, and those mandates for medical staff to be completely vaccinated kick in on January 4th.
According to Forbes, about one third of hospital staffs in the U.S. are not yet "vaccinated."
If most of these staff end up quitting or being fired, who is going to be left to run the hospitals??
Here are some recent reports of medical doctors who "died suddenly." In almost all of these stories in the corporate media they will blame the deaths on "COVID."
And why not? A patient who dies with a COVID diagnosis is worth about $100,000.00 of reimbursements to the hospitals, which is why you see reports of people dying in motor vehicle accidents or from gun violence being diagnosed with "COVID" even after they are dead.
Dr. Kevin Walsh – Roanoke, Virginia
Dr. Justin Nasser – Benowa, Queensland (Australia)
Dr. Stephanie Bosch – Waldport, Oregon
Dr. Craig Shannon – Poughkeepsie, New York
Dr. Elliott Gagnon – Wasilla, Alaska
Dr. Daniel McBride – West Hatfield, Massachusetts
Dr. Janak Patel – Marietta, Ohio
Read their stories on The COVID Blog.
Previous stories published on Health Impact News of doctors dying after receiving a COVID shot:
From our Bitchute channel.
For more: