https://healthimpactnews.com/2021/india-worlds-first-dna-based-vaccine-given-emergency-use-authorization-for-12-to-18-year-olds-as-parents-mourn-the-deaths-of-their-children-following-covid-19-injections/
INDIA: "World's First DNA-based Vaccine" Given Emergency Use Authorization for 12 to 18-Year-Olds as Parents Mourn the Deaths of Their Children Following COVID-19 Injections
Aug. 21, 2021
by Brian Shilhavy
Editor, Health Impact News
News reports out of India today announced that a new experimental COVID-19 vaccine has been given emergency use approval for children from age 12 through age 18 on Friday.
It is reportedly the "world's first needle-free DNA based vaccine."
Indigenously developed Zydus Cadila Covid vaccine ZyCoV-D has received approval for Emergency Use Authorisation from the Drug Controller General of India and it will be administered to people 12 years and above, the Department of Biotechnology said on Friday.

This is the world's first DNA-based vaccine against the coronavirus, and this three-dose vaccine when injected produces the spike protein of the SARS-CoV-2 virus and elicits an immune response, which plays a vital role in protection from the disease as well as viral clearance, it said.

The government's Department of Biotechnology (DBT) also said that the "plug-and-play" technology on which the plasmid DNA platform is based can be easily adapted to deal with mutations in the virus, such as those already occurring.

"Zydus Cadila has received approval for Emergency Use Authorisation (EUA) from the Drug Controller General of India (DCGI) for ZyCoV-D today i.e. 20/08/2021, the world's first and India's indigenously developed DNA-based vaccine for Covid-19 to be administered in humans including children and adults 12 years and above," it said. (Source.)
The existing experimental COVID-19 shots have been linked to deaths among young people, and some parents have now gone public to warn others in India, stating that they did not get the full information they needed to make a decision to allow their children to get one of these shots.
This is from our Bitchute channel, and it will also be on our Rumble channel as well.
There is growing opposition to COVID measures in India, and there is a website called "Awaken India Movement" that has information for people who want to learn more about information that is being censored in the mainstream media in India.
India has been corrupted in recent years by Western medicine that follows the allopathic medical model, and much of this has been funded by organizations run by Bill Gates.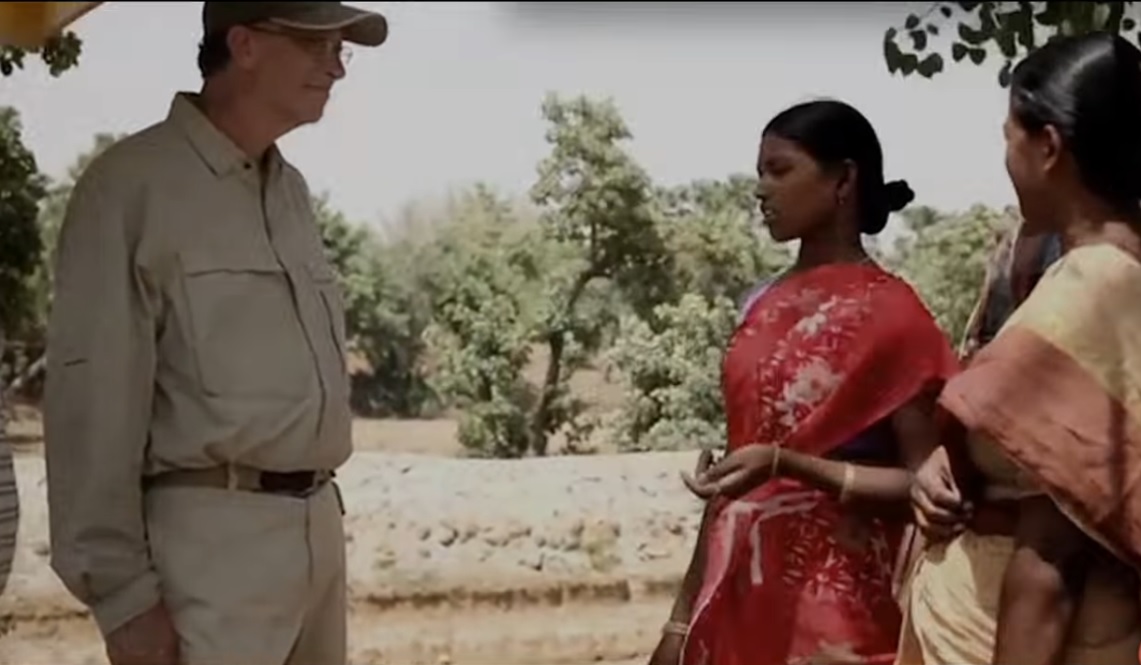 A brief history of Bill Gates and his venture into producing vaccines, and how he used India as his laboratory victimizing poor children, was documented by filmmaker Mikki Willis in his 2020 documentary, Plandemic.
You can watch the section on Bill Gates with English subtitles here, and with Hindi subtitles here.
Independent journalist Ben Swann also interviewed Mr. Willis to discuss the section of his documentary on India, and how much of the evil Bill Gates did in India regarding vaccine trials has been scrubbed from the Internet.
But India has its own system of health care that is thousands of years old: Ayurveda. India also has thousands of hospitals practicing homeopathy, a natural method of healing without the toxic pharmaceutical products of Western allopathic medicine.
Here is an interview from Bitchute with a man in India trained in Ayurveda and homeopathy who has successfully treated COVID-19 patients with no toxic Western drugs. Vaccines are not needed, especially for children.
From Tony Mitra:
This is an evolving story of an evolving movement perhaps without parallel anywhere else on earth.

There is this tradition of Ayurveda and natural healing going back a long time in India. Then there is the more recent schools of alternative healing through naturopathy, homeopathy and Ayurveda by various successful experts, and their rising army of trained paramedics, healing people often without charge at all, without any allopathic medication and often without any medication at all, but just changing their food and lifestyle habits and teaching them good healing practices and postures.

Dr. Biswaroop Roychoudhury has packaged such natural healing practices into easily understandable protocols and his institutes have been encouraging people from across the land to learn and start healing covid patients without charge, and to assure the people that covid is not a demon. The real demon is the orchestrated fear mongering of the government, the industry and their tentacles. Many citizens of India have thus been influenced enough to become street warriors against the covid fear mongering propaganda and making a difference at a level not seen anywhere else on earth as of now.

Some are even equating Dr. Roychoudhury as a new age Bhagat Singh, a famous Indian freedom fighter of the past.

Thus, like Newtons prediction of action producing reaction, a small but rising number of volunteers are rising up organically, forming leaderless movements, resisting government tyranny and offering to heal and cure people, from covid or other ailments, without allopathy, without failure, and without charging any money. Prem Upadhyay of North Bengal, India is one such extraordinary crusader against the fake covid Goliath.

It is very hard not to admire this group, as one of the last hopes for mankind. That is how I see it.
If you live in India, or know people living in India, please share this information with as many people as possible.
It might save many lives, especially the children that are now being targeted with this new experimental DNA vaccine.
_____________________
For more:
REGARDING CHILDREN
Injecting children with this experimental gene therapy, who rarely get COVID or transmit it, and have more than a 99.9% chance of surviving is the height of insanity. A team of Johns Hopkins researchers recently reported that when studying a group of about 48,000 children, they found zero COVID deaths among healthy kids, but the Centers for Disease Control just doesn't care.  
A recent report by Public Health Ontario showed heart inflammation following these shots is significantly more prevalent in young people, with over 100 needing hospitalization for "vaccine"-related heart problems.  And a preprint study, showed healthy boys between ages 12-15 were 4-6 times more likely to be diagnosed with myocarditis from the COVID injections than they were to be hospitalized with COVID.
  A respected geneticist has issued a warning for young people stating,
"THE RISK IS HIGHER TO BE VACCINATED BY ASTRA-ZENECA THAN NOT TO BE VACCINATED. THAT'S IT. IT'S AS CLEAR AS THAT."
Large U.K. study, the most comprehensive on the topic to date, backs up clinical reports that show children and teens are less likely to be hospitalized or face severe effects from the virus.
Finally, the WHO has seen the light and now states, "Children should not be vaccinated for the moment." The WHO truly meant "for the moment" because 48 hours later it did an about face.  Seems our public health authorities flip flop more than a waffle maker.
COVID SHOTS ARE BIOWEAPONS
Numerous experts including Dr. Fleming, a  Cardiologist, Nuclear Cardiologist Certified in Positron Emission Tomography (PET) with a Juris Prudence Doctor of Law, who is a Researcher, Inventor, and Author states in his book, Is COVID-19 a Bioweapon? A Scientific and and Forensic Investigation states that these injections are nothing more than the genetic code of the COVID-19 bioweapon. This book traces the publication and money trail of COVID-19; showing who is ultimately criminally responsible for the design and development of this weapon, which violates the Biological Weapons Convention (BWC) Treaty, exposing those who have committed crimes against humanity. He also states that a "good" bioweapon doesn't kill people but slowly demoralizes and harms them by causing "slow malicious diseases."
Fleming isn't alone.
Nobel Prize Winner Dr Luc Montagnier with numerous other scientists, states COVID has been manipulated and that components of HIV have been inserted into the viral sequence, perhaps in pursuit of an AIDS vaccine.
Dr. Lee Merrit, past president of the Association of American Physicians and Surgeons and member of America's Frontline Doctors, states that COVID is the perfect binary weapon.
Dr. Mikovitz and Dr. Martin both discuss COVID as a bioweapon. The COVID-19 "vaccine" does not meet the legal definition of a "vaccine," but it meets the legal definition of a "bioweapon."  Further, Dr. Mikovitz states at least 50 million Americans over the next few years will die due to COVID injections.  That's 15% of the population.
Karen Kingston (Pfizer whistleblower) confirms the COVID injections ARE BIOWEAPONS.
5 doctors state the injections are bioweapons. The injections cause YOU to manufacture spike proteins – perhaps indefinitely – the very thing causing illness. Those getting the shots are now transmitting this spike protein to the unvaccinated.