Similarly to the thinking doctors who created The Great Barrington Declaration, The World Council for Health has created a better way forward that respects doctor and patient rights and choice, protects national sovereignty, and decentralizes power that is currently being used against people and which will only worsen if the WHO is given all power.  I highly recommend reading the entire article below in the link to learn more.
There is a better way and it isn't giving ultimate power and authority to unelected globalists with zero oversight or accountability.  
https://worldcouncilforhealth.org/news/update/wch-is-expanding/
Co-Creating the Better Way: The World Council for Health is Expanding
Excerpts:
Public health authorities clearly appeared to be operating in lockstep, ignoring the evidence, rubbishing safe, integrative treatments for Covid, and pushing for a single solution to the crisis: that of the novel, Covid-19 gene-based injections. A calculated propaganda campaign included censorship of any evidence-based perspective that challenged the agenda, and emotional manipulation that replaced informed consent with coercion.

It has since become starkly clear that the so-called pandemic has been a Trojan Horse for unelected bodies to push their dystopian vision of a centralised, one-world system of government. In terms of health, the WHO's proposed amendments to the International Health Regulations and Pandemic Treaty/Accord/Instrument threaten to undermine the individual's inalienable rights and would see member nations handing over health policies to the WHO: an unelected, majority privately funded organisation. (Go to link for article and the WCH's better way)
_______________
The following article explains the ideas behind The Great Reset and The Pandemic Treaty – both of which are the brainchildren of globalist thinking whose goal is to solidify corporate control over governments of the world.  This 30 minute video ties together the ideology, historical facts, and pertinent leaders.  Highly recommend.
https://media.mercola.com/ImageServer/Public/2023/March/PDF/whitney-webb-globalist-overlords-meeting-davos-pdf.pdf
Understanding Globalist Group Think
March 4, 2023
http://  (Approx. 30 Min)
What is the WEF?
Whitney Webb explains the WEF's mission to solidify corporate control over governments of the world.
Analysis by Dr. Joseph Mercola
STORY AT-A-GLANCE
Investigative journalist Whitney Webb reveals the inner workings of the World Economic Forum (WEF), the driving force behind The Great Reset

Beneath WEF's benevolent surface, it becomes clear that corporatism and, more aptly, fascism, are its modus operandi

WEF's Board of Trustees is packed with powerful and prominent representatives from government and multinational corporations like BlackRock, Salesforce and Nestlé

WEF supports the "merging of man and machine," or transhumanism, and its Fourth Industrial Revolution aims to use wearable and implantable technology to surveil your thoughts and launch a digital dictatorship
Once implemented, a digital dictator ship will be almost impossible to escape from; one way to stop it is to not comply or utilize these technologies
Curious about the inner workings of the World Economic Forum (WEF), the driving force behind The Great Reset? Set aside 30 minutes to watch investigative journalist Whitney Webb speak with MintPress News in the video above.1 Every year in January, WEF holds its annual meeting in Davos, Switzerland.
The 2023 theme was "cooperation in a fragmented world," with WEF noting, "The world today is at a critical inflection point. The sheer number of ongoing crises calls for bold collective action."2
Their actions, however, while carefully packaged to appear altruistic — and steeped in warm-and-fuzzy buzzwords like "green" and "sustainable" — will ultimately propel its small circle further into power while all but guaranteeing a downtrodden populace. If you so much as dip your finger beneath WEF's surface, it becomes clear that corporatism and, more aptly, fascism, are its modus operandi.  (See link for article)
**Learn about Klaus Schwab's '15-minute cities' urban plan which limits people's travel to within 15 minutes of their homes – kind of like the Hunger Games where you stay within your district.**
_________________
https://reclaimthenet.org/world-health-organization-global-vaccine-passports
World Health Organization pushes for global vaccine passports
The unelected health agency wants to make this Covid-era surveillance tech permanent.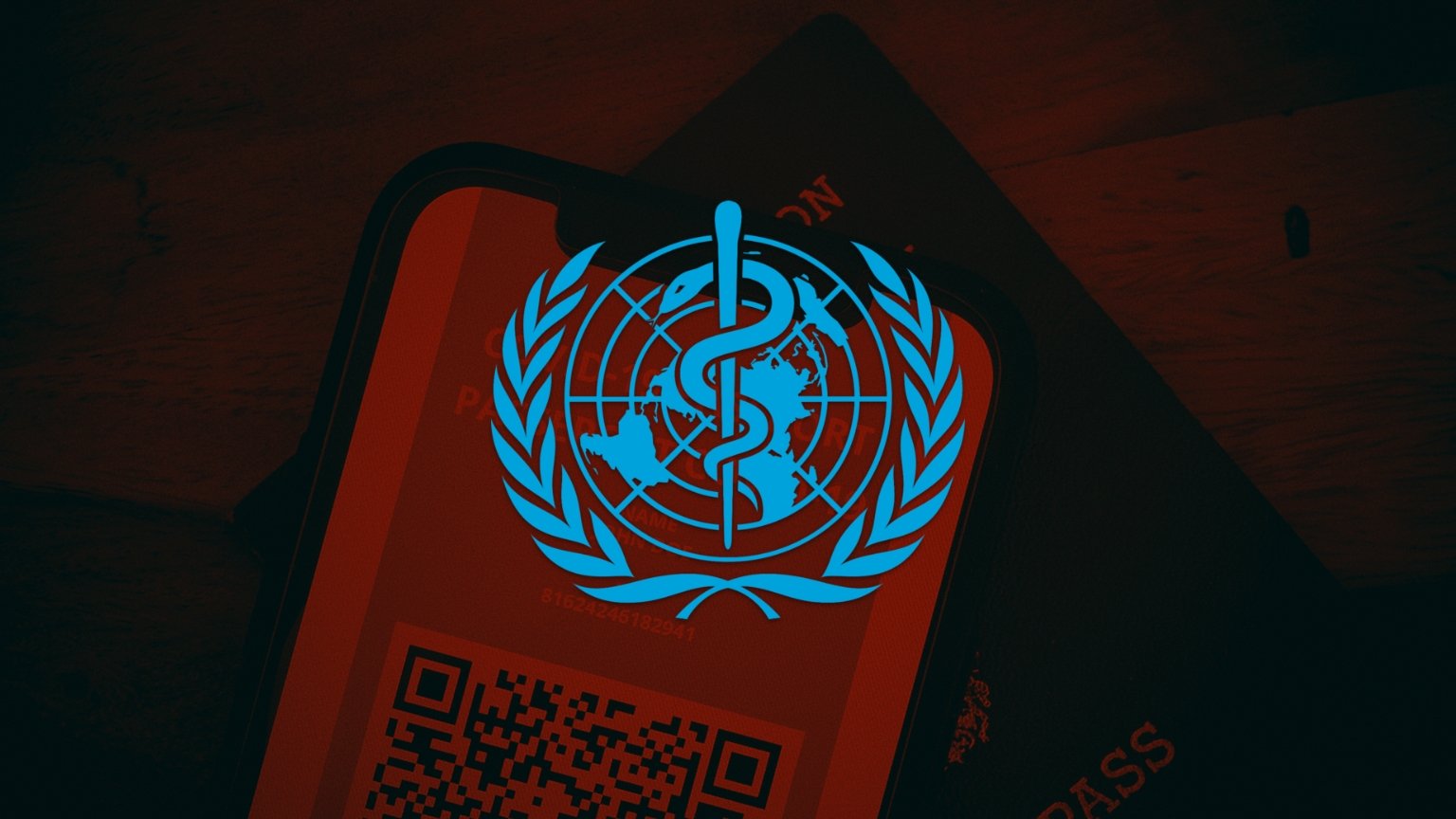 The WHO laid out its plans for global vaccine passports in a series of proposed amendments to the International Health Regulations (2005) — a legally binding instrument that imposes various conditions on 196 countries when the WHO declares certain types of health emergencies.
As governments around the world wind down their vaccine passport programs, the unelected World Health Organization (WHO) is attempting to make this Covid-era surveillance tech permanent and global.
Related: How vaccine passports are crushing freedom, privacy, and civil liberties
The movement to amend these International Health Regulations (IHR) began in January last year when the Biden administration quietly pushed for major changes. Since this initial push, other member states have proposed their own amendments and the total number of proposed changes now sits at 307.
These proposed amendments give the WHO new powers to declare "potential" health emergencies and include commitments from member states to recognize the WHO as the "coordinating authority" during certain types of health emergencies.
They also outline how the WHO intends to use its new powers to push global vaccine passports when it declares "potential or actual" health emergencies.  (See link for article)
______________
SUMMARY:
Proposed amendments greatly expand existing recommendations and lay out a framework for digital vaccine passports and other forms of digital tracking.
New text has been added forcing member states to require "documents containing information for a lab test in digital or physical format" and "information on vaccination against a disease."  It also appears paper and/or digital record keeping with be used for contact tracing.
Another amendment requires test

and

recovery certificates.
These digital documents will need to be verified as authentic from an "official" website suggesting QR codes.
At minimum, WHO wants everyone's name, national identity number, passport number, type of vaccine, vaccine batch number, date of administration, place of administration, and an official stamp.
At maximum WHO wants all of the data from the minimum scenario plus a

person's vaccination history

and a

QR code

that supports the retrieval of vaccination information.
Their next meeting will be held from April 17 till April 20.
The amendments are expected to be finalized by May 2024 and will be adopted under Article 21 of the WHO Constitution which doesn't state how many votes are needed to amend regulations, but many of the votes will be cast by diplomats who are appointed and not elected. 

If finalized member states will be given "due notice" and have a six-month window to reject them before they come into force.

Changes to IHR will also give the WHO increased power to target content that it deems to be "misinformation" and "disinformation" and increased surveillance powers. 
At the same time WHO is also pushing a zero draft of its international pandemic treaty which it's aiming to finalize in May 2024 — the same month the proposed amendments to the IHR are expected to be finalized.  Like the IHR, this pandemic treaty will give the WHO new legally binding powers to target misinformation and disinformation

 and 

strengthen its surveillance systems

.
 Here is a copy of the full list of proposed amendments to the IHR.
Here is an article-by-article compilation of the proposed amendments to the IHR.
_______________
"Pandemic Treaty" will hand WHO keys to global government
Suggested clauses would incentivize reporting "pandemics", and see nations punished for "non-compliance"
Kit Knightly
4/19/22
Excerpt on mainstream media's stance:
…the signs are that what scant press coverage there is, mostly across the metaphorical back-pages of the internet, will be focused on making the treaty "strong enough"and ensuring national governments can be "held accountable".

For this treaty to have teeth, the organisation that governs it needs to have the power – either political or legal – to enforce compliance.

In its current form, the WHO does not possess such powers […]To move on with the treaty, WHO therefore needs to be empowered — financially, and politically.
Two African countries – Burundi and Tanzania – had Presidents who banned the WHO from their borders, and refused to go along with the Pandemic narrative. Both Presidents died unexpectedly within months of that decision, only to be replaced by new Presidents who instantly reversed their predecessor's covid policies.
Less than a week after the death of President Pierre Nkurunziza, the IMF agreed to forgive almost 25 million dollars of Burundi's national debt in order to help combat the Covid19 "crisis".
Just five months after the death of President John Magufuli, the new government of Tanzania received 600 million dollars from the IMF to "address the covid19 pandemic".
It's pretty clear what happened here, isn't it?
Globalists backed coups

and rewarded the perpetrators with "international aid". The proposals for the Pandemic treaty would simply legitimise this process, moving it from covert back channels to overt official ones.  (See link for article)
_______________
**Comment**
Although this article is a year old, it's a pertinent reminder that COVID has already changed the playing field, giving globalists and unelected groups like the WHO and the WEF far too much power with no oversight or accountability.  Now, these groups want yet
more
power.
This is the very definition of technocratic globalism.
Only a fool would agree to these terms.
http://  Approx. 2 Min
How the WEF Makes Total Control Appealing!
March 12, 2023