https://www.zerohedge.com/political/wuhan-scientists-planned-release-chimeric-covid-spike-proteins-bat-populations-using-skin
Wuhan Scientists Planned To Release 'Chimeric Covid Spike Proteins' Into Bat Populations Using 'Skin-Penetrating Nanoparticles'
18 months before the pandemic, scientists in Wuhan, China submitted a proposal to release enhanced airborne coronaviruses into the wild in an effort to inoculate them against diseases that could have otherwise jumped to humans, according to The Telegraph, citing leaked grant proposals from 2018.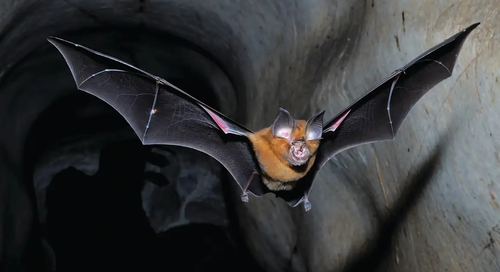 New documents show that just 18 months before the first Covid-19 cases appeared, researchers had submitted plans to release skin-penetrating nanoparticles containing "novel chimeric spike proteins" of bat coronaviruses into cave bats in Yunnan, China.

They also planned to create chimeric viruses, genetically enhanced to infect humans more easily, and requested $14million from the Defense Advanced Research Projects Agency (Darpa) to fund the work.
The bid was submitted by zoologist Peter Daszak of US-based EcoHealth Alliance, who was hoping to use genetic engineering to cobble "human-specific cleavage sites" onto bat Covid 'which would make it easier for the virus to enter human cells' – a method which would coincidentally answer a longstanding question among the scientific community as to how SARS-CoV-2 evolved to become so infectious to humans.
Daszak's proposal also included plans to commingle high-risk natural coronaviruses strains with more infectious, yet less deadly versions. His 'bat team' of researchers included Dr. Shi Zhengli from the Wuhan Institute of Virology, as well as US researchers from the University of North Carolina and the US Geological Survey National Wildlife Health Center.  (See link for article)
__________________
**Comment**
Important quote:
"This is clearly a gain of function, engineering the cleavage site and polishing the new viruses to enhance human cell infectibility in more than one cell line," Angus Dalgleish, professor of Oncology at St. Georges, University of London  – Telegraph
An anonymous scientist at WHO states that Daszak's grant proposal proposed plans to enhance the more deadly MERS virus which has a fatality rate over 30% – and is more deadly than COVID.
"If one of their receptor replacements made Mers spread similarly, while maintaining its lethality, this pandemic would be nearly apocalyptic."  Anonymous WHO scientist
For those just tuning in, Danszak conspired with other scientists and authored a paper in the Lancet to shut down any scientific debate into the origins of COVID. Daszak thanked Fauci in private emails for downplaying the lab leak theory in front of the world stage. Fauci lied to U.S. Congress denying his role in approving and funding coronavirus gain-of-function research projects that exploit human immune systems.
In this video, Dr. Martin addresses the history of the development of the SARS bioweapon, which was originally funded for AIDS/HIV research in 1999, and he dropped this bombshell on the audience:
Anthony Fauci has spent, listen to this number, 191 BILLION dollars, not 3.7 million, not 30 million, 191 BILLION dollars of audited funds for the bioweaponization of viruses against humanity.

And it is YOUR money that has been spent.
Dr. Martin also explains how the COVID-19 "vaccine" does not meet the legal definition of a "vaccine," but it meets the legal definition of a "bioweapon." Source
Why are Fauci and Danszak not behind bars already?
For more: