https://www.lymedisease.org/house-approves-lyme-funding/
TOUCHED BY LYME: House approves increased funding for Lyme disease
By Dorothy Kupcha Leland
July 31, 2020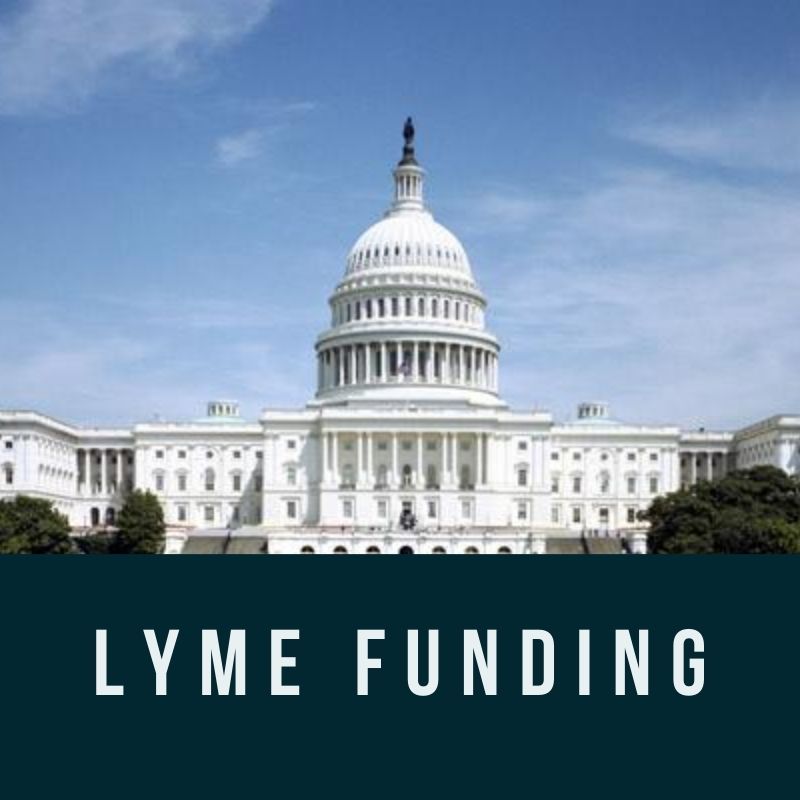 The House of Representatives today approved a package of spending bills that includes $20 million in Lyme disease funding for the Centers for Disease Control and Prevention.
The Fiscal Year 2021 amount represents a 43% increase over CDC Lyme funding from the previous year. The Lyme funding is part of $42 million designated for CDC efforts regarding vector-borne diseases.
Bonnie Crater, of the Center for Lyme Action, sent me the following timeline of what happened to Lyme funding in the past couple of weeks. (Note: a "minibus" bill is when several measures are bundled together to be considered as one item.)
Recap
July 7  The Labor-Health & Human Services appropriations bill included a +$2M increase on the Lyme item to grow that from $14M to $16M in FY21.  See page 67 for a chart that shows this.
July 13  The House Appropriations Committee passes Labor HHS appropriations bill and is combined with five other appropriations bills in a "minibus" to be reviewed by the Rules Committee.
July 24 Representatives Chris Smith and Collin Peterson, Co-chairs of the Lyme Caucus, proposed Amendment 13 to increase the Lyme item by $4M.
July 28 Amendment 13 was "made in order" (passed) out of the House Rules Committee for House Floor consideration.
July 29 Amendment 13 was bundled in En bloc #4 and renamed Amendment #289.
July 30 En Bloc #4 was approved by voice vote on the House Floor
July 31 All the approved Amendments and the main Minibus bill were approved by a vote of 217-197.
Now the action on this moves to the Senate. Though Bonnie tells me Senators are unlikely to start work on it until after the election.
TOUCHED BY LYME is written by Dorothy Kupcha Leland, LymeDisease.org's Vice-president and Director of Communications. She is co-author of When Your Child Has Lyme Disease: A Parent's Survival Guide. Contact her at dleland@lymedisease.org.
____________________
**Comment**
You may think this is a good thing.  I don't.
This money is going to the CDC, the enemy, who has only worked against patients for over 40 years.  They rig testing, and purposely design research  for a predetermined outcome:  https://madisonarealymesupportgroup.com/2017/01/13/lyme-science-owned-by-good-ol-boys/
Throwing more money at things doesn't always help, particularly if the money isn't going toward things that matter. In the case of Lyme/MSIDS, 'authorities' have been studying the same things over and over ad nauseam for 40 years with little to show for it. They refuse to even believe that people could be chronically infected as well as infected with numerous pathogens.
Most advocates are aware of this history but continue to think it's going to change.
Recently, these advocates began a federal effort with the Tick-borne Disease working group.  Here's how that's going:  https://madisonarealymesupportgroup.com/2020/07/18/dr-walker-at-tbdwg-meeting-sick-patients-who-want-to-get-treated-believe-in-persistent-lyme-like-a-religion/  Dr. Shapiro, a long time Lyme denialist sits on this board and Dr. Walker believes that patients with persisting symptoms believe they are infected 'like a religion':  https://madisonarealymesupportgroup.com/2020/07/13/shapiro-and-walker-operated-as-a-tag-team-throughout-the-meeting/
In other words, the TBDWG is filled with people who do not believe patients and are unwilling to even listen.  They have their own agenda plain and simple.
No– it's high time we leave these criminals in the dust and fund our own research using independent researchers who don't belittle patients.
If insanity is doing the same thing over and over and expecting different results, why does the Lyme community keep attempting to work with liars and criminals who have done nothing positive for them?
Recently I was contacted from a person who has been involved in the Lyme community for far longer than I.  This person told me that the HHS is prevented from lobbying so they manipulate patients to lobby FOR HHS.  We essentially are their meal-ticket.  Meanwhile, they have no accountability and can continue their crony 'science' doing whatever they want with no oversight or accountability.
I was told to contact 
congressman Frank Pallone and demand a hearing on the issues of Lyme BEFORE HHS gets another dime of money.
Here is his contact information:  https://pallone.house.gov/contact  Similarly to most representatives, you must be a resident to send an email.  You can call the numbers listed; however, and speak to an aid.
An example of what to say:
I would like to give a message to Congressman Pallone about Lyme funding.  

Due to a long history of CDC corruption which has affected patients and doctors negatively, I demand a hearing before Health and Human Services receives another dime of taxpayer money for Lyme disease research.

There are many important issues that need to be resolved and patients and the doctors treating them need to have confidence that the money will be on issues that matter and that the researchers receiving the money have no conflicts of interest.

We demand and deserve transparent, unbiased research done by those without conflicts of interest.  We have waited a long time and all that's happening is more people are becoming infected with the same dark future ahead of them due to rigged science done by those with an agenda.

Thank you for your time.
This is just an idea, of course, make it your own.