https://thenewamerican.com/fda-authorized-second-booster-for-americans-50-without-consulting-with-its-vax-panel
FDA Authorized Second Booster for Americans 50+ Without Consulting With Its Vax Panel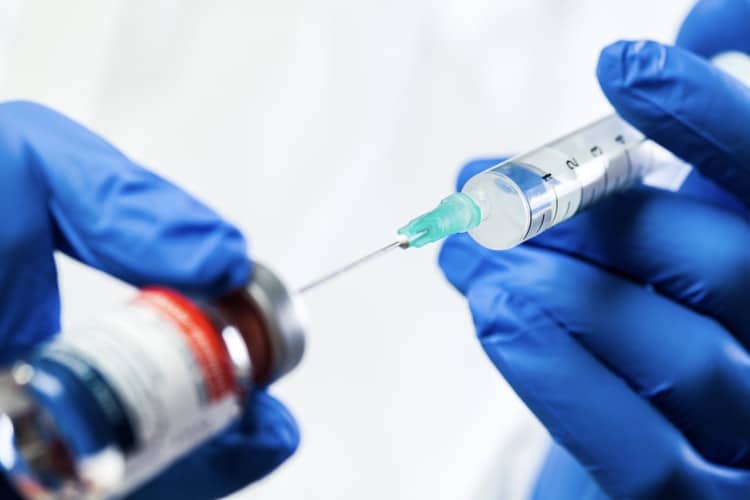 On Tuesday, the FDA authorized Americans who are 50 years of age and older to receive a second booster of the Covid shot from either Pfizer-BioNTech or Moderna. The move comes after the Biden administration, disregarding the most basic "scientific" decorum and procedures, was reported to offer older Americans a fourth dose of the Covid vaccine. By fall, younger Americans will likely be able to get their second booster, too.
The news of the administration's planning to make yet another dose available to the public was first reported by The New York Times over the weekend.  (See link for article)
Important excerpt:
There's a troubling caveat in that decision: it seems to have been made by the administration without discussion with the U.S. Food and Drug Administration's (FDA) and the U.S. Centers for Disease Control and Prevention (CDC) "independent" panels. Meaning, the Biden administration is releasing the fourth vaccine booster without any public deliberation on the matter.
____________________
SUMMARY:
Federal public health agencies have been operating under regulatory capture
There is no "science" behind the move
Vinay Prasad of the Brownstown Institute argues that the advisory committees' meetings are skipped "because many smart people will disagree with them, and consider their plan reckless and lacking data.
August 2021 – two senior FDA regulators resigned from their positions over disagreement with the White House's pressure to move forward with COVID booster shots without FDA approval, as well as with the CDC's involvement in the approval process.
VRBPAC decided that it was too early to throw its support behind a blanket authorization for booster doses of Pfizer's COVID shot for people 16 and older and voted against recommending it to the general public.
Prasad states that due to it being an election year, Biden's desire to "keep COVID numbers low" reaffirms the assumption that public health is acting as a political organization not a health organization.
COVID shot efficacy is dire: breakthrough infections even about the triple vaxxed has prompted the Pfizer CEO to announce that the immune protection offered by the third dose "is not very good against infections" and "doesn't last very long," yet maintains the necessity of taking yet another dose.
_________________
https://healthimpactnews.com/2022/22000-increase-in-deaths-following-covid-vaccines-for-adults-over-50-as-fda-authorizes-2nd-booster-for-this-age-group/
22,000% Increase in Deaths following COVID "Vaccines" for Adults Over 50 as FDA Authorizes 2nd Booster for this Age Group
by Brian Shilhavy
Editor, Health Impact News
March 29, 2022
A sampling of the stories we have covered over the past 15 months on thousands of older adults dying after the COVID Vaccines.
by Brian Shilhavy
Editor, Health Impact News
The FDA announced today that it has issued another emergency use authorization (EUA) for a second COVID booster vaccine for adults over the age of 50, and as young as 12 years old if they are "immune compromised."
Pfizer had made the request for a second booster shot two weeks ago, but their request was for adults over the age of 65. The FDA, however, lowered that to age 50, and issued the EUA for both the Pfizer and Moderna COVID-19 vaccines.
Amid the ongoing debate over the need for another round of COVID-19 boosters, the FDA has acted quickly on the matter.

Only two weeks after Pfizer and its partner BioNTech asked the agency for an emergency use authorization (EUA) for a second round of COVID-19 boosters in people 65 and older, the FDA has granted the nod. The new FDA authorization covers those who have already been boosted with any COVID vaccine and are either 50 and older or 12 and older if they are immunocompromised.

At around the same time on Tuesday morning, Moderna said the FDA had granted its application for a second booster. The Moderna nod covers adults over 50 who have been boosted once, plus immunocompromised adults over 18. Moderna applied for a second booster on March 17. (Full article.)
Do you think the FDA looked at the data in their Vaccine Adverse Event Reporting System (VAERS) regarding COVID-19 vaccines for this age group to see if there were any concerns before authorizing a second booster shot for this age group?
Not likely.
As we have previously reported, the FDA does no safety oversight on these vaccines, but simply takes the drug manufacturers' word for it, allowing them to police themselves. See:
Just Released Documents by Pfizer Show BioNTech Paid FDA $2,875,842.00 "Drug User Fee" for COVID-19 Vaccine Approval
So we will review the data on this age group in VAERS as a service to the public.
Here is what VAERS is reporting for people over the age of 50 following COVID-19 vaccines. (Source
There are currently 14,752 deaths recorded in VAERS for people over the age of 50 following a COVID-19 vaccine, covering a period of 15 months. That's an average of 983 deaths a month for this age group.
Here are the results for this age group for the previous 30 years following ALL vaccines in VAERS. (Source.)
There were 1,590 deaths recorded following ALL vaccines for the previous 30 years for people older than 50. So if we divide that number by 360 months we get a monthly average of 4.4 deaths.
So we have seen a 22,000% increase in deaths for people over the age of 50 following COVID-19 vaccines, and the FDA just authorized another booster for those who are left in this age group.
But who cares? The corporate media owned by Big Pharma wants everyone to worry about Russia instead right now, while the FDA's crimes go unpunished and they continue to produce and distribute more deadly shots.
Here is a video I put together last September when the FDA approved the first booster for seniors, which includes whistleblower testimonies from those who saw people die after taking the COVID-19 vaccines.  This is on our Bitchute Channel. (Approx. 20 Min)

This is simply euthanasia and mass murder, and they are getting away with it.
For more:  https://madisonarealymesupportgroup.com/2020/12/21/warning-3150-injuries-in-1st-week-of-covid-vaccines-among-american-healthcare-workers-pregnant-women-included/