https://danielcameronmd.com/treatment-varies-for-bells-palsy-in-children-with-lyme-disease/
TREATMENT VARIES FOR BELL'S PALSY IN CHILDREN WITH LYME DISEASE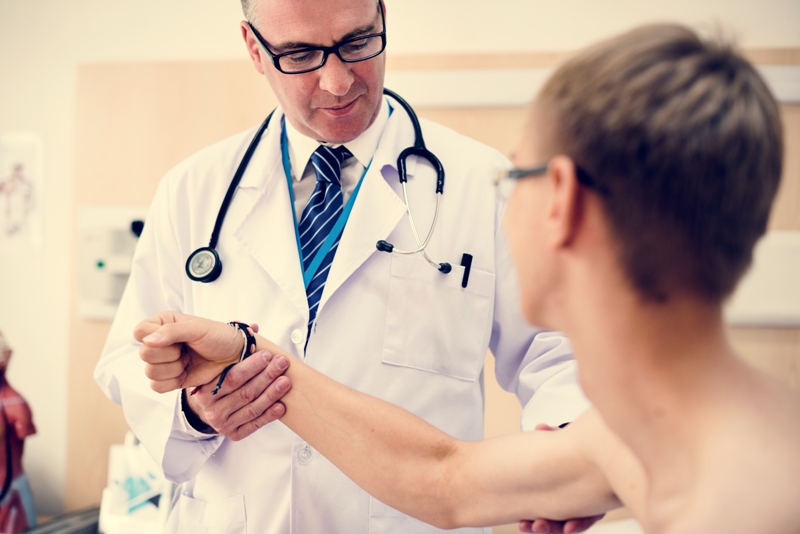 "The UK county of Hampshire is a high incidence area of Lyme disease," according to a recent article in the International Journal of Pediatric Otorhinolaryngology. ¹ Hampshire is a county in southern England. The study aimed to investigate the extent of idiopathic Bell's palsy in children, the degree of variation in treatment, and "whether Lyme disease was being considered as a cause and being investigated and treated appropriately."
The retrospective review included 93 children with idiopathic Bell's palsy to the University Hospital Southampton NHS Foundation Trust from 2010 to 2017. Idiopathic facial nerve palsy, formerly called Bell's palsy, is seen in early Lyme disease.
Very few children in the study with Bell's palsy reported a tick bite or rash. In fact, only 14% had a tick bite, while 5% had a rash. Lyme disease testing was performed on 76 of the 93 children. Of these, 22 (29%) were positive for Lyme.
Neuroimaging was performed on approximately 20% of the children. The most common findings were consistent with inflammation or infection of the facial nerve.
Surprisingly, despite increased awareness of Lyme disease in the Hampshire region, nearly 1 in 5 children in the study were not tested for the tick-borne disease.
Additionally, the authors point out, "even in the absence of other signs or symptoms of Lyme disease, an FNP could be the sole presenting sign."
Bell's palsy treatments
"We found significant variation in medical management, with some children appearing to receive no treatment," the authors write.
• Only 73.1% were treated with an antibiotic.
• The number of treatment days varied from 1 to 28, with a median of 14 days.
• 44% of the children were treated with the oral steroid, prednisolone.
• Over 17% were prescribed an antiviral medication.
• Nearly 20% received neuroimaging. The most common findings were consistent with inflammation or infection of the facial nerve.
The study was not designed to determine the outcome for these children. The study raises several unanswered questions: Could steroid use in these children affect the outcome? Could little or no treatment affect their outcome? Would any of these children develop long-term complications?
Study Conclusions
"Lyme disease is a significant cause of FNP in this endemic area of the UK, and there was a large degree of variability in management prior to national guideline publication."
"In areas endemic with Lyme disease, Lyme disease should be considered as the likely cause of facial nerve palsy in children until proven otherwise."
"All children presenting with [facial nerve palsy] FNP to health care providers in these areas should have Lyme serology tested and empirical treatment for Lyme initiated pending the results of tests."
"Areas with endemic Lyme disease should consider introducing local guidelines supporting routine investigation and management for FNP, including empiric treatment for Lyme disease in accordance with NICE guidelines to improve care and reduce variability."
(NICE refers to the UK National Institute for Health and Care Excellent, which developed guidelines for clinicians on the investigation and management of Lyme disease.)
Editor's note: The number of cases of facial nerve palsy could be higher as the numbers reflect only Bell's palsy in children, who were evaluated at their hospital. Yet, many doctors treat Bell's palsy in their office.
References:
Munro APS, Dorey RB, Owens DR, Steed DJ, Petridou C, Herdman T, Jones CE, Patel SV, Pryde K, Faust SN. High frequency of paediatric facial nerve palsy due to Lyme disease in a geographically endemic region. Int J Pediatr Otorhinolaryngol. 2020 Jan 25;132:109905.
______________________
**Comment**
This right here is why I'm losing hair.  Seriously.
Lyme disease should be considered in ANYONE presenting with facial palsy as it is a hallmark symptom of early Lyme (although many don't get it – just like the EM rash)
They state only 14% had a tick bite.  Please know that's what they found.  I'm sure there were many others that weren't found.  Nymphal tick bites are painless and impossible to see.
Only one in five were even tested!  The fact only 29% were positive isn't surprising.  Lyme serology testing is abysmally poor missing anywhere from 50-86% of all cases:  https://madisonarealymesupportgroup.com/2018/01/16/2-tier-lyme-testing-missed-85-7-of-patients-milford-hospital/  We need to stop relying upon testing for diagnosis of Lyme disease.  It should always be clinically diagnosed which means doctors/nurses need to be educated to know what to look for.  It's high time this "wait and see" paradigm changes as the longer it takes for diagnosis and treatment the worse the outcome.
It's also high time we throw CDC 2-tiered testing into the trash bin.  There are smaller CLIA-certified labs with far more sensitive testing.  We also need a direct test and we needed it 40 years ago.  This reliance upon faulty testing for diagnosis and entrance criteria into research studies must end.
Treatment was all over the map with some not getting ANY treatment. This is unacceptable.  
They used steroids – a big "no, no" in those with Lyme – unless they are using antimicrobials concurrently and are being carefully watched.  Catabolic steroids depress the immune system which will make infections worse.  Since mainstream medicine vilifies trained ILADS doctors who know this fact, their egos prohibit them from learning from others with training and experience.  It's a sad state of affairs.  Please note Dr. Cameron's related link in the "related article" section at the end.
Some doctors were more willing to give steroids and anti-virals than antibiotics.  This is a prime example of doctors fearing retribution since our 'authorities' have made it abundantly clear they will come after doctors for utilizing extended antibiotics for Lyme.  While they won't come after doctors for handing out steroids and anti-virals – both of which can have serious side-effects, they single out antibiotics.  The question you must ask yourself is why?  (Perhaps they don't want people to recover?)
I feel badly for these kids.  More than likely they are still suffering.  It blows my mind, after just reading Polly Murray's "The Widening Circle," that doctors are still not treating Lyme disease (a bacterial infection) with antibiotics and the respect it deserves.  They would rather sit back and study these poor kids like lab rats.  When early treatment (a few weeks or a month) would often completely resolve these cases, they continue with outdated propaganda that will assuredly maim and kill many. 
In Murray's book, it was clear that doctors chose not to treat many of these poor people.  It was also clear that those who were treated with antibiotics always improved.  Why is this fact not accepted?  Again, logic does not matter in the topsy-turvy world of Lyme/MSIDS.
For more:
https://madisonarealymesupportgroup.com/category/lyme-disease-treatment/