https://danielcameronmd.com/lyme-in-the-south-children-infected-camp/
LYME DISEASE IN THE SOUTH: 4 CHILDREN INFECTED AT ONE CAMP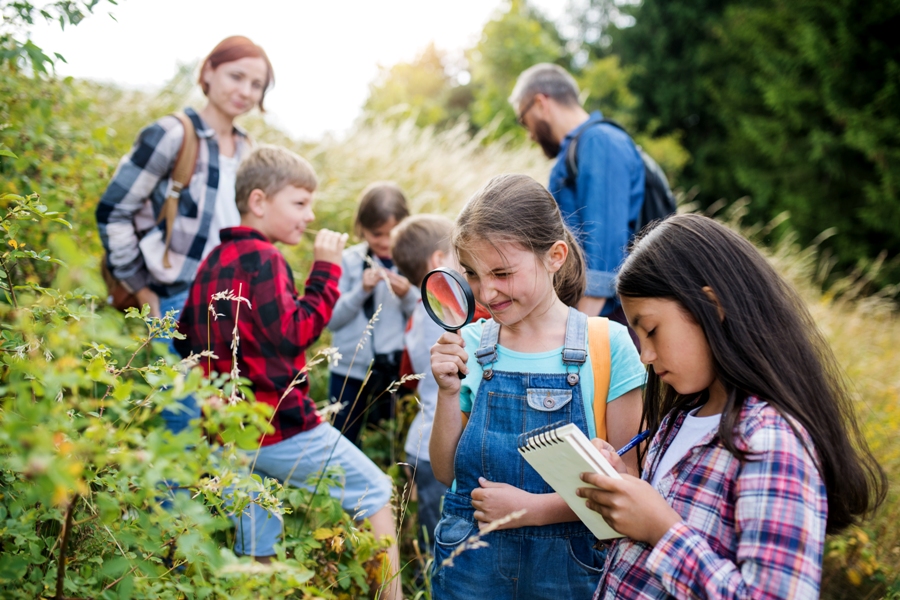 Some doctors have questioned the existence of Lyme disease in the south, but in their "Morbidity and Mortality Weekly Report," published January 2020, the Centers for Disease Control and Prevention (CDC) describe 4 cases of Lyme disease in young children who attended a wilderness day camp in North Carolina. [1]
The number of tick-borne diseases, including Lyme, has been steadily rising in the South as tick populations expand into new territories. One study reports, "The trends in these data paint a clear picture of southward expansion of Lyme disease." As a result, communities once considered non-endemic for Lyme disease will be at risk, including those in the south, the study warns. [2]
The CDC recently reported several children infected with Lyme disease at a single camp, located in the south. The children, who were between the ages of 6 and 8, attended the wilderness day camp at least 1 day a week in the Fall and Spring. Three of the four children were homeschooled but attended the camp. Three children had ticks removed.
"Further investigation identified an earlier camp participant who had received a diagnosis of Lyme disease in 2017," the authors explain.
READ MORE: Culture Evidence of Lyme disease in antibiotic-treated patients living in the Southeast
Using a "flagging and dragging" method across 0.27 acres of the camp, investigators collected 37 Ixodes Scapularis ticks, commonly called deer ticks.
Study Results
Out of 35 ticks tested, 6 were positive for B. burgdorferi sensu stricto, the causative agent of Lyme disease.
"Results indicated that nymphal ticks collected at the campsite had a B. burgdorferi infection prevalence of 17%," the authors write.
Additionally, 1 of the 6 ticks tested positive for Borrelia miyamotoi.
None of the ticks tested positive for the pathogens responsible for Anaplasmosis or Babesia microti.
In 3 of the 4 children, blood tests confirmed a Lyme disease diagnosis. Two of the children had an erythema migrans (bull's eye) rash. One was considered probable because the test was positive by ELISA and IgM Western blot but not IgG Western blot.
Symptoms and Treatment
The clinical presentations included brief, recurrent attacks of joint swelling, arthralgia, fever, headaches, loss of appetite, and fatigue. One had radiculoneuropathy and Bell's palsy.
All were treated with doxycycline. The authors did not indicate how long they treated the young children or the outcome of treatment.
Authors Conclude
"Clinicians should be aware of the risk for transmission of Lyme disease in North Carolina and consider recommended diagnostic testing and treatment."
Other studies have also identified ticks infected with the causative agent of Lyme disease in the south. One study reports, "The trends in these data paint a clear picture of southward expansion of Lyme disease." As a result, communities once considered non-endemic for Lyme disease will be at risk, including the southeastern United States, the study warns. [2]
Editor's note: I hope this cluster of cases in children attending a single camp in North Carolina will remind doctors of the tick-borne problems in the Southeastern USA.
References:
Barbarin AM, Seagle SW, Creede S. Notes from the Field: Four Cases of Lyme Disease at an Outdoor Wilderness Camp — North Carolina, 2017 and 2019. MMWR Morb Mortal Wkly Rep. 2020 Jan 31; 69(4): 114–115.
Lantos PM, Nigrovic LE, Auwaerter PG, et al. Geographic Expansion of Lyme Disease in the Southeastern United States, 2000–2014. Open Forum Infectious Diseases. 2015;2(4):ofv143. doi:10.1093/ofid/ofv143. Available at https://www.ncbi.nlm.nih.gov/pmc/articles/PMC4629694/
_________________
**Comment**
Lyme disease still is not recognized for the pandemic it truly is. This study demonstrates how authorities are still hanging on to ancient data that never was accurate to begin with.
It demonstrates a Southerly tick expansion.  We've been told ad nauseam that ticks are expanding Northward due to climate change. Well, it's already hot in the South so there goes that theory.  Also, independent research has already blown that theory out of the water some time ago, yet it isn't accepted because it doesn't fit the narrative: https://madisonarealymesupportgroup.com/2018/11/07/ticks-on-the-move-due-to-migrating-birds-and-photoperiod-not-climate-change/ This researcher claims the narrative is widely held because researchers working at institutions need 'accepted' topics to receive funding for their work.  In essence, those with little research experience call the shots. Ticks laugh at the weather. They just don't care. They will find a way to survive.  https://madisonarealymesupportgroup.com/2019/06/17/ontario-public-health-officials-called-out-on-shoddy-biased-research-utilizing-an-erroneous-climate-change-model-to-program-a-futuristic-tick-problem/
Lyme disease STILL isn't widely accepted and treated appropriately.  It's even worse in the South: https://madisonarealymesupportgroup.com/2019/04/22/its-just-crazy-why-is-lyme-disease-treatment-so-difficult-to-find-in-mississippi/, https://madisonarealymesupportgroup.com/2016/09/24/arkansas-kids-denied-lyme-treatment/, https://madisonarealymesupportgroup.com/2018/05/31/no-lyme-in-the-south-guess-again/
Even with a 17% tick infection rate with Bb, 4 kids got infected. It isn't always a linear connection between tick infection rates and human infection rates. Trust me, if you're the sorry sucker who gets infected – it matters!
Notice not all found ticks, got the EM rash, and tested positive on serology – yet those parameters are still held like an iron curtain in mainstream medicine to prove infectivity.
The symptoms these kids had are hallmark Lyme symptoms.