https://www.galaxydx.com/ehrlichiosis-tick-borne-infection-imitates-blood-related-cancers/
written on
Ehrlichiosis: A Tick-borne Illness That Can Imitate Blood-Related Cancers
Ehrlichiosis, or an infection caused by Ehrlichia species, is a tick-borne illness that causes mild to severe symptoms in approximately 1,500 patients per year in the United States and an unspecified number around the world.
The nonspecific symptoms of the infection can lead to misdiagnosis. Furthermore, research in North Carolina suggests that testing for Ehrlichia species infection is frequently missed, even when other tick-borne disease testing is ordered.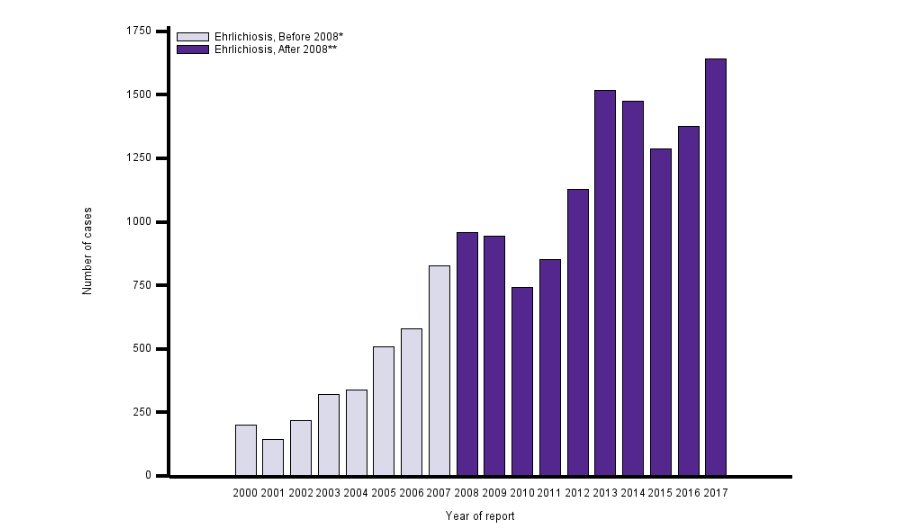 Accurate diagnosis is crucial. Initial lab work for a patient with an Ehrlichia species infection may show anemia and other abnormalities that mimic blood-related cancers, leading physicians down a diagnostic rabbit hole. In one case, a patient had a preliminary diagnosis of T-cell lymphoma, but fortunately had a physician who dug deeper before initiating treatment for cancer. The physician ordered additional diagnostic testing including for tick-borne disease and found the patient was positive on PCR testing for Ehrlichia chaffeensis. The patient recovered with antibiotic treatment.
This case highlights the importance of continuing to develop advanced diagnostics for ehrlichiosis and other tick-borne illnesses. Current diagnostic tests, such as serology and conventional blood smear microscopy, are often not specific enough to accurately differentiate between species and even between Anaplasma and Ehrlichia because of similarities in morphology. Furthermore, serology results are difficult to interpret because the presence of antibodies can indicate current or past infection.
Galaxy Diagnostics offers highly sensitive PCR testing for active Ehrlichia species infections. Our broad-spectrum PCR method detects the DNA of pathogenic Ehrlichia species in blood samples. If a sample is positive, the species is determined using DNA sequencing.
Learn more about ehrlichiosis and the species that can cause the illness at our new Ehrlichiaspecies webpage.
References
Centers for Disease Control and Prevention. (2019a). Ehrlichiosis clinical and laboratory diagnosis. Retrieved from: https://www.cdc.gov/ehrlichiosis/healthcare-providers/diagnosis.html
Centers for Disease Control and Prevention. (2019b). Ehrlichiosis epidemiology and statistics. Retrieved from: https://www.cdc.gov/ehrlichiosis/stats/index.html
Malani, A. et al. (2005). Ehrlichiosis mimicking T-cell lymphoma/leukemia. Blood, 106, 4343. Retrieved from: http://www.bloodjournal.org/content/106/11/4343
University of North Carolina Health Care. (2018). Providers often fail to consider Ehrlichia when treating tick-borne infections: Discovery shows need for statewide educational efforts. ScienceDaily. Retrieved from: https://www.sciencedaily.com/releases/2018/10/181001171202.htm
_________________
More on Ehrlichiosis:  https://madisonarealymesupportgroup.com/2018/12/02/everything-thats-known-about-ehrlichiosis/
 https://madisonarealymesupportgroup.com/2018/10/15/ehrlichiosis-masquerading-as-thrombotic-thrombocytopenia-purpura/
https://madisonarealymesupportgroup.com/2018/10/02/north-carolina-ehrlichia-often-overlooked-when-tick-borne-illness-suspected/
https://madisonarealymesupportgroup.com/2018/07/24/oklahoma-ehrlichiosis-central/
https://madisonarealymesupportgroup.com/2018/03/09/dogs-ehrlichiosis/
https://madisonarealymesupportgroup.com/2018/11/11/gestational-lyme-other-tick-borne-diseases-dr-jones/