https://www.tulsaworld.com/news/local/oklahoma-is-ehrlichiosis-central-and-common-lone-star-ticks-which/article_408eed87-5b3e-5b3e-a829-9d7802ad578b.html
Oklahoma is 'Ehrlichiosis Central,' and common lone star ticks, which carry it, are 'most active' now
Flu-like illness spread via tick
July 4, 2018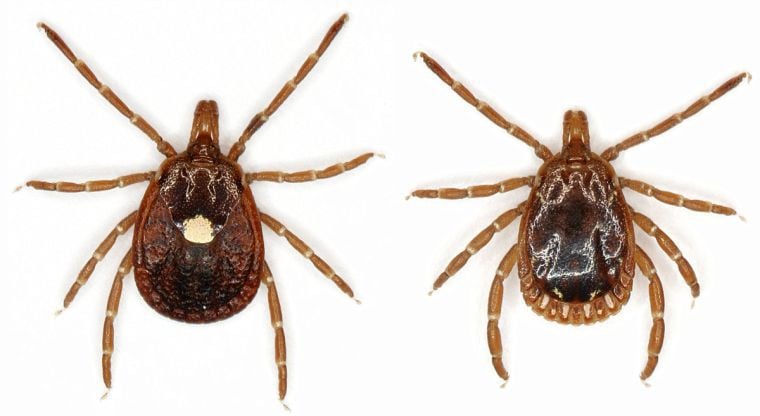 __________________________________________________________________________
Texas may be the Lone Star State, but late June through August is prime time for the real lone star to shine in Oklahoma — the lone star tick, that is.
Chances are this summer you have heard of someone in your circle of Oklahoma friends — or someone who knows someone — who has come down with ehrlichiosis (sounds like "air-leaky hoses)."
Along with the spotted fevers (rickettsioses), it is one of the most common tick-borne diseases in Oklahoma. It is primarily shared to Oklahomans through the lone star tick (the one with the white spot on its back), and the heat of summer is the time the lone star tick is most active, according to Oklahoma State University entomologist Justin Talley.
"We've had two people in our building and some in other departments come down with it recently, as well," he said. "A lot of ticks are out right now, and it seems to be getting passed around for some reason, but that's also pretty typical. We've always had it here in Oklahoma."
The flu-like bacterial infection is passed from "reservoir species" such as white-tailed deer and coyotes through the lone star tick to humans.
While northeastern states are the prime areas for Lyme disease, Oklahoma is Ehrlichiosis Central.
"When you look at the Centers for Disease Control data, there are three states that are the hotbed for it: Oklahoma, Missouri and Arkansas," Talley said.
It can prove fatal if left untreated, especially for very young or elderly patients. Fatal cases are not limited to but most often hit children younger than 10 and people over 70, Talley said.
"The summer is definitely a problematic time of year. Highest risk is April to October, but we really encourage people to be aware of tick-borne diseases like ehrlichiosis year around and statewide," said Rachel Clinton, epidemiologist with the state Department of Health Acute Disease Service. "Each year we continue to see a lot of cases statewide."
Diagnosis of ehrlichiosis can be tricky because people may think they have the flu and may not realize or recall that they were bitten by a tick up to two weeks earlier — especially people who spend a lot of time outdoors for their work or recreation, she said.
"It's especially important for parents to check children for ticks every day, and if you're working outdoors in a high-concentration area, you should inspect twice a day," Clinton said. "Small children need to be looked at closely because they just don't know they've been bitten. The hairline is an especially important place to look."
Talley said the most important things are awareness, taking steps to prevent bites, and proper removal and documentation after being bitten.
"That's the biggest thing. The lone star is the most active tick right now, especially east of I-35, Tulsa and southeast. You can go out anywhere and get one on you, even in your backyard," he said.
Talley advised gentle, slow pulling of the tick straight away from the skin for removal, preferably just with tweezers or fingernails so as not to cause the tick to regurgitate back into the wound.
Tick-removal devices can be good, too;
"just don't use anything that requires a twisting motion," he said. "You want to lift it straight up, slowly, so a tool that is like a bottle-opener is OK."  "Whatever you do, do not put a hot match or anything on the tick," he said. "Just pull it off."
The best thing then is to mark a calendar or put a date on a zip-seal bag, drop the tick in the bag and put it in the freezer. That can help with identifying the tick if something arises and, in rare cases, it could help solve a medical mystery.
"You can get the little brown seed tick, too, and it can be just a smaller lone star tick," he said. "We can tell what it is under a microscope."
Lone star ticks are not the only ticks in Oklahoma, but they are the ones most commonly associated with ehrlichiosis — as well as tularemia, southern tick-associated rash illness, the rare Heartland virus and the alpha-gal or meat allergy.
Dog ticks are the second most active now. They are most closely associated with Rocky Mountain spotted fever but also may be a vector for tularemia.
__________________
More on Ehrlichosis:  https://madisonarealymesupportgroup.com/2018/03/09/dogs-ehrlichiosis/
https://www.lymedisease.org/ehrlichiosis-tick-borne-disease-no-one-heard/
More on Tularemia:  https://madisonarealymesupportgroup.com/2016/10/25/of-rabbits-and-men/
https://madisonarealymesupportgroup.com/2018/02/27/tularemia-infected-ticks-found-on-sorrento-valley-trail-in-ca/
https://madisonarealymesupportgroup.com/2018/03/07/hantavirus-tularemia-warnings-issued-in-san-diego-county/
More on RMSF:  https://madisonarealymesupportgroup.com/2018/07/10/first-rmsf-death-in-wisconsin/
https://madisonarealymesupportgroup.com/2018/06/12/georgia-mom-warns-others-after-son-contracts-rocky-mountain-spotted-fever-after-tick-bite/
https://madisonarealymesupportgroup.com/2017/10/21/mom-got-rocky-mountain-spotted-fever-while-picking-pumpkins/
More on Heartland Virus:  https://madisonarealymesupportgroup.com/2017/08/02/heartland-virus-in-arkansas/
https://madisonarealymesupportgroup.com/2016/11/01/heartland-virus-ravages-mans-body/
https://madisonarealymesupportgroup.com/2018/07/01/surveillance-for-heartland-bourbon-viruses-in-eastern-kansas/