https://www.lymedisease.org/charles-ray-jones-turns-90/
Dr. Charles Ray Jones turns 90; still helping kids with Lyme disease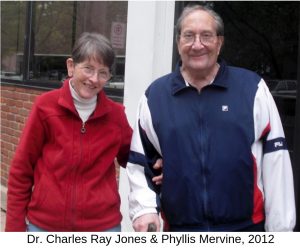 Dr. Charles Ray Jones is the world's leading pediatric Lyme specialist. He has treated well over 15,000 children from around the globe, over a period of more than four decades.
He has helped countless more, by training doctors and sharing his vast knowledge at conferences for both professionals and patients.
Despite years of harassment from the medical establishment, now, at age 90, Dr. Jones continues to see young patients at his office in New Haven, Connecticut. Many parents have credited him with saving the lives of their children.
His battles with medical authorities were documented in the 2008 Lyme documentary "Under Our Skin." Here's a clip from that:
The photo at the top of this blog is of Dr. Jones with LymeDisease.org's founder and president, Phyllis Mervine.
LymeDisease.org joins the rest of the Lyme community in wishing a happy birthday to Dr. Jones–and we hope he'll continue to help children with Lyme for many years to come.
_________________
For more:  https://madisonarealymesupportgroup.com/2018/11/11/gestational-lyme-other-tick-borne-diseases-dr-jones/
https://madisonarealymesupportgroup.com/2019/01/10/transmitted-in-the-womb-children-battle-lyme-disease-from-birth/
Dr. Charles Ray Jones: Straight Talk With a Fearless Pediatrician  Janet Jemmott interviews veteran Lyme disease Dr. Charles Ray Jones, introduced in our July, 2014 newsletter
A true rock star who's saved the lives of thousands. May he live to celebrate many more birthdays and continue to train the next generation of doctors so our children can lead productive lives.
https://sites.google.com/site/drjoneskids/home
Warning!!!
Google is deleting all websites of this kind in its system.
This is one of 15 Google websites I've been sharing info on.
I am trying to hurriedly save and transfer this information.
However, there is a deadline quickly approaching. 
If I am able to get a Children's site up and running
Thank you for your patience and understanding.