Episode 43: Understanding Debilitating Lyme Disease Symptoms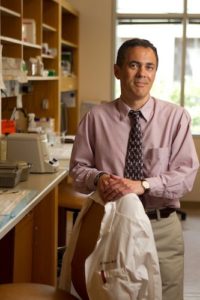 Cindy Kennedy, FNP, is joined by Neil Spector, M.D., who discusses his experience with debilitating Lyme disease symptoms and how to manage them.Dr. Spector is the Sandra Coates Associate Professor of Medicine, an Associate Professor of Cancer Biology and Pharmacology and the Associate Director of Developmental Therapeutics for the Duke Cancer Institute.
Dr. Spector's work has focused on elucidating molecular mechanisms underlying therapeutic resistance to therapies targeting the Human Epidermal Growth Factor Receptor (HER) family of receptor tyrosine kinases that are involved in the pathogenesis of breast cancer and other commonly occurring solid tumors.
He directed the translational research program that facilitated the successful development and eventual FDA approval of lapatinib (Tykerb), a small molecule inhibitor of the HER2 and EGFR tyrosine kinases, for the treatment of advanced stage HER2 overexpressing (HER2+) breast cancers.
His lab developed the first preclinical models of therapeutic resistance to lapatinib, which identified a novel mechanism of resistance that was published in the Proceedings of the National Academy of Sciences, and served as the scientific rationale for a clinical development program that led to the FDA approval of lapatinib in combination with the aromatase inhibitor letrozole as a first line therapy for patients with HER2+/Estrogen Receptor positive metastatic breast cancer.
His application of translational research to the preclinical and clinical development of lapatinib is widely regarded as a model for of how precision oncology can transform treatment of cancer patients, and facilitate the development of targeted cancer therapies.
Dr. Spector's research collaborations with colleagues at Duke led to the first clinical trial of a HER2 kinase inhibitor (lapatinib) combined with a HER2 vaccine. He also oversaw the early phase clinical development of nelarabine, an ara-G prodrug that was FDA approved for the treatment of pediatric acute lymphoblastic leukemia. His work with Dr. Tim Haystead (Professor, Cancer Biology and Pharmacology) has led to the identification of novel small molecules that target cell pathways involved in the earliest stages of tumorigenesis, providing an opportunity to prevent breast and other cancers in high risk individuals.
Dr. Spector was recognized by his peers through his selection as a Komen Research Scholar, a group representing the top breast cancer researchers from around the world. He was the recipient of the R. Wayne Rundles Award recognizing outstanding research accomplishments by a Duke investigator, and the Wendell Rosse Teaching Award recognizing excellence in teaching as determined by Duke medical oncology/hematology fellows.
In addition to his Duke research, Dr. Spector was appointed in 2016 to serve as the National Director of Precision Oncology for the VA Healthcare System.
Dr. Spector also detailed his personal 17-year journey with Lyme disease and the life-threatening cardiac complications that ensued, leading to heart transplant in 2009 in his book, "Gone In a Heartbeat: A Physician's Search for True Healing."
He was recently awarded a $3.8 million grant to develop molecular targeted therapies for two tick borne illnesses, Borrelia (Lyme disease) and Bartonella.
Dr. Spector earned an undergraduate degree at the University of North Carolina-Chapel Hill and an M.D. from Rutgers-New Jersey Medical School. He completed his internal medicine residency training at Parkland Hospital, University of Texas-Southwestern Medical Center, Dallas and a Medical Oncology/Hematology/Bone Marrow Transplantation fellowship at Massachusetts General Hospital and Dana-Farber Cancer Institute, Harvard Medical School.
______________
For more:  https://madisonarealymesupportgroup.com/2018/03/06/lyme-innovation-dr-neil-spector/
https://madisonarealymesupportgroup.com/2017/08/23/video-dr-neil-spector/
https://madisonarealymesupportgroup.com/2016/07/01/dr-spector-on-fox-5-ny/
https://madisonarealymesupportgroup.com/2016/02/22/lyme-equivalent-of-cancer/
https://madisonarealymesupportgroup.com/2017/06/03/dr-neil-spector-and-dr-rawls-on-peoples-pharmacy-radio-program/
https://madisonarealymesupportgroup.com/2017/06/21/spector-rawls-interview-on-lyme-disease/