What's Next For China After Zero-Covid Failed?
Dec. 23, 2022
CNBC
China is beginning to lift its more stringent Covid-19 restrictions after nearly three years in isolation. But what could mark the end of its zero-Covid policy may be just the beginning of the country's pandemic problems.
"I think in the next couple of weeks, China will be faced with unprecedented pressure to the health system," Xi Chen, an associate professor at the Yale School Of Public Health, told CNBC in an interview.
Watch the video to learn more about how China's stringent zero-Covid policies collapsed and the challenges the world's second-largest economy faces as it moves to reopen.  Source
China's health system and crematoriums are overwhelmed as death toll rises among CCP elites; however, just as they did in the early days of the pandemic, officials have made it a challenge to assess the true story. By the regime's account, only eight people have died from the disease since its lifting of COVID curbs in early December, but this figure is based on the their recently narrowed definition of a COVID death, which excludes all but those who die from respiratory failure and pneumonia directly associated with a COVID infection, a calculation method unseen elsewhere in the world.
The numbers depart sharply from a leaked memo from a recent high-level meeting of health officials, which estimated that 248 million people likely contracted the virus in the first 20 days of December.
The CDC, or junior CCP, also employs definition and data manipulation to push its agenda, and is one of the worst purveyors of "mis" and "dis" information on the planet.
_______________
China's bogus vaccines: How China fooled the world
Dec. 16, 2022
WION
After hiding the coronavirus outbreak and giving the world a pandemic, China has fooled the world with bogus vaccines. Made-in-China vaccines do not work and Beijing seems to be finally admitting it.
The Chinese people can now buy Pfizer's Paxlovid online.  It sold out within the hour and people are hoarding it.
Nicaragua was required to cut off diplomatic ties with Taiwan to get the COVID mRNA gene-therapy injection from China
A similar medical blackmail offer was made to Paraguay, which was refused
A leaked Pfizer indemnification agreement back in Aug. 2021 showed that

countries had to put up sovereign assets, bank reserves, military bases, and embassy buildings as collateral

for expected injuries and lawsuits
Pfizer also admitted they had ZERO idea about safety and efficacy
It recently was splashed on headlines that they

weren't even tested for transmission

, which was also known long ago for those looking and listening as it was in the trial data
Paxlovid which is under EUA and is based upon a single trial with questionable results is also a fraud which

cost taxpayers $10.6 BILLION

and needs to be pulled from the market as it:
_______________
https://www.theepochtimes.com/deaths-among-ccp-elites-rise-as-covid-wave-hits-china_4941364.htm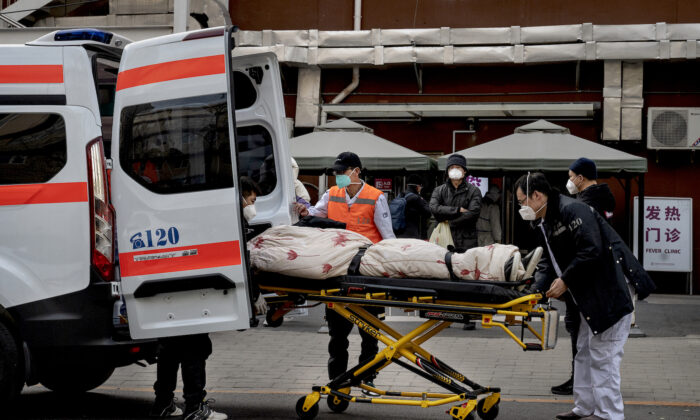 Deaths Among CCP Elites Rise as COVID-19 Wave Hits China
It started with a high fever, a telltale sign of COVID-19, that soon led to a positive test result. Yang Lianghua, formerly a senior reporter for the Chinese communist regime's official mouthpiece People's Daily and the chief editor of the newspaper's international edition, then had to wait in the emergency room for a bed in Beijing's top hospital, which was already beyond packed.
With intervention from the state media's senior executives and the hospital director, Yang was eventually admitted to the intensive care unit, where he died hours later. The cause of his death was a bacterial lung infection.
Yang was one of a long list of prominent figures tied to the Chinese Communist Party (CCP) who died amid a surge in Omicron sweeping China, after the regime abruptly loosened its years-long draconian COVID-19 restrictions that had shuttered businesses, crippled China's economy, and made it a challenge for the Chinese population to sustain their basic lives.
The abrupt U-turn in direction, however, was made without the provision of resources and policies to help the populace deal with the mounting cases of infections.
Important quote:
"Maybe you think it isn't a big deal, but the CCP is a crime syndicate," he told The Epoch Times, adding that the recent uptick in cases should make people reconsider their ties with the regime. "Tying one's life with the fate of the Party will not bring you any good." ~ Heng He, China affairs analyst
(See link for article)
Please note: Almost none of the obituaries listed the cause of death.
Despite the surge in cases and deaths, Chinese authorities refuse to accept Western aid, which admittedly isn't very helpful as the aid simply consists of more "vaccines," which have been proven to be ineffective, despite the continued WHO propaganda:
_______________
Whole Beijing Feverish As 3-year Zero-COVID Abruptly Exited
China Insights
Dec. 13, 2022