https://rawlsmd.com/webinars/whats-the-best-chronic-lyme-treatment-for-you/?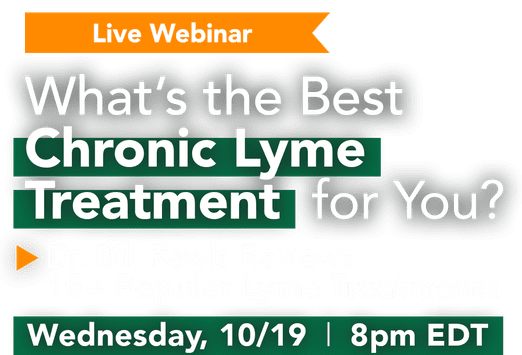 Dr. Bill Rawls
Co-Founder and Medical Director at Vital Plan
Jenny Buttaccio
Editorial Director at Vital Plan
What's the Best Chronic Lyme Treatment for You?
Treating chronic Lyme disease can feel like playing a wild game of whack-a-mole: You keep attacking your symptoms as they pop up with the latest and greatest therapies, yet the fatigue, pain, brain fog, and more keep coming back.
Fortunately, there's a more strategic and effective way to find relief from Lyme, and Dr. Bill Rawls — author of the bestselling book Unlocking Lyme — can help you find it during his new live webinar.
Join Dr. Rawls to hear his reviews of the most popular Lyme treatments available and reveal each of the treatment's strengths and shortcomings. By the end of the webinar, you'll understand what to try for symptom relief, what works best for addressing the underlying causes of illness, and everything in between.
PLUS: Don't miss an exclusive gift for webinar attendees, and have your questions ready for a LIVE Q&A on Lyme disease treatments with Dr. Rawls.
In this webinar, Dr. Rawls will also discuss:
• The 6 essential components of any successful Lyme therapy
• Why killing the microbes associated with Lyme is only part of the solution
• The 3 keys to choosing a treatment option
• Dr. Rawls' treatment rankings by safety, effectiveness, and price
• What you should know about natural and conventional therapies for both short-term relief and long-term recovery
• Numerous insights and answers during the LIVE Q&A
Bill Rawls, M.D., is a physician and leading expert in Lyme disease, integrative health, and herbal medicine. In the middle of his successful medical career, Dr. Rawls' life was interrupted by Lyme disease. In his journey to overcome it, he explored nearly every treatment possible – from conventional medicine to a range of alternative therapies. In the more than 12 years since his recovery, Dr. Rawls has helped thousands of patients find their path to healing from Lyme disease and chronic illness. He is the author of the bestselling books Unlocking Lyme and The Cellular Wellness Solution, and the Medical Director of RawlsMD.com and Vital Plan®, an online holistic health company and Certified B Corporation®.