https://www.globallymealliance.org/videos/two-best-friends-are-fighting-lyme-disease-together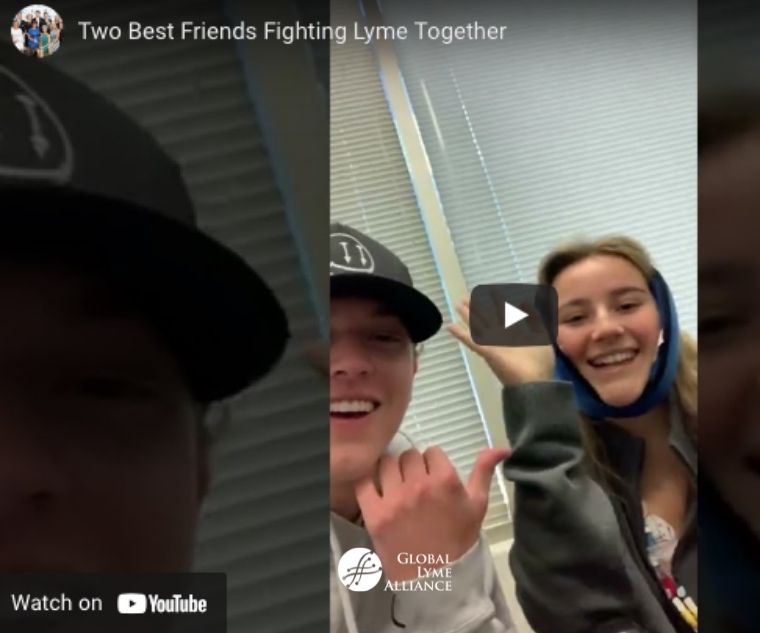 Chase and Natalie, two best friends, are supporting one another on their Lyme journeys.
Watch Here:
Chase and Natalie have both been diagnosed with Lyme disease. They discuss the challenges they face as young adults battling such a debilitating disease. They try to embody a positive attitude as they receive their treatments. Natalie is in a wheelchair because the Lyme has affected the muscles in her legs. She also has been dealing with severe pain in her jaw for the past three years, having received four surgeries. They both talk about how those with Lyme may appear healthy on social media, but you never know what's really happening behind the scenes. By sharing their experiences, they are spreading awareness and helping others with Lyme to feel less alone.
____________________
**Comment**
What a perfect example of how support makes all the difference.  Having traveled this journey myself I understand the pain, confusion, fear, and gaslighting common with Lyme/MSIDS.  To see two people laughing about what they are going through perfectly demonstrates the importance of friendship and support. One of the worst aspects of this journey is not being believed.
For more:
I really appreciated her comment about being careful about accepting advice from those who are not infected as they truly don't know what it's like and what you are going through.  One of the most difficult times for me was when a well-meaning homeschool, Christian mom told me I was in sin for not trusting God by taking antibiotics. Being faithful is important to me but these antibiotics were saving my life.
Be careful what you tell others.
Words have the power of life and death.  Tread carefully.
On the other hand, I vividly remember my son's marital arts coach tell me, "Alicia, Lyme doesn't stand a chance against your indomitable spirit."
That one floored me, because I felt anything but indomitable at the time.  Barely making it through each day, and shuffling through the house trying to just keep the ball rolling, this man put hope into a very weary heart. I will never forget his words.  They still put a clip into my steps.
Let your words inspire and be a catalyst for healing.