https://danielcameronmd.com/mitral-valve-dysfunction-lyme-carditis/
Mitral valve dysfunction from Lyme carditis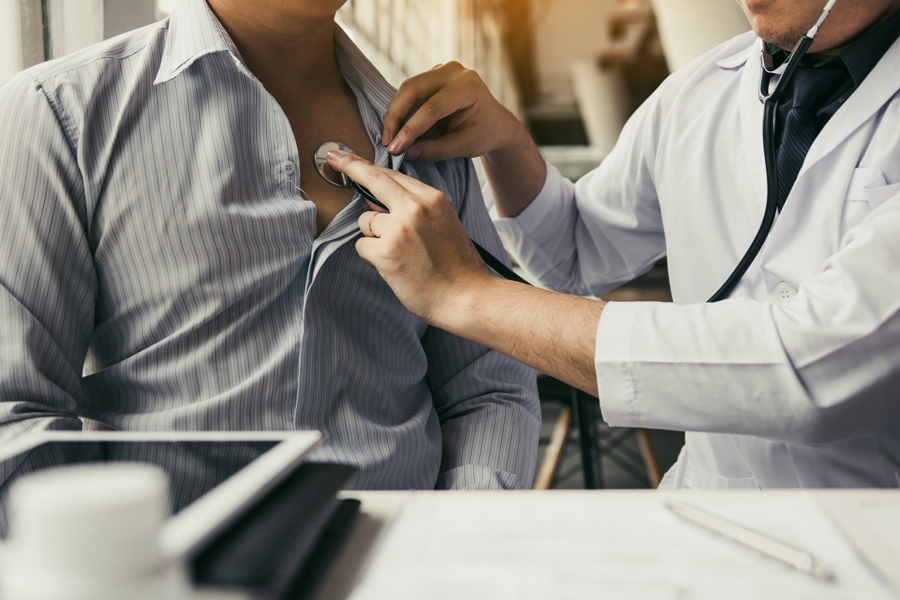 Lyme carditis is an uncommon but important manifestation of Lyme disease. In their study, Malik and colleagues describe the case of a young man with Lyme carditis with left ventricular dysfunction and valvular involvement occurring one week after a tick bite. [1]
The 22-year-old man was admitted to the hospital with cardiac problems. He suffered from morbid obesity and  complained of chest pain and lightheadedness for several days. During his examination, he was sweaty with a fast pulse of 115. He also reported having an erythema migrans (EM) rash.
Clinicians initially suspected the patient had non-segment elevation myocardial infarction (STEMI) and prescribed intravenous heparin, the authors explain in the case report, "Early Onset Lyme Myopericarditis With Left Ventricular Dysfunction and Mitral Regurgitation."
"Echocardiogram was done which showed a left ventricular ejection fraction (LVEF) of 49% with mild diffuse hypokinesis, and moderate to severe mitral regurgitation," the authors wrote.
Test results were positive for Lyme disease and the man was treated with intravenous ceftriaxone.
"If left untreated, Lyme carditis can lead to acute heart failure and sudden cardiac death thus prompt diagnosis and treatment are essential in management."
"A repeat echocardiogram was performed, which showed an improvement of the previously visualized mitral regurgitation and normalization of LVEF," the authors wrote.
The patient had a marked improvement in his symptoms and resolution of his rash. He was discharged home with a 3-week course of oral doxycycline.
"On a 1-month follow-up, patient remains asymptomatic and is back to his previous baseline," according to the authors.
Cardiac manifestations in Lyme disease typically occur 1 to 2 months after the onset of infection, the authors wrote.  "In our patient, however, Lyme carditis was seen a little over 1 week after known tick exposure."
A growing number of cardiac manifestations due to Lyme disease have been described. "Clinical manifestations of Lyme carditis include arrhythmias, conduction abnormalities, myopericarditis, ventricular dysfunction, and acute heart failure," the authors wrote.
"Left ventricular dysfunction, as seen in our patient, has been reported to have an incidence of 0.5%."
Valvular dysfunction due to Lyme carditis is rare. "To date, about 7 cases of valvular involvement in Lyme carditis have been reported making this phenomenon exceedingly rare."
"If there is a high suspicion for Lyme carditis, empiric treatment with antibiotics should be started while the initial evaluation is pending."
Death from Lyme carditis is rare. "A case series published by the CDC reported 3 individual deaths that were attributed to Lyme disease by postmortem examination indicating that lack of treatment can lead to fatalities."
Shen and colleagues described the death of a 25-year-old man with Lyme carditis. "He presented with syncope and second-degree Mobitz type 2 heart block, as well as disseminated erythema migrans rash."²
The patient received a temporary pacemaker and was discharged after 4 days of intravenous ceftriaxone.
"The patient returned home to a different state and reportedly died at home about 1 week after discharge." There was no autopsy report or records to determine the cause of death.
References:
Malik MB, Baluch A, Adhikari S, Quraeshi S, Rao S. Early Onset Lyme Myopericarditis With Left Ventricular Dysfunction and Mitral Regurgitation. J Investig Med High Impact Case Rep. Jan-Dec 2021;9:23247096211045267. doi:10.1177/23247096211045267
Shen RV, McCarthy CA, Smith RP. Lyme Carditis in Hospitalized Children and Adults, a Case Series. Open Forum Infect Dis. Jul 2021;8(7):ofab140. doi:10.1093/ofid/ofab140
__________________
For more: