https://www.theguardian.com/world/2020/aug/14/government-quietly-drops-13m-covid-tests-from-england-tally
Government quietly drops 1.3m Covid tests from England tally
Exclusive: Double counting raises fresh questions about accuracy of testing figures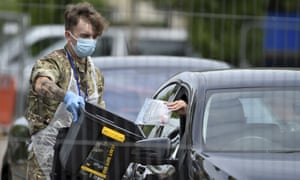 The government has quietly removed 1.3m coronavirus tests from its data because of double counting, raising fresh questions about the accuracy of the testing figures.
In the government's daily coronavirus update on Wednesday, it announced it had lowered the figure for "tests made available" by about 10% and discontinued the metric.
An update on the page read: "An adjustment of -1,308,071 has been made to the historic data for the 'tests made available' metric. The adjustments have been made as a result of more accurate data collection and reporting processes recently being adopted within pillar 2."
The Department for Health and Social Care (DHSC) said the changes affected data reported between 14 May and 12 August. It said there had been "a double-counting of test kits that had been dispatched", "which had not been removed from the lab's processed data".
Have enough autopsies been done across the world to produce answers to COVID-19? Objective reflection on practice is one of the ways that we solve problems. What place do autopsies have in this global COVID-19 pandemic?

A post on LinkedIn in April this year stating "First full autopsy on covid-19 patient" brought the issue to light.

There are probably many reasons for limiting the number of autopsies during this pandemic, but unfortunately these have not been considered an important part of our strategy. Pathological examination of tissue represents the foundation of medicine. Without this piece of the puzzle we are walking in the dark.

Let us make a fresh start and invest the necessary resources to do detailed pathological examination on as many patients as possible who have died with COVID-19.

Today could represent a new beginning.  Dr. McMillan
The same could be said about Lyme/MSIDS.