https://www.thewesterlysun.com/news/westerly/state-launches-campaign-to-warn-against-lyme-disease-uptick/article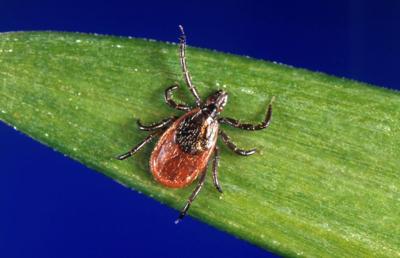 The Rhode Island Department of Health and the Department of Environmental Management are concerned that the mild winter could lead to an overabundance of ticks this year and is urging residents to continue practicing social distancing when outdoors and to take additional precautions to avoid direct contact with ticks that can transmit Lyme disease.
According to 2018 RIDOH disease data, Rhode Island had 1,111 cases of Lyme disease, with an incidence rate of 105 cases per 100,000 people, giving it the nation's fifth-highest rate of the disease. Reported cases of Lyme disease in Rhode Island increased by approximately 20 percent in 2017 and remained at a similar level in 2018.
"Summer is a wonderful time to enjoy the outdoors in Rhode Island, but there are also some health risks associated with the season, and tick bites are near the top of the list," said Dr. Nicole Alexander-Scott, director of RIDOH."
(See Link for article)
__________________
**Comment**
My only warning is on the continued message that ticks usually have to be attached for at least 24 hours to transmit.  Remember – a minimum time for transmission has never been ascertained. Relying on old data pushing the same theme that hasn't worked for over 40 years is asinine.
Treat each and every tick bite as seriously as a heart attack.
For more:  https://madisonarealymesupportgroup.com/2019/04/12/tick-prevention-2019/
https://madisonarealymesupportgroup.com/2017/04/14/transmission-time-for-lymemsids-infection/