https://www.fredericknewspost.com/news/health/fort-detrick-lab-shut-down-after-failed-safety-inspection-all/article_
Fort Detrick lab shut down after failed safety inspection; all research halted indefinitely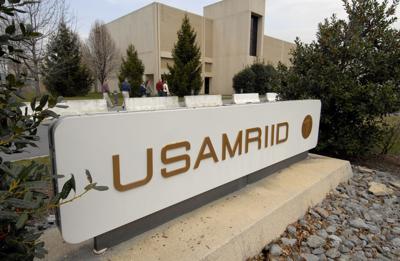 All research at a Fort Detrick laboratory that handles high-level disease-causing material, such as Ebola, is on hold indefinitely after the Centers for Disease Control and Prevention found the organization failed to meet biosafety standards.
No infectious pathogens, or disease-causing material, have been found outside authorized areas at the U.S. Army Medical Research Institute of Infectious Diseases.
The CDC inspected the military research institute in June and inspectors found several areas of concern in standard operating procedures, which are in place to protect workers in biosafety level 3 and 4 laboratories, spokeswoman Caree Vander Linden confirmed in an email Friday.
The CDC sent a cease and desist order in July.
After USAMRIID received the order from the CDC, its registration with the Federal Select Agent Program, which oversees disease-causing material use and possession, was suspended. That suspension effectively halted all biological select agents and toxin research at USAMRIID, Vander Linden said in her email.
The Federal Select Agent Program does not comment on whether a program such as USAMRIID is registered and cannot comment on action taken to enforce regulations, Kathryn Harben, a spokeswoman for the CDC, wrote in an email.
"As situations warrant, [Federal Select Agent Program] will take whatever appropriate action is necessary to resolve any departures from regulatory compliance in order to help ensure the safety and security of work with select agents and toxins," Harben said in the email.
The suspension was due to multiple causes, including failure to follow local procedures and a lack of periodic recertification training for workers in the biocontainment laboratories, according to Vander Linden. The wastewater decontamination system also failed to meet standards set by the Federal Select Agent Program, Vander Linden said in a follow-up email.
"To maximize the safety of our employees, there are multiple layers of protective equipment and validated processes," she said.
Vander Linden could not say when the laboratory would be able to continue research.
"USAMRIID will return to fully operational status upon meeting benchmark requirements for biosafety," she said in an email. "We will resume operations when the Army and the CDC are satisfied that USAMRIID can safely and consistently meet all standards."
USAMRIID has been working on modified biosafety level 3 procedures and a new decontamination system since flooding in May 2018. This "increased the operational complexity of bio-containment laboratory research activities within the Institute," she said.
At the time of the cease and desist order, USAMRIID scientists were working with agents known to cause tularemia, also called deer fly or rabbit fever, the plague and Venezuelan equine encephalitis, all of which were worked on in a biosafety level 3 laboratory. Researchers were also working with the Ebola virus in a biosafety level 4 lab, Vander Linden said.
Of the pathogens, Ebola, bacteria Yersinia pestis (plague), and bacterium Francisella tularensis (tularemia) are on the list of the Health and Human Services select agents and toxins. The three are considered Tier 1 agents, which pose a severe public health and safety threat.
Venezuelan equine encephalitis also falls under the Federal Select Agent Program, according to the Code of Federal Regulations.
The military research institute is looking at each of its contracts to see what will be affected by the shutdown. USARMIID work outside the lab is not expected to be affected, including on Ebola, Vander Linden said.
"We are coordinating closely with the CDC to ensure that critical, ongoing studies within bio-containment laboratories are completed under appropriate oversight and that research animals will continue to be cared for in accordance with all regulations," she said in an email. "
Although much of USAMRIID's research is currently on hold, the Institute will continue its critical clinical diagnostic mission and will still be able to provide medical and subject matter expertise as needed to support the response to an infectious disease threat or other contingency."
According to the Code of Federal Regulations, which also lists required training, records and biosafety plans, Federal Select Agents Program registration can be suspended to protect public health and safety. It is not clear if this is why the USAMRIID registration was suspended.
The code also gives the Department of Health and Human Services, under which the CDC falls, the right to inspect any site and records, without prior notifications. Vander Linden said in the email that the CDC inspected USAMRIID several times over the past year, both unannounced and on a regularly scheduled basis.
USAMRIID will work to meet requirements set by the Army and the CDC and have its suspension lifted, Vander Linden said.
"While the Institute's research mission is critical, the safety of the workforce and community is paramount," she said.

"USAMRIID is taking the opportunity to correct deficiencies, build upon strengths, and create a stronger and safer foundation for the future."
_______________________
And perhaps do a lot of paper shredding……
https://madisonarealymesupportgroup.com/2019/08/06/kris-newby-responds-to-telfords-criticism-of-bitten/  In this link, investigative journalist Kris Newby explains:
The Army explained:"In 1953, the Biological Warfare Laboratories at Fort Detrick established a program to study the use of arthropods for spreading anti-personnel BW agents. The advantages of arthropods as BW carriers are these: they inject the agent directly into the body, so that a mask is no protection to a soldier, and they will remain alive for some time, keeping an area constantly dangerous." Source: U.S. Army Chemical Corps, "Summary of Major Events and Problems (Fiscal Year 1959)," Rocky Mountain Arsenal Archive.

Burgdorfer, the discoverer of the Lyme bacterium, was a key member of this project team. He worked on weaponizing ticks and teamed up with fellow tick expert James Oliver at the Ft. Detrick bioweapons headquarters to develop ways to mass produce infected ticks so that they could be dropped from airplanes on enemy territory. These claims are backed up by interviews with these scientists, as well as with extensive government documentation from multiple reliable sources, all listed in BITTEN…

And after my interview, I verified his claims with recently released documents, including a 1962 Memorandum to the NIH Director that says that Dr. Burgdorfer, "was engaged for 3 years on classified projects (Army) from which findings could not be published because of their impact on national defense."
The institute, which has about 900 employees, studies germs and toxins that could be used to threaten the military or public health. It also investigates disease outbreaks and carries out research projects for government agencies, universities and drug companies, which pay for the work.  https://madisonarealymesupportgroup.com/2019/08/13/deadly-germ-research-is-shut-down-at-army-lab-over-safety-concerns/
Excerpt:
The select agents and toxins list is found here. According to the NBACC website, the facility conducts research on pathogens for which there is no vaccine or treatment.  https://www.selectagents.gov/SelectAgentsandToxinsList.html

INTERESTINGLY, THE FOLLOWING FROM THE LIST ARE TRANSMITTED BY TICKS:
https://madisonarealymesupportgroup.com/2019/07/31/tick-expert-admits-to-working-on-ticks-dropping-them-out-of-airplanes/