https://www.dementia.org/dementia-from-infection
Dementia From Illness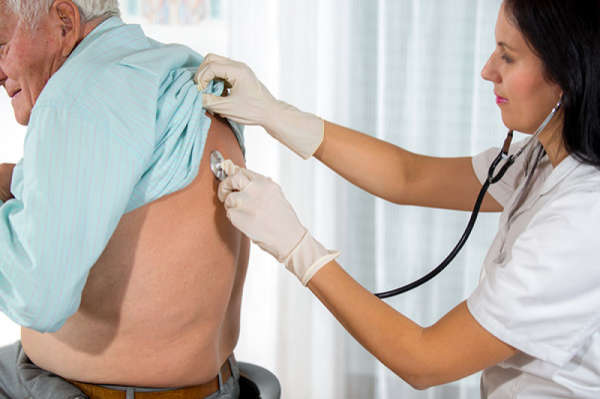 The development of dementia is not limited to the elderly. There are a number of infections that affect the brain, as well as immune disorders that incite reactions in the body leading to complicated forms of cerebral damage.
These damages can have a number of lingering effects, even after the initial infections have been eliminated, including the onset of dementia. Fortunately, this is one of the milder forms of dementia, and in most cases is almost fully reversible.
What Is Dementia From Illness?
Dementia can sometimes develop as a result of your body's natural reaction to fighting off a traditional infection.
This could be any kind of brain-related infection, such as meningitis, encephalitis, cases of syphilis that have gone untreated, Lyme disease and other conditions that completely compromise an individual's immune system, like Leukemia.
Some conditions, such as multiple sclerosis, which is incited by the body attacking its own nerve cells, can also be a primary cause of this kind of dementia.
Risk Factors
If you are at risk for developing, or already have any of the following conditions, you may have a greater chance of eventually developing dementia from infections:
Meningitis (all varieties)
Malaria
Brain Abscesses
Encephalitis
Lyme Disease
Syphilis
Any bacterial or viral infection that affects the brain
The risk increases with age, and is much more of a danger if any of the infections go untreated.
Signs And Symptoms
As with many other forms of dementia, dementia resulting from illness can cause memory loss as well as difficulty understanding, recalling or transmitting language; difficulty concentrating on simple tasks, inability to coordinate or perform previously easy tasks, changes of personality traits or strange and sometimes inappropriate behavior.
If you have recently had an infection or immune disorder that has affected the brain, and you are currently experiencing symptoms of dementia, there may be a strong correlation. Even if the infection has disappeared or been completely treated, the damage it could have caused to your central nervous system may still be present.
Treatments
Fortunately, forms of dementia that have originated from an illness or an infection are, for the most part, reversible. Unlike Alzheimer's disease and other forms of degenerative dementia that are incapable of reversing, the nature of an illness-borne case of dementia allows for its effects to be eliminated.
The cerebral impact, due in large part to complications from the body's response to the infection, can be restored to its original state.
Treat Illnesses Promptly To Protect Cognitive Function
If you currently have an infection that affects the brain or any kind of immune disorder that complicates the way your body reacts, you should be aware of the possibility of developing this kind of dementia.
The longer these infections go untreated, the higher the risk of development and the more severe the symptoms could be. Fortunately, even if you do develop dementia from your illness, in most cases of this kind of dementia, it is possible to fully restore cognitive function.
_______________________
**Comment**
Although this article was written in 2015 it's a good reminder that dementia can be caused by infections.
The following article is a specific example of how dementia can actually be undiagnosed Lyme disease.
https://www.inquisitr.com/3234154/kris-kristofferson-diagnosed-dementia-was-actually-lyme-disease/
Kris Kristofferson: Diagnosed 'Dementia' Was Actually Lyme Disease
Many people deal with at least some degree of memory loss as they age. So when singer-songwriter Kris Kristofferson, who turned 80 on June 22, began having trouble remembering things, he and his doctors chalked it up to the relentless march of time along with the effects of head injuries he received as a youthful athlete.
In November 2013, The Daily Mail reported that the then-77-year old Kristofferson was able to remember his own songs but not much else, and that other areas of his life were being adversely affected by dementia.
"I wish my memory weren't so bad. They tell me it's from all the football and boxing and the concussions that I got. A couple of years ago my memory just started going. I can remember my songs so I can perform, but other than that…"
Around the time that Kristofferson was awarded a Lifetime Achievement Grammy in 2014, doctors told the man who wrote "Me and Bobby McGee" that his memory deficit was indicative of the onset of Alzheimer's disease or could be a form of dementia known as pugilistica. Now we know that Kris Kristofferson has Lyme disease.
On June 6, Rolling Stone magazine revealed that recent test results prove Kristofferson's so-called 'dementia' was in fact caused by Lyme disease. Kristofferson's wife, Lisa, told Rolling Stone that her husband had been taking prescription drugs to treat Alzheimer's and depression for a number of years but stopped once Lyme was correctly diagnosed. She said that Kris "suddenly came back" after three weeks of treatment for Lyme disease.
"There are still bad days, but some days he's perfectly normal and it's easy to forget that he is even battling anything."
When Kris Kristofferson presented symptoms of memory loss in his late 70s, it was easy for physicians to believe that he was suffering some sort of dementia. For one thing, Kristofferson has homes in Hawaii and California, where deer ticks are uncommon. Secondly, Kris Kristofferson was a Golden Gloves boxer and also has a history of playing contact sports such as college football.
Lisa Kristofferson stated that she believes her husband was infected by a deer tick whilst filming the 2006 movie Disappearances on location in Vermont. The Centers for Disease Control and Prevention explains that 96 percent of Lyme disease cases reported in 2014 originated from tick bites in Vermont and 13 other northeast and upper Midwest states. The CDC notes that although Lyme disease affects 30,000 people annually and is the fifth most common Nationally Notable disease, it does not occur nationwide.
In the United States, Lyme is caused by Borrelia burgdorferi and Borrelia mayonii bacteria that is transmitted to humans and other mammals by the bite of the black-legged deer tick. The tick is most commonly hosted by deer, although squirrels, raccoons and opossums may carry the disease vector, too.
Mayo Clinic describes the first sign of early onset Lyme as a bulls-eye shaped rash at the bite site. Called erythema migrans, the rash generally appears three to 30 days after an infected tick bite. The rash, which is neither painful nor itchy, may spread to other parts of the body. Additional early signs of Lyme disease include fever, chills, body aches, joint and muscle pain, swollen lymph nodes, and other flu-like symptoms. Mayo Clinic notes that not all persons infected with Lyme develop the rash, and that the disease can be difficult to diagnose.
Columbia University Medical Center states that a number of diagnostic tests may be used to determine whether or not a patient is infected with Lyme disease, and that it is not uncommon for an infected person to test negative even though they have the disease. When a patient does test positive for Lyme, early intervention with strong antibiotics may prevent the disease from becoming chronic and unmanageable.
Kristofferson looked back on his long musical career at his personal website.
"I always try to be as honest as I can in the songwriting, otherwise there's no point in doing it. I might as well be doing an advertising job or something. And what I'm finding, to my pleasant surprise at this age, is that I'm more inclined to laughter than tears. I hope I'll feel this creative and this grateful until they throw dirt over me."
Of the future, Kris Kristofferson told Rolling Stone the following.
"I really have no anxiety about controlling my own life. Somehow I just slipped into it and it's worked. It's not up to me – or you. I feel very lucky that my life has lasted so long, because I've done so many things that could have knocked me out of it. But somehow I just always have the feeling that He knows what He's doing. It's been good so far, and it'll probably continue to be."
__________________
**Comment**
Please remember, getting the EM rash is highly variable and certainly not a sure thing:  https://madisonarealymesupportgroup.com/2019/03/26/formally-challenging-cdc-advice-on-lyme-disease-rashes/