https://www.timesunion.com/news/article/Bit-by-a-tick-Capital-Region-researchers-want-13892202.php
Bit by a tick? Capital Region researchers want your blood
Those who develop circular rash could help advance early Lyme detection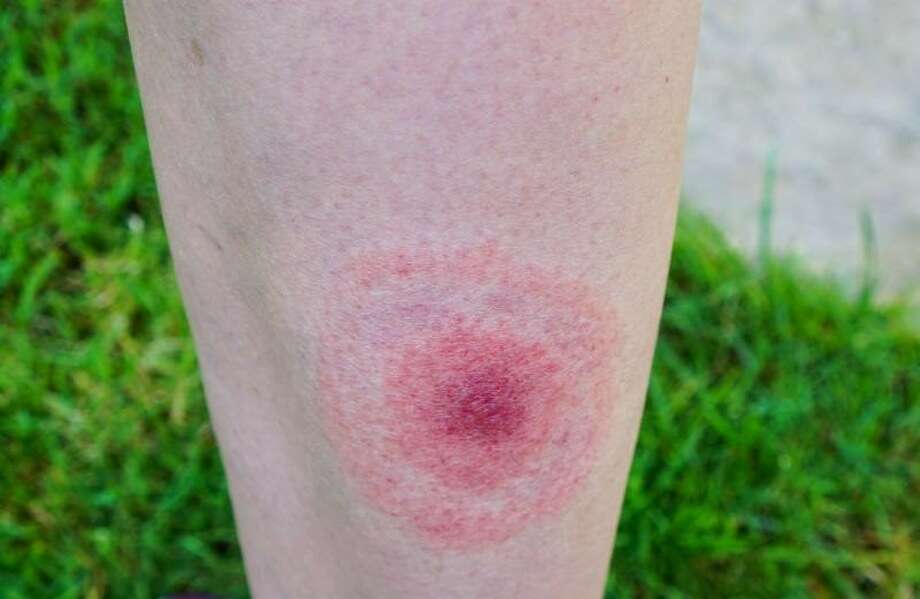 BETHLEHEM — Local and national researchers have an urgent message for anyone in the Capital Region who develops a circular rash after a tick bite this summer: Please consider donating your blood.
"It could make a real difference," said Holly Ahern, a microbiologist and professor at SUNY Adirondack, and vice president of the Lyme Action Network.
Ahern and other researchers are developing a new diagnostic test they say shows significant promise in detecting early Lyme disease, but they need infected blood in order to validate it.
Detecting Lyme in its early stages would have huge repercussions worldwide. Research shows that the recommended treatment course for Lyme, a debilitating condition transmitted by infected ticks, is most effective when administered within the first few weeks of infection. After that, the success rate drops precipitously.
The problem is that diagnosing Lyme in its early stages is difficult. The current diagnostic test is wrong 50 percent of the time, rendering it effectively useless. One indisputable indicator of Lyme, however, is a distinctive circular rash called erythema migrans. But it only appears in  42 percent of infected individuals.
"There is an urgent need for accurate diagnostic tests for all stages of Lyme disease, but particularly for early infection when the likelihood of treatment success is highest," Ahern said.
The Capital Region has played a unique role in helping to develop the potential new diagnostic test, she said.
Two years ago, researchers issued a call for Albany-area residents with persistent, chronic Lyme symptoms to consider donating blood to the study. Focus on Lyme, the national foundation underwriting the study, budgeted for about 50 samples. It received 477 instead, from residents in New York,  New Jersey, Pennsylvania and  Ohio.
"That to me was heartbreaking," Ahern said, "because it shows the desperation and hope these people had to drive six hours and give blood in hopes of making a difference to others in the future."
Now, she said, the study needs samples from individuals in the early stages of infection to further validate the test.
Nymph ticks, which are responsible for the erythema migrans rash, are emerging right now in New York and will continue to be out over the next few weeks, Ahern said.
"There is a very high degree of urgency in our request for the public to participate."
More than 100,000 New Yorkers are infected each year with the bacteria that causes Lyme thanks to the high prevalence of ticks around the state.
Residents should be on the lookout for tick bites and a subsequent skin rash. Those who develop a "bull's-eye" or solid reddish or red-blue circular rash more than 2 inches in diameter are invited to make an appointment with the Stram Center for Integrative Medicine in Delmar for an evaluation.
Ahern said that some rashes present as atypical, so if someone isn't sure that theirs fits the bill, they should contact the center anyway.
If erythema migrans is confirmed and the participant is willing, a health care practitioner will enroll them in the study and draw their blood. Enrollment will include treatment for early Lyme at no cost to participants.
Participants must be between 18 and 65 years of age and not already in treatment for Lyme disease. The rash must be visible on the body at the time of the evaluation.
The research study is expected to last through June. Ahern said there's no limit to how many samples they'll accept.
"Anyone from anywhere can come, as long as they're willing to make it out to Delmar," she said.
To make an appointment for an evaluation, call the Stram Center at 518-689-2244 or use the "Contact Us" form at www.stramcenter.com. Mention that you are interested in the Lyme Rash Study and you will receive a call-back.
_________________
**Comment**
Again, the percentages for getting the EM rash are anywhere from 25-80%. Nobody I work with gets it. Unfortunately, nearly ALL research has made the EM rash a criteria to even enter a study.  Little to no research has been done on those without the rash, which is a huge subset of patients.
We certainly need better testing. If you are able to help in this regard, please do.