https://www.galaxydx.com/could-it-be-babesia/
Patients and physicians managing chronic illnesses are often unsure of what is causing the mysterious symptoms.
They could be caused by autoimmune diseases or difficult-to-diagnose stealth infections. Flea-and tick-borne pathogens cause a variety of similar non-specific symptoms despite their distinct morphologies and pathogeneses.
Furthermore, more than one pathogen can be transmitted during a single bite from a vector (co-infection). The complex interaction between the environment, animals such as those that harbor these pathogens, and humans is called "one health."
Galaxy Diagnostics works with a one health framework and offers advanced testing for a spectrum of common tick-borne pathogens. This week, we are introducing an updated Babesia species page to offer more insight into the health significance of these species and how our PCR test can help provide an accurate diagnosis.
Unlike Bartonella and Borrelia bacteria, Babesia species are protozoans that typically remain active in the bloodstream.  Babesia species are primarily transmitted by ticks and selectively attach to and infect the red blood cells of their hosts. Once infected, red blood cells can lyse (burst open), spilling their infectious cargo and resulting in the range of symptoms that are seen in patients struggling with babesiosis (infection with Babesia species or closely related Theileria species).
Babesiosis is primarily caused by Babesia microti in the United States, while Babesia divergens infection is more common in Europe. Infections caused by Babesia duncani have also been reported along the Pacific coast of the United States.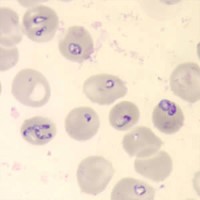 The most common method of diagnosing babesiosis is a combination of clinical symptoms and laboratory evidence. As seen to the right, it is possible to see Babesia species infection under the microscope using a staining technique. However, this can look similar to other protozoal infections.
Another form of testing called antibody testing or serology looks for an immune response to specific antigens, but it can be difficult to interpret whether serology test results indicate a past or current infection.
Galaxy Diagnostics offers PCR testing of blood to locate Babesia species DNA and confirm active infection. With genus-level DNA primers, our Babesia/Theileria species PCR test can detect a variety of pathogenic species. Please see the updated page on our website to learn more about Babesia species and how we test for them.
________________
**Comment**
Babesia alone is a formidable foe.  Couple it with Lyme and you are one sick dog.  Dr. Krause published in the New England Journal of Medicine that when a patient has Lyme and Babesia, Lyme is found three-times more frequently in the blood, proving Babesia suppresses the immune system.  https://madisonarealymesupportgroup.com/2017/06/28/concurrent-babesiosis-and-lyme-in-patient/
THE NUMBER OF SYMPTOMS AND DURATION OF ILLNESS IN PATIENTS WITH CONCURRENT LYME DISEASE AND BABESIOSIS ARE GREATER THAN IN PATIENTS WITH EITHER INFECTION ALONE.
The challenge with diagnosis, as always, is the testing which is poor as these organisms are not often found in high enough numbers in the blood, as well as people present subclinically. In other words, their Lyme case is more severe and they have malarial-type symptoms, but they can't find Babesia in the blood in a Giemsa stain.  this is why it's imperative to see a LLMD trained in recognizing symptoms.  
Regarding the article's statement that certain strains are found in certain places, remember, ticks are migrating everywhere and taking their crud with them.  Migrating birds haven't been told they can't cross an imaginary line on a map.  All three of the strains listed are in the U.S.
For symptoms, checklist, and possible treatments, read:  https://madisonarealymesupportgroup.com/2016/01/16/babesia-treatment/
More on Babesia:  https://madisonarealymesupportgroup.com/2018/03/22/what-is-air-hunger-anyway/
https://madisonarealymesupportgroup.com/2019/01/11/22-with-babesia-8-develop-acute-respiratory-distress-syndrome-3-die/
https://madisonarealymesupportgroup.com/2018/07/02/splenic-rupture-from-babesiosis-an-emerging-concern-a-systematic-review-of-current-literature/
https://madisonarealymesupportgroup.com/2018/12/11/babesia-widespread-in-canada-its-high-tolerance-to-therapy/
https://madisonarealymesupportgroup.com/2018/10/06/case-of-recurrent-fever-multiple-splenic-infarcts-why-short-treatment-duration-often-doesnt-work-for-babesia/
https://madisonarealymesupportgroup.com/2018/10/11/transfusion-transmitted-babesiosis-one-states-experience/
https://madisonarealymesupportgroup.com/2018/10/05/variable-clinical-presentations-of-babesiosis/