https://www.lymedisease.org/misdiagnosis-lyme-disease/
LYMEPOLICYWONK: The problem of misdiagnosis in Lyme disease
By Lorraine Johnson, JD, MBA
My presentation to the Society to Improve Diagnosis in Medicine.
On November 3, I was honored to give a presentation to the Society to Improve Diagnosis in Medicine (SIDM). This nonprofit organization seeks to bring together researchers and patients to reduce diagnostic delays and avoid missed diagnosis.
LymeDisease.org is a patient partner with SIDM. We value the opportunity to work with this group to amplify patient concerns about how misdiagnosis and delays in diagnosis harm patients. My speech—which draws on insights from the MyLymeData patient registry—highlights some of the factors that contribute to delayed diagnosis in Lyme disease.
Misdiagnosis is unfortunately quite common in Lyme disease. Most patients with late or chronic Lyme disease were either misdiagnosed or waited years for their diagnosis—with devastating consequences.
We know that early diagnosis in Lyme disease can spell the difference between patients who get well quickly and are able to get on with their lives, and those who remain ill or whose course of treatment is much more difficult.
SIDM is funded by the Patient-Centered Outcomes Research Institute and by the Agency for Healthcare Research and Quality, both of which were created by and are funded by the U.S. Congress.
A large part of SIDM's focus is on identifying and preventing diagnostic errors, using a diagram first developed by the Institute of Medicine (now the National Academy of Medicine) in its highly acclaimed report "Improving Diagnosis in Care."
This report identifies different points along the path to diagnosis where things can go wrong and diagnosis can be delayed or missed.
We have modified the graphic from the report that illustrate points of diagnostic error to reflect the diagnostic issues we encounter in Lyme disease.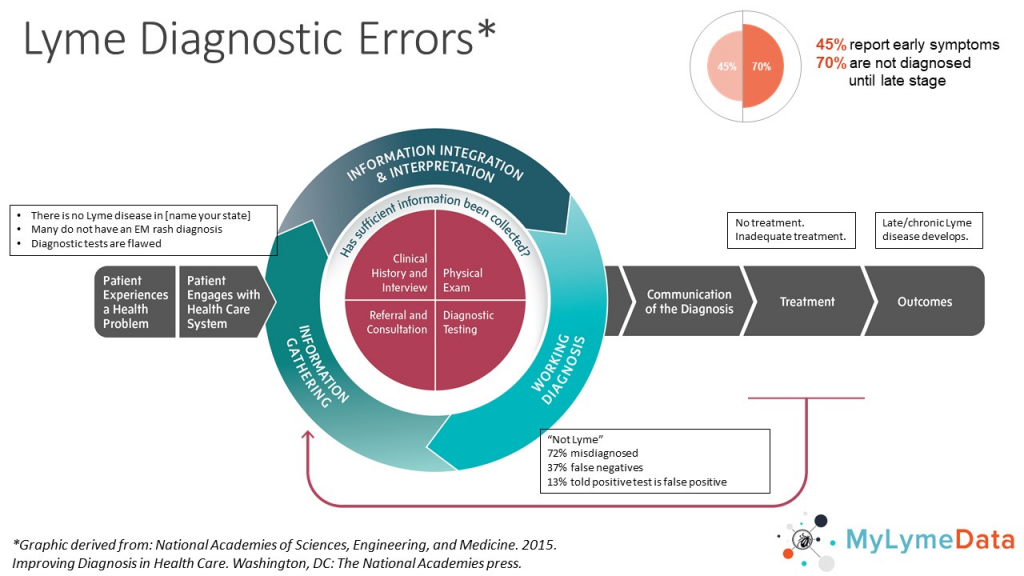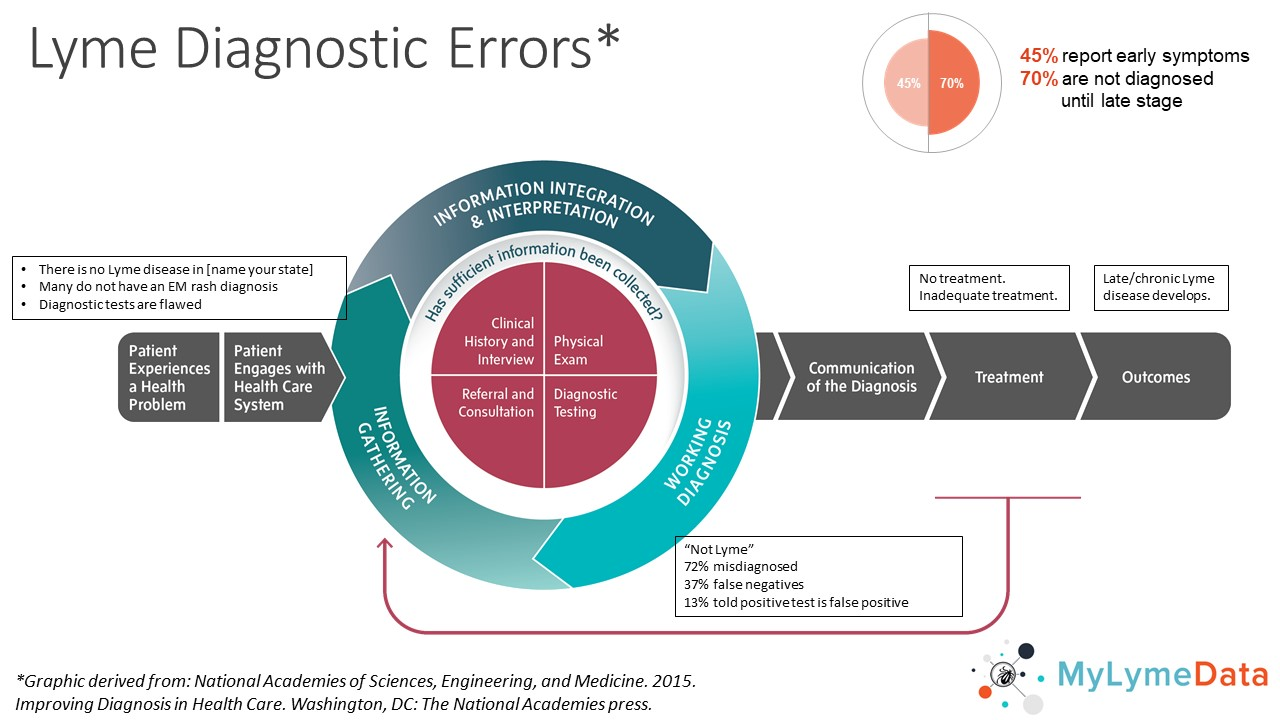 Click here to learn more about the Society to Improve Diagnosis in Medicine.
____________________
**Comment**
Lots of great info here.
This presentation was whittled down to just Lyme or Borrelia; however, most of us out here have a plethora of infections, which research hasn't touched with a ten-foot pole.  In fact, it's only been recently even mentioned:  https://madisonarealymesupportgroup.com/2018/10/30/study-shows-lyme-msids-patients-infected-with-many-pathogens-and-explains-why-we-are-so-sick/
For the first time, Garg et al. show a 85% probability for multiple infections including not only tick-borne pathogens but also opportunistic microbes such as EBV and other viruses.  83% of all commercial tests focus only on Lyme (borrelia), despite the fact we are infected with more than one microbe. The review also states it takes 11 different visits to 11 different doctors, utilizing 11 different tests to be properly diagnosed. https://www.news-medical.net/news/20181101/Tick-borne-disease-is-multiple-microbial-in-nature.aspx?  Presence of long-term IgM and IgG antibodies have been reported in LD patients that were tested by the CDC two-tier system. In 2001, Kalish and colleagues reported anti-Borrelia IgM or IgG persistence in patients that suffered from LD 10–20 years ago63. Similarly, Hilton and co-workers recorded persistent anti-Borrelia IgM response in 97% of late LD patients that were considered cured following an antibiotic treatment64.
The study not only broaches the polymicrobial issue, but the persistence issue of borrelia, which also hasn't been dealt with properly.
Since testing misses half of all Lyme cases, and they aren't even considering other pathogens, and the persistence factor, we are in a horrible mess.
They state that only 10-20% of patients are "chronically/persistently" infected.  I believe these percentages to be far too low.  This group is all I deal with.  This issue also desperately needs to be studied.