Over 1,600 Children Aged 5 to 11 Experienced Systemic Reactions After Getting a New COVID-19 Booster: CDC Study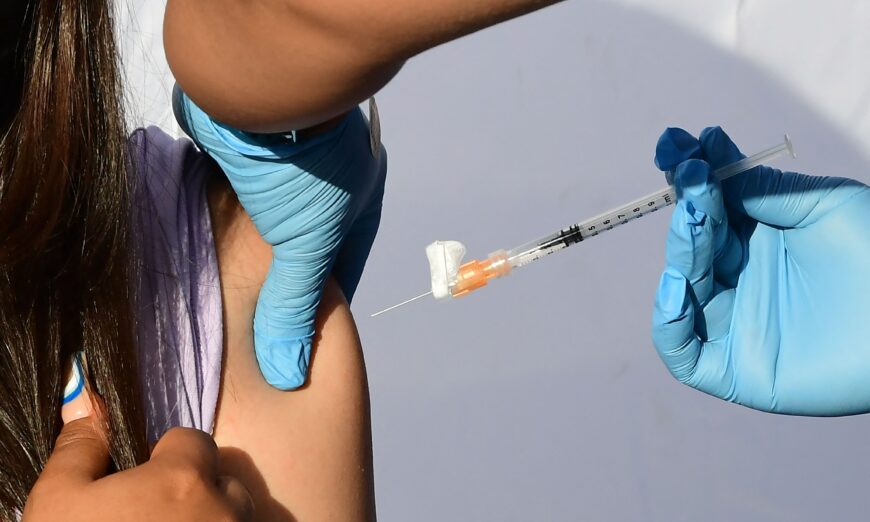 More than 1,600 children aged 5 to 11 experienced a systemic reaction such as fever or diarrhea after receiving one of the new COVID-19 vaccines, according to a study from the U.S. Centers for Disease Control and Prevention (CDC).
Of 3,259 children in the age group who received an updated Pfizer or Moderna vaccine and were registered in the v-safe system, nearly half experienced a systemic reaction, CDC researchers found.
Systemic reactions, defined as "usually mild" and lasting for multiple days, include fatigue, chills, nausea, abdominal pain, vomiting, joint pain, and diarrhea. On a severity scale, the category of reactions is between local reactions and severe reactions.
According to responses to v-safe, a smartphone survey system started by the CDC during the COVID-19 pandemic to monitor vaccine safety, 48.9 percent, or 1,594 children, in the 5 to 11 population who got a new booster between Oct. 12, 2022, and Jan. 1, 2023, experienced one or more systemic reactions.  (See link for article)
________________
Important points:
CDC did not report the events that happened on the day of vaccination and only published data for one through seven days.
That time period "is not nearly long enough to characterize safety," Dr. Harvey Risch, professor emeritus of epidemiology at the Yale School of Public Health, told The Epoch Times via email.

"The present study is of 5-11 year olds, who have an infection fatality risk of well less than 3 per million, whereas the cited reference is of all ages, mostly adults, who have increasingly greater risks with age. The stated comparison of children with adults is thus invalid," Risch said.

While the study "is being represented by CDC as showing vaccine safety in this age group, no comparison to actual quantitative risks of Omicron infection serious adverse events has been performed," he added.
A recent study found the infection fatality rate (IFR) —the ratio of mortality for confirmed and inferred infections—was just

0.0003%

for ages 0 to 19.
This study found 436 BILLION copies of spike protein circulating freely in the blood of children after COVID shots.
The clot shots continue despite experts stating mRNA products are unstable and circulate systemically via the blood, causing cells to take up messenger RNA which is expressing a foreign new antigen throughout the body.  The body sees this foreign new antigen as an invader – like an autoimmune disease.
It has never been proven that mRNA genetic therapy injections are any better than previous vaccines.
The amount of antigen can not be controlled in the mRNA platform.
The mRNA platform creates systemic autoimmune disease.
Due to reverse transcriptase (an enzyme within our cells), the

implications are unknown

if the mRNA platform could produce a potential cancer risk or transgenerational expression.
mRNA vaccines, besides the current diabolical experiment with the COVID shot, have:
"NEVER been effectively been put into humans before, except one or two where it didn't work very well. This is a massive experiment. The vaccines are actually registered as experimental vaccines." ~ Professor Robert Clancy