https://danielcameronmd.com/lyme-disease-triggers-hearing-loss/
LYME DISEASE AND SUDDEN ONSET HEARING LOSS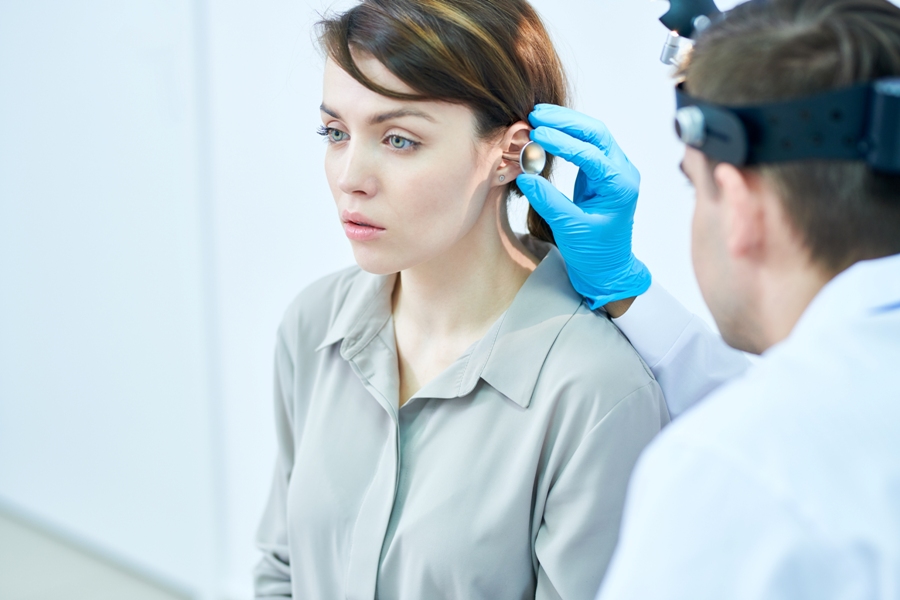 An article by Sowula and colleagues, published in the Journal of Clinical Medicine, describes nine patients with Lyme disease who had sudden sensorineural hearing loss (SSNHL), also referred to as sudden deafness.[1]
The study aimed to assess the prevalence of this type of sudden onset hearing loss, particularly among Lyme disease patients. The authors explain, "Sudden sensorineural hearing loss (SSNHL) is defined as sensorineural hearing loss of 30 dB or more over at least three adjacent audiometric frequencies occurring within a 72-h period of time."
This type of sudden onset hearing loss can be caused by a viral infection, vascular insufficiency, autoimmune disorder, neoplasm, stroke and irradiation. 
Treatment is directed towards the cause with standard therapy typically involving corticosteroid, vasodilators, and ionotropic agents, the authors write. Unfortunately, the cause is unknown in 90% of the cases.
The study looked at 86 patients who were hospitalized, between 2017 and 2018, due to sudden sensorineural hearing loss. As part of their evaluation for sudden onset hearing loss, patients were tested for Lyme disease.
Out of 86 patients, 9 tested positive for Lyme disease. Other studies, however, indicate that up to 21% of patients with sudden sensorineural hearing loss test positive for Lyme disease, the authors write.
Hearing loss patients with Lyme disease
On average, the 9 patients were around 47 years old, with an age range between 30 and 70. None of the Lyme disease patients responded to intravenous corticosteroids, microcirculatory drugs, or ionotropic drugs.
Seven of the nine patients with sudden onset sensorineural hearing loss were treated with oral doxycycline or intravenous ceftriaxone.  
Four patients were treated with doxycycline. Hearing improved by 10dB for one of the patients.
Complete hearing recovery with IV ceftriaxone
The remaining 3 patients, who were treated with intravenous ceftriaxone, had complete improvement in their hearing loss.  
"Those three patients reported a complete recovery of hearing (PTA shows respectively 15.20 dB HL for low frequency and 28.35 dB HL for high frequency)," the authors write.
"Infections caused by Borrelia burgdorferi may contribute to the development of inflammatory and angiopathic lesions, which are a possible cause of [sudden sensorineural hearing loss]."
Unfortunately, 2 patients were left with high-frequency tinnitus. "In these patients, tinnitus was present from the beginning of the disease," the authors write.
The group of 9 Lyme disease patients "was treated with antibiotics and experienced partial or complete regression of their deafness," the authors conclude. "This may suggest a relationship between [sudden sensorineural hearing loss] and Lyme disease."
"The longer the duration of the infection, the greater the likelihood of permanent and irreversible changes in the vessels of the cochlea or auditory nerve," the authors caution.
References:
___________________
For more: