https://danielcameronmd.com/lyme-disease-cause-chronic-illnesses/
LYME DISEASE AS A REVERSIBLE CAUSE OF CHRONIC ILLNESS FOR SOME PATIENTS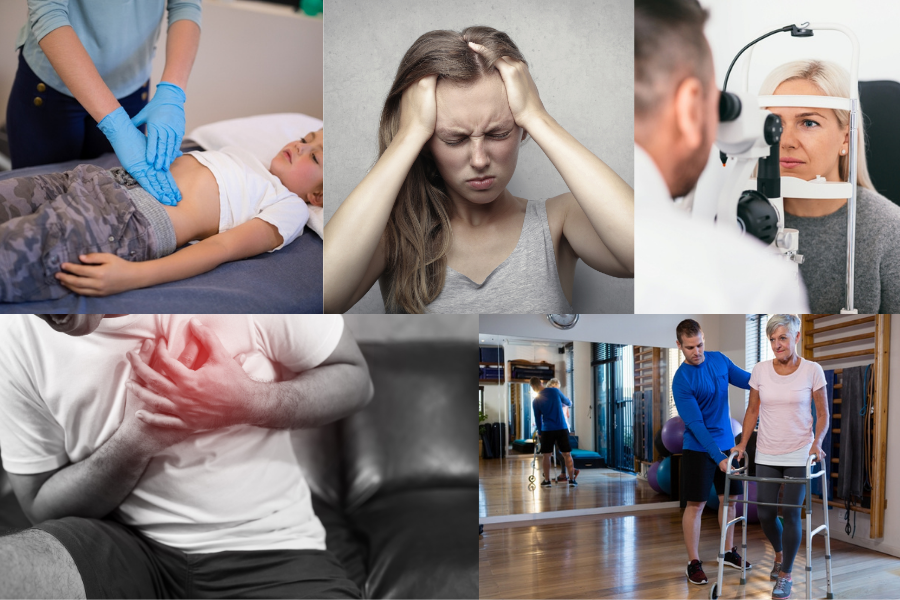 As the number of individuals with chronic illnesses continues to rise, clinicians and patients are looking for reversible causes to chronic symptoms that are often debilitating to patients. Reversible causes have included dementia, [1] coma, [2] complex arrhythmia, [3] and autoimmune encephalitis. [4]
Studies indicated that Lyme disease can lead to chronic disease including Lyme encephalopathy, [5] Lyme neuropathy, [6] chronic neurologic Lyme disease, [6] and Neuropsychiatric Lyme disease. [7]
Could Lyme disease be a reversible cause of other chronic illnesses in some patients? Having a high index of suspicion will prevent missing the diagnosis.
Following are dozens of published papers, described in an Inside Lyme Blog series, which features cases in which Lyme disease was a reversible cause of other chronic medical conditions. [8]
Brain Diseases and Neurological Disorders
80-year-old with Lyme encephalopathy instead of dementia
Chronic post-concussion syndrome symptoms due to Lyme disease
POTS patients with brain fog have neurocognitive deficits
When it looks like a brain tumor, but it is Lyme disease
Untreated Lyme disease triggers a stroke in 9-year-old boy
Lyme podcast: man with Lyme disease and stroke
Child with Lyme disease presenting as pseudotumor cerebri
Chronic inflammatory demyelinating polyneuropathy (CIDP) case resolved with antibiotics
Lyme meningitis, manifesting as parkinsonism, is fully reversed with ceftriaxone
Seizures and altered mental status after a tick bite
Dementia and normal pressure Hydrocephalus
Cognitive issues following a stroke due to Lyme disease
Stroke as a manifestation of Lyme disease
Lyme disease causes 'false brain tumor' in young child
Cardiac Disease
Broad range of presentations for Lyme carditis cases
Lyme carditis presenting as atrial fibrillation treated successfully
First report of Lyme disease causing mitral valve endocarditis
Lyme endocarditis in 68-year-old avid outdoorsman
Another cardiac manifestation of Lyme myocarditis
When Lyme disease mimics a heart attack
Physician-turned-patient becomes Lyme advocate – required a heart transplant
Autonomic Disorders
POTS: an autonomic disorder in Lyme disease patients
Subacute transverse myelitis caused by Borrelia infection
Femoral neuropathy as a neurologic symptom of Lyme disease
Autonomic dysfunction, small fiber neuropathy and Lyme disease
Acute transverse myelitis in a 25-year-old man with Lyme disease
Sleep Disorders
Lyme disease is associated with various sleep disorders
Psychiatric Illnesses
16-year-old boy with Lyme disease presenting as depression
Don' t confuse somatic symptoms with depression in early Lyme disease
Oppositional behavior in children with Lyme disease
Can Lyme disease trigger obsessive compulsive symptoms?
Depression common in Lyme disease patients
Suicidal behaviors in patients with Lyme and associated diseases
7-year-old girl with Lyme disease presenting as attention deficit disorder
Treatment options for an anxious, suicidal patient with a history of Lyme disease
Movement Disorders
Subacute Parkinsonism as a complication of Lyme disease
Auditory Problems
Study finds hearing loss and tinnitus common in patients with tick-borne diseases
Lyme disease patient with permanent tinnitus and hearing loss
Autoimmune/Immune System Disorders
Lyme podcast: Sjögren's syndrome secondary to Lyme disease
Can Lyme disease trigger an autoimmune disease? – Adult-onset Still's disease (AOSD)
Lyme disease mimics autoimmune disorder in elderly woman – dermatomyositis
Could Lyme disease be another infection associated with the onset of Guillain-Barre syndrome?
PANDAS and Lyme disease in a 7-year-old child
Dermatological Conditions
6-year-old girl with a rare cutaneous presentation of Lyme disease – areolar lymphocytomainvolving her breast
Lyme disease mimics cellulitis skin infection
Lyme disease misdiagnosed as shingles in 62-year-old man
Sensory Impairments
Eye or Ocular Disorders
Study looks at uveitis due to Lyme disease
69-year-old man with Lyme disease and double vision
Visual changes due to Lyme disease
Growing list of eye problems in Lyme disease
Lyme disease causes vision loss in 46-year-old woman
Inflammatory Disease
Can Lyme disease trigger sarcoidosis?
Joint Infections
Lyme disease mimics prosthetic joint infection following knee replacement
Gastrointestinal Illnesses
Neurologic Lyme disease presenting as abdominal pain in 71-year-old patient
Lyme disease manifests as abdominal pain in young child
 Kidney Disease
Doctors recognize Lyme disease in a patient with kidney disease
Kidney failure and disseminated rashes associated with Lyme disease
---
Conclusion: Substantial variability exists in the presenting features and clinical course of patients with Lyme disease. A diagnosis depends upon a thorough clinical evaluation, physical and neurologic examinations, along with laboratory testing. An accurate diagnosis and proper treatment can improve the outcome of patients with reversible causes of chronic symptoms.
References:
Bello VME, Schultz RR. Prevalence of treatable and reversible dementias: A study in a dementia outpatient clinic. Dement Neuropsychol. Jan-Mar 2011;5(1):44-47. doi:10.1590/S1980-57642011DN05010008
Edlow JA, Rabinstein A, Traub SJ, Wijdicks EF. Diagnosis of reversible causes of coma. Lancet. Dec 6 2014;384(9959):2064-76. doi:10.1016/S0140-6736(13)62184-4
Pozzolini A, Rio T, Padeletti M, De Ponti R, Leonelli FM, Bagliani G. Complex Arrhythmias Due to Reversible Causes. Card Electrophysiol Clin. Jun 2019;11(2):375-390. doi:10.1016/j.ccep.2019.03.002
Pandit AK, Ihtisham K, Garg A, Gulati S, Padma MV, Tripathi M. Autoimmune encephalitis: A potentially reversible cause of status epilepticus, epilepsy, and cognitive decline. Ann Indian Acad Neurol. Oct 2013;16(4):577-84. doi:10.4103/0972-2327.120476
Logigian EL, Kaplan RF, Steere AC. Successful treatment of Lyme encephalopathy with intravenous ceftriaxone. J Infect Dis. Aug 1999;180(2):377-83. doi:10.1086/314860
Logigian EL, Kaplan RF, Steere AC. Chronic neurologic manifestations of Lyme disease. N Engl J Med. Nov 22 1990;323(21):1438-44. doi:10.1056/NEJM199011223232102
Fallon BA, Nields JA. Lyme disease: a neuropsychiatric illness. Am J Psychiatry. Nov 1994;151(11):1571-83. doi:10.1176/ajp.151.11.1571
Inside Lyme Science blog. https://danielcameronmd.com/daniel-cameron-md-lyme-blog/ Last accessed 12/19/20.