https://www.lymedisease.org/torrey-idsa-insurance-settlement/
All 8 insurance companies settle in Lyme patient lawsuit against IDSA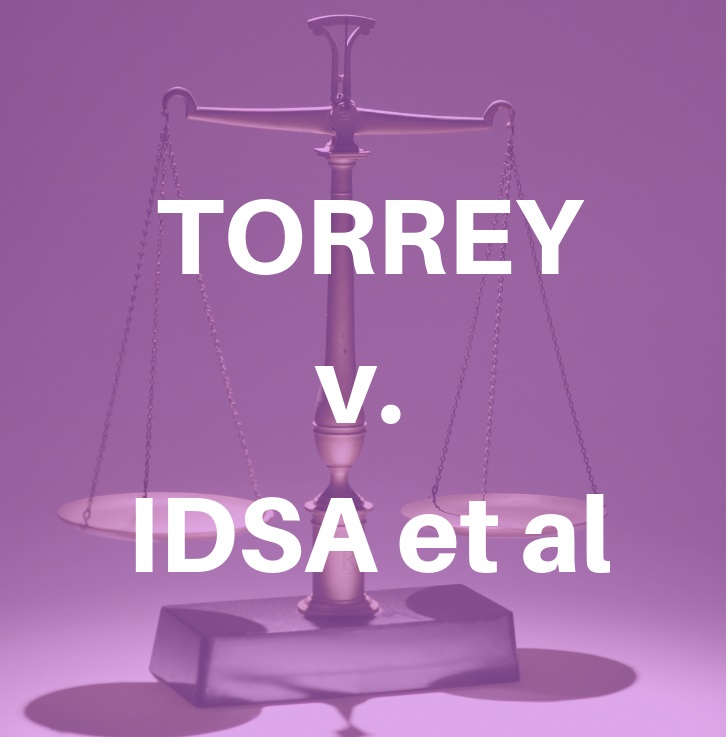 All eight insurance companies named in Torrey v. Infectious Diseases Society of America have settled the case, according to journalist Mary Beth Pfeiffer on Twitter.
That's the federal lawsuit filed by a group of Lyme patients against the IDSA, six authors of the IDSA Lyme treatment guidelines, and the insurance companies.
The suit essentially charges that the six have been in cahoots with the insurance companies to deny appropriate medical treatment to patients with Lyme disease.
The companies involved are:
Blue Cross And Blue Shield Association
Anthem, Inc.
Blue Cross And Blue Shield Of Texas
Aetna Inc.
Cigna Corporation
Kaiser Permanente, Inc.
United Healthcare Services, Inc.
United Healthcare Group Incorporated
The named individuals in the case are
Raymond J. Dattwyler

John J. Halperin

Eugene Shapiro (on the TBDWG)

Leonard Sigal

Allen Steere

Gary P. Wormser

Robert Nadelman (died in 2018)
As is typical in such circumstances, no details have been released. According to lead defendant Lisa Torrey, a trial date has been set for September 2021.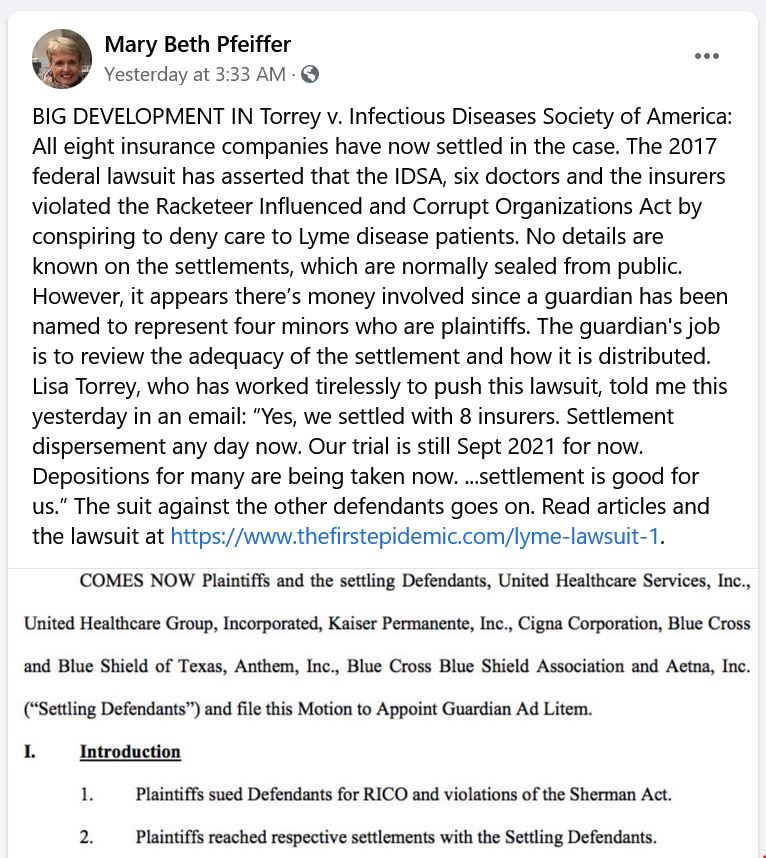 Please note that the 7 men listed make up The Cabal which continues to do faulty, biased research only on the acute stage of Lyme disease. Their studies are rigged to only accept those with EM rashes and positive blood serology testing which misses 70-86% of those infected.  The studies have a short followup.  They refuse to study the sickest patients who continue to be plagued with symptoms.  They refuse to admit these people are even infected.  To them these suffering patients are just imagining it.