https://www.galaxydx.com/difference-between-bartonella-and-lyme-disease/
written on
Bartonella vs. Borrelia: Key Differences You Should Know
Bartonella and Lyme Borrelia are easily confused because they are both vector-borne bacteria with similar sounding names and frequently have complex, interrelated roles in chronic illnesses. Patients often believe Bartonella and Borrelia are the same before speaking to us, or they may mistake something they read online about one for the other. In this post, we are going to describe some unique characteristics that distinguish these bacteria from each other.
Morphology
The morphology of bacterial cells is based on their typical size, shape, and arrangement. These attributes may be different across various settings, such as in culture or patient samples. These differences may seem trivial to someone who is not a biochemist, but they can have profound effects at the molecular level. For example, proteins located on the cell wall and membrane are often targets for diagnostic assays and medications. Depending on morphological characteristics, these surface proteins may be less accessible or have entirely different chemical makeups. This is one reason there are so many types of antibiotics.
Bartonella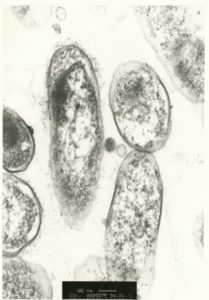 There are almost 40 characterized species of Bartonella about 15 of which are implicated in human illnesses. They are gram-negative, rod-shaped bacteria that grow very slowly. Their average dividing time is about 22-24 hours, which is much longer than the 20 minutes that E. coli species (another rod-shaped bacteria) require. Their average size is about 2 micrometers in length and 0.5 micrometers in width. One unique characteristic of Bartonella is that their membrane has a "Type IV Secretion System" that supports their ability to attach to and invade various target cells, such as endothelial and red blood cells.
Borrelia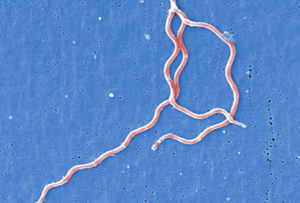 There are more than 50 named Borrelia species, with 3 primarily being implicated in human illnesses. They are like Bartonella in that they take a long time to divide (~12-18 hours) and stain weakly like gram-negative bacteria. However, unlike Bartonella, they are considered spirochetes due to their unique spiral shape and highly specialized cell walls and membranes. The primary species that causes Lyme disease in North America is Borrelia burgdorferi. This species has unique surface proteins called OspA, OspB, and OspC that are important for pathogenicity.
Transmission
Bartonella and Borrelia species are both vector-borne bacteria, meaning they can be transmitted between hosts via a "competent" vector. A competent vector is typically an arthropod, like a tick or flea, that can acquire the pathogen during a meal and then transmit viable bacteria to another host in a subsequent feeding or through its excrement (feces). Bartonella and Borrelia both require access to the bloodstream for infection to occur, but research shows that Bartonella species have quite a few more options for getting there compared to Borrelia. Below is a list of confirmed as well as suspected vectors of each.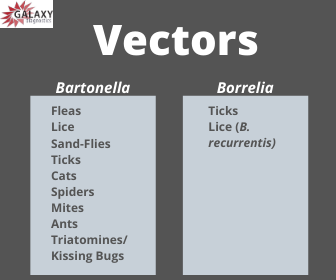 Symptoms
Bartonella and Borrelia species both cause acute and chronic infections that can be difficult for physicians to discern unless the patient has known exposure and recognizable clinical symptoms. Unfortunately, the latter is not the reality for many patients who become infected. Patients may first be diagnosed with another condition, like lupus or multiple sclerosis, before having testing done for bartonellosis or Lyme borreliosis. Why do these very different illnesses have similar symptoms?
The simple answer is that the body has a limited number of ways that it can respond to stress from bacterial infections. This host response is the result of a combination of differences between people in general health, genetic factors, and immune status that are integral to determining how an individual will respond to an infection. One person may experience neurologic symptoms, whereas another might only experience joint pain despite having the same infection. This makes it extremely difficult to define clinical patterns for infections, especially those that can lead to multi-systemic disease like bartonellosis and Lyme borreliosis.
Differentiating Symptoms
The main differences between bartonellosis and Lyme borreliosis symptoms typically occur early in the infection. However, many patients do not experience the "classic" signs that define the acute infections.
Cat scratch disease (Bartonella henselae infection) is described as fever and lymph node swelling near the location of a cat scratch or bite. However, this acute presentation of bartonellosis is not the only course of infection. Trench fever (Bartonella quintana infection) and Carrion's disease (Bartonella bacilliformis infection) come with their own set of symptoms.
Bartonellosis may be associated with long, thin, red marks on the skin called striae, but more research is required to understand Bartonella species' role. However, it is associated with a skin condition called bacillary angiomatosis primarily in immunocompromised individuals.
The CDC reports that 20-30% of patients who are exposed to Borrelia burgdorferi develop a bullseye rash called erythema migrans. This rash can also have other appearances. Most patients do not have the rash, or they may not see the rash if it is small or covered by hair. They can also experience facial palsy or extremely swollen joints.

To find out more about these skin symptoms, see our blog post "Vector-borne Disease and Skin: Your First Layer of Defense."
Conclusion
The symptoms of bartonellosis and Lyme borreliosis are similar because what the patient feels in everyday life is largely mediated by the host response.  However, key differences between their causative pathogens make them each a disease of their own with their own unique challenges for testing and treatment.
References
Deng, H. et al. (2018). Molecular mechanisms of Bartonella and mammalian erythrocyte interactions: A review. Frontiers in Cellular and Infection Microbiology, 8, 431. doi:10.3389/fcimb.2018.00431 https://www.ncbi.nlm.nih.gov/pmc/articles/PMC6299047/
Breitschwerdt, E. B. (2017). Bartonellosis, One Health and all creatures great and small. Veterinary Dermatology, 28(1), 96-e21. doi:10.1111/vde.12413 https://www.ncbi.nlm.nih.gov/pubmed/28133871
Cheslock, M. A., & Embers, M. E. (2019). Human bartonellosis: An underappreciated public health problem? Tropical Medicine and Infectious Disease, 4(2), 69. doi:10.3390/tropicalmed4020069 https://www.mdpi.com/2414-6366/4/2/69/htm
Centers for Disease Control and Prevention. (2015). Louse-borne relapsing fever (LBRF). Available at https://www.cdc.gov/relapsing-fever/resources/louse.html
__________________
For more:  https://madisonarealymesupportgroup.com/category/bartonella-treatment/
https://madisonarealymesupportgroup.com/category/lyme-disease-treatment/
Also, please know that borrelia has been found in mosquitoes.  While transmission hasn't been proven conclusively, many patients swear they became ill after a suspicious mosquito bite: https://sponauglewellness.com/lyme-study-how-borrelia-bacteria-is-transmitted-from-mosquitoes-to-humans/  In response to the time needed to transmit, recently this came out on how ticks can spread Rickettsia immediately: https://madisonarealymesupportgroup.com/2019/11/14/study-shows-ticks-can-transmit-rickettsia-immediately/  Borrelia can also be in the salivary glands of ticks which also could make transmission happen much more quickly than the 24-48 hours we've been told it takes.
Also, the elephant in the room is that Lyme and Bartonella both can possibly be transmitted in other ways: https://madisonarealymesupportgroup.com/2019/06/20/lyme-disease-transmission-can-it-spread-from-person-to-person/  Very balanced article but make sure and read my comments after the article. I include links to a PhD who is an expert on borrelia and she's isolated it from mosquitos, fleas, mites, semen, urine, blood, spinal fluid, and tears, indicating the potential to be spread on hands person to person. 
Remember – everyone has a bias whether they admit to it or not.
All I know is thousands upon thousands are infected and I have a very hard time believing the black legged tick is the sole perp.