https://www.times-news.com/news/flying-ticks-invading-area-are-not-ticks-at-all/article_49a87016-1914-11e5-afe9-8f3c89282f7d.html
"Flying ticks" invading area are not ticks at all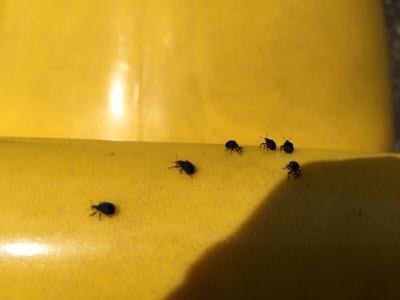 CUMBERLAND — Move over stink bugs, the poplar weevil is here. Sometimes referred to as "flying ticks," the latest insect invasion has arrived in the tri-state region. But not to worry, the insects are not ticks at all.
Residents in the area are reporting seeing the tiny black bugs everywhere including on cars, lawn furniture, window wells and playground equipment.
"I was stopped by a woman at the Glendening Park Playground and she was concerned about them. A lot of people are confusing them for ticks," said Brian Vought, Frostburg's director of parks and recreation.
Harmless to humans, the poplar weevil seems to be replacing the stink bug as the latest insect invader of the mid-Atlantic region.
Officially known as yellow poplar weevil, the insects are not yellow at all. These diminutive black/brown bugs appear during the summer months. However, every four to five years, they can be seen in large numbers.
The term yellow in the insects' name refers to the poplar weevil's attraction to the color yellow, along with bright safety green and white.
"People think they are ticks. You really have to take a close look at them," said Vought.
At first glance they may resemble ticks, however, a closer look reveals the differences. The poplar weevil, about 3/16-inch long, can fly and has six legs and an elongated snout. Ticks have eight legs and do not fly. Also, the body of the poplar weevil is "humped," with ticks being generally flat.
Dee Dee Ritchie, executive director of Canal Place, also had a run in with the poplar weevil at Glendening Park.
"I was at the yellow swings with my granddaughter. They were all over the place," said Ritchie.
Ritchie was not alarmed by the bugs because she lives in the country and knows a tick when she sees it.
"They kept flying and we were flinging them with our fingers," said Ritchie.
**Comment**
The yellow poplar weevil is a small dark snout beetle (Photo: Ric Bessin, UK)
I couldn't find this particular weevil's presence in Wisconsin, but we do have other weevils:  
https://uwm.edu/field-station/tag/weevils/
  All of them have the
elongated snout
making them look more like a tiny rhinoceros than a tick.
Also, tick larvae only have 6 legs so at least at one stage of their lives can be confused with insects who also have 6 legs:
Tick Factoids: Larvae & Nymphs
TickEncounter resource Center