https://www.lymedisease.org/hhs-price-resigns/?utm_source=Sept+30–Price&utm_campaign=NFS+grant+TS&utm_medium=email
HHS Secretary Price resigns. Effect on TBD working group is unknown.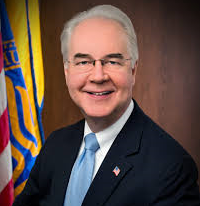 US Secretary of Health and Human Services Tom Price resigned his post today, amid questions regarding his use of private jets for government business trips.
Unknown at this point is what effect this development will have on the proposed Tick-Borne Disease (TBD) Working Group that Price was expected to name within the next few weeks.
The TBD Working Group was something that the Lyme community worked hard to have included in the 21st Century Cures Act, passed by Congress and signed into law in 2016.
This past July, Price announced that he was seeking nominations for the working group, which was intended to include representatives of diverse viewpoints regarding Lyme disease–including Lyme patients and advocates.
Many Lyme organizations, including LymeDisease.org, put forth names for the Secretary's consideration. Price had been expected to announce his choices within the next few weeks.
All that is thrown into uncertainty now.
________________________________________________________________________________________
How you can help:  https://madisonarealymesupportgroup.com/2017/09/22/calling-all-wisconsinites/
Contact your US Representative and ask them to join the Lyme Caucus.  (There are letters in this link to help you query your rep.  While this was created for WI residents, please feel free to use and adapt to your own state.)
The Lyme Caucus is a bi-partisan group working together in Congress to take action on Lyme & tick-borne diseases. In 2016, the United States House of Representatives passed, and former-President Obama signed, the 21st Century Cures Act. The Cures Act included language which created the Interagency Lyme and Tick-Borne Disease Working Group of which Price was collecting nominations for.  Specifically, Working Group comprised of federal and non-federal members tasked with reporting to Congress on scientific advances, research questions, surveillance activities and emerging strains in species of pathogenic organisms.  
It has initiated letters and actions to benefit Lyme patients, such as the inclusion of the monies for Lyme & tick-borne diseases into the Congressionally Directed Medical Research Program (CDMRP) and language and Lyme monies into Appropriations and to initiate favorable legislation. Additionally, it has queried government agencies over policies not favorable to patients. This has reminded the agencies that someone is looking over their shoulder.