**UPDATE Feb. 17, 2022**
And this telling video details how myocarditis concerns are growing. Jefferey Jaxen goes through the VAERS data as well.  Coroner states they are dealing with multiple cases.
https://healthimpactnews.com/2021/dr-linda-wastila-why-are-we-accepting-myocarditis-as-an-acceptable-side-effect-for-covid-vaccines/
Dr. Linda Wastila: Why are we Accepting Myocarditis as an Acceptable Side Effect for COVID Vaccine
Nov. 7, 2021
by Brian Shilhavy
Editor, Health Impact News
Our most-read article last week, by far, was the article on Senator Ron Johnson's Roundtable discussion held in Washington D.C. where doctors, scientists, and COVID-19 vaccine injured victims met to discuss COVID-19 "vaccine" mandates.
The entire recording of this event is over 3.5 hours long, and so I have been watching it and breaking up the speakers into individual videos to make it easier to watch this truly historical event that happened at our nation's capital last week.
10 of these powerful presentations were published with that article last week, and you can watch them here: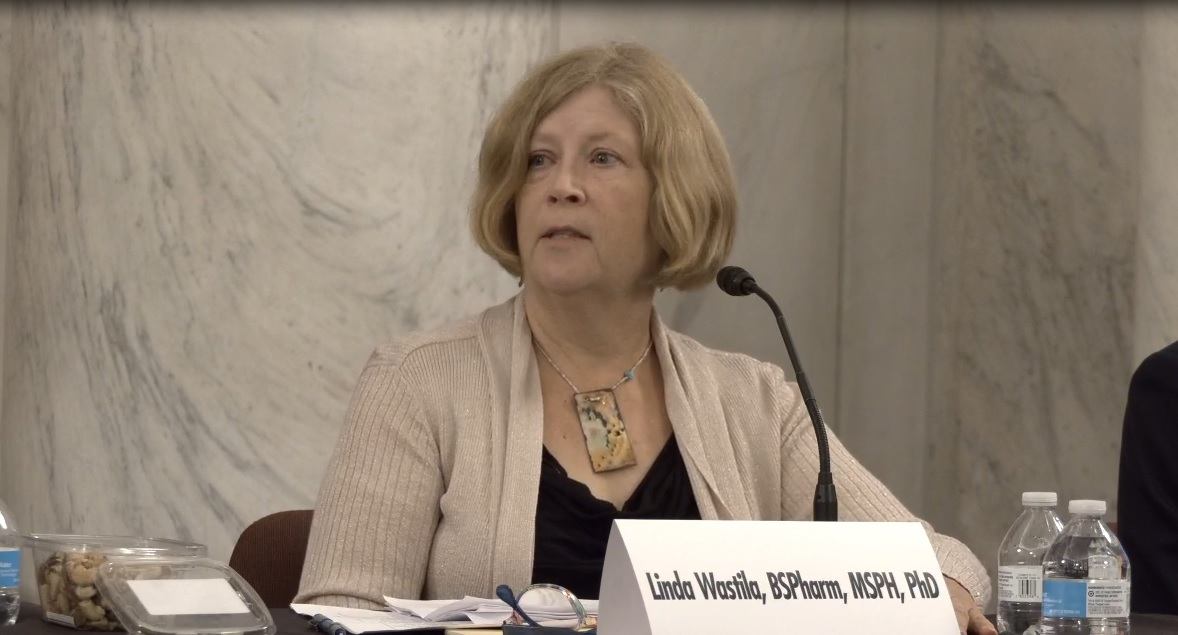 One of the most powerful presentations was given by Dr. Linda Wastila, who is a PhD professor and heads the Department of Pharmaceutical Health Services Research at the University of Maryland. (Source.)
In her initial presentation, which we published last week, Dr. Wastila stated:
We are citizens who have done our civic duty, but when we suffer serious adverse effects, we're left high and dry by the FDA, the CDC, the NIH and medical professionals.

We are scientists alarmed by the toxic environment in academia and scientific publishing.

We are military leaders concerned about vaccine safety in the armed services.

We are clinicians who want to treat patients harmed by the vaccines but whose practices are limited by our employers and professional boards.

And we are lawyers and patient advocates seeking help for our injured clients and their families.

We are the people you haven't heard from.

And we have nothing, absolutely nothing to personally gain from being here. Indeed, we have everything to lose, including our jobs, our titles, our livelihoods.

But we don't intend to go away until we see some real change.
Dr. Wastila later in the meeting gave another presentation about VAERS (Vaccine Adverse Event Reporting System) and the "science of vaccine safety."
Dr. Wastila is very critical of the CDC for using sound bytes with the public and stating that COVID-19 vaccines are "safe."
The statement that everyone by now has heard come out of the mouth of CDC Director Rochelle Walensky many times, and which is fraudulently printed on the CDC website, is:
Millions of people in the United States have received COVID-19 vaccines under the most intense safety monitoring in U.S. history.
Dr. Wastila states:
The impression is the system is so finely tuned that even the rarest needle in the haystack will be found.

I am afraid that is just not the case.
Now remember, the reason Senator Johnson invited Dr. Wastila is because drugs and drug safety is her area of expertise.
She states that the process to determine if there are problems that need to be addressed based on reported side effects in VAERS is a very slow process, and she uses myocarditis as an example.
It took four months into Israel's national vaccine campaign to recognize this side effect. That's besides the fact that myocarditis generally strikes within days of dosing, particularly the second dose.

So officials were experiencing this side effect for months before officials recognized the vaccine as the cause.

This delay in detecting, researching, and acknowledging side effects is normal.

And it is devastating.

The patients at this meeting today know that devastation first hand.

But it's also devastating because unless you first recognize harms soon after they occur, you can't use that knowledge in the next person about to get the vaccine.

I am stunned when I hear people dismiss myocarditis as an acceptable side effect, especially for young people.

Because myocarditis is life-threatening, and a life-disabling condition.
As I reported last week, the CDC admits that myocarditis is caused by COVID-19 vaccines, but they dismiss it as "rare."
This is what is currently published on the CDC website:
Myocarditis and pericarditis after COVID-19 vaccination are rare. As of October 27, 2021, VAERS has received 1,784 reports of myocarditis or pericarditis among people ages 30 and younger who received COVID-19 vaccine. Most cases have been reported after mRNA COVID-19 vaccination (Pfizer-BioNTech or Moderna), particularly in male adolescents and young adults. Through follow-up, including medical record reviews, CDC and FDA have confirmed 1,005 reports of myocarditis or pericarditis. CDC and its partners are investigating these reports to assess whether there is a relationship to COVID-19 vaccination.
Why are we continuing to inject children with these shots? Under what possible logic or ethics is 1,784 reports of myocarditis or pericarditis among people under the age of 30 acceptable?
There are far more reports of myocarditis or pericarditis following COVID-19 shots than following ALL vaccines for the past 30+ years recorded in VAERS.
And we know this is only a fraction of the actual cases because VAERS is under-reported, and many of these cases have already led to deaths.
The CDC and FDA have never conducted a study to determine what this under-reported factor is, but independent scientists have, and we have previously published the analysis conducted by Dr. Jessica Rose, who has determined that a conservative under-reported factor would be X41.
That would put the truer picture of young people suffering from myocarditis closer to 74,928 cases, and now they have just begun to inject 5 to 11 year olds.
Watch Dr. Linda Wastila's presentation. This is our Rumble and Bitchute channels.
______________
Myocarditis-induced Sudden Death after BNT162b2 mRNA COVID-19 Vaccination in Korea: Case Report Focusing on Histopathological Findings
_________________
More Hospitalizations For "Vaccinated" Kids Than From COVID
In Pfizer's FDA briefing document using unverified and misleading math, they admit there may be more hospitalizations among children for myocarditis — than from COVID.
"Under Scenario 3 (lowest incidence), the model predicts more excess hospitalizations due to vaccine-related myocarditis/pericarditis compared to prevented hospitalizations due to COVID-19 in males and in both sexes combined," states Pfizer in page 33 of the document.
A preprint from University of California Davis found that "for boys 12-15 without medical comorbidities receiving their second mRNA vaccination dose, the rate of CAE [cardiac adverse event ] is 3.7 to 6.1 times higher than their 120-day COVID-19 hospitalization risk as of August 21, 2021″
A recent study of the Danish population published in the Pediatric Infectious Disease Journal found that "the incidence of myopericarditis after COVID-19 vaccination among males appears higher than reports from the United States"
If you take the 128 reported vaccine deaths among those ages 12-24 as a baseline, and utilize Kirsch, Rose, and Crawford's estimate that VAERS undercounts fatal reactions by a factor of 41, that would amount to 5,248 deaths
There are essentially zero COVID deaths for healthy children
More than half of children likely already had COVID
There are successful treatments available  Source
______________
https://healthimpactnews.com/2021/2433-dead-babies-in-vaers-as-another-study-shows-mrna-shots-not-safe-for-pregnant-women/  Video Here
2,433 Dead Babies in VAERS as Another Study Shows mRNA Shots Not Safe for Pregnant Women
by Brian Shilhavy
Editor, Health Impact News
Excerpts:
Last month (October, 2021) the New England Journal of Medicine admitted that the original study used to justify the CDC and the FDA in recommending the shots to pregnant women was flawed. (Source.)  Since then, researchers in New Zealand have conducted a new study on the original data, and concluded:
A re-analysis of these figures indicates a cumulative incidence of spontaneous abortion ranging from 82% (104/127) to 91% (104/114), 7–8 times higher than the original authors' results. (Source.)
And yet, the CDC and FDA still continue to recommend the shots for pregnant women….
Shilhavy points out the fact that Dr. Jessica Rose has given a conservative estimate that VAERS reporting is under-reported by a factor of X41, which means…..
There have probably been at least 99,753 fetal deaths following COVID-19 injections so far.
(See link for article and video of fetal adverse reactions)
_________________
https://www.thegatewaypundit.com/2021/11/12-year-old-child-dies-two-days-taking-pfizer-vaccine-germany-officials-pull-back-mandatory-shots-children/
12-Year-Old Child Dies Two Days After Taking Pfizer Vaccine in Germany – Officials Pull Back on Mandatory Shots for Children
The district of Cuxhaven, Germany confirmed on Wednesday, November 3, 2021, that a 12-year-old child died two days after taking the Pfizer vaccine. Police are investigating and an autopsy was ordered due to the short interval between vaccination and death.  The result of the autopsy is still pending and is expected to be released this week at the earliest.
"The current status of the autopsy suggests a connection," Kirsten von der Lieth, press spokeswoman for the district said about the vaccine and the child's death.
(See link for article)
_________________
https://healthimpactnews.com/2021/athletes-around-the-world-are-dropping-like-flies-with-heart-problems/  Video Here
Athletes Around the World are Dropping Like Flies with Heart Problems
by Brian Shilhavy
Editor, Health Impact News
Someone has put together a video montage showing the sheer volume of athletes around the world dropping like flies with heart problems, and the corporate media calls this a "mystery."  How many people ever heard of the word "myocarditis" prior to the COVID shots?  But don't blame it on the "vaccines." That would be politically incorrect.
Mark Payne in the UK is keeping a fast growing list of these stories here.
This is on our Bitchute and Rumble channels.  (Go to link for video)
_________________
https://www.activistpost.com/2021/11/politics-is-a-total-sham-aaron-rodgers-destroys-both-parties-champions-bodily-autonomy-becomes-un-cancelable.  Video Here
Aaron Rodgers Champions Bodily Autonomy
Meanwhile, athletes like Green Bay Packer Aaron Rodgers are crucified for not getting jabbed. It doesn't matter to critics that he's allergic to two of the shots and the third one wasn't available due to being temporarily pulled for clotting issues at the time players were getting vaccinated.
He spoke with doctors and instead chose an immunization protocol that took multiple months to complete.
The article points out that it must have worked as Rodgers looked completely healthy despite having COVID-19.
Best parts of the interview:
"How about we teach people how to be healthy?

You have a right to make a decision about your body. That should be an unalienable right for all people to make an educated decision based on what they think is best for them."  Aaron Rodgers
Rodgers went on to call out the billions in our tax dollars that are flowing into the bank accounts of Big Pharma.
"Let's move this forward with some love and connection, that's what we need in this world. Let's communicate instead of canceling someone or silencing someone. That gets us nowhere."  Aaron Rodgers
Great points.