https://citizenfreepress.com/column-3/covid-is-surging-in-waterford-ireland-where-99-7-percent-are-double-vaccinated/
Posted by Kane on October 17, 2021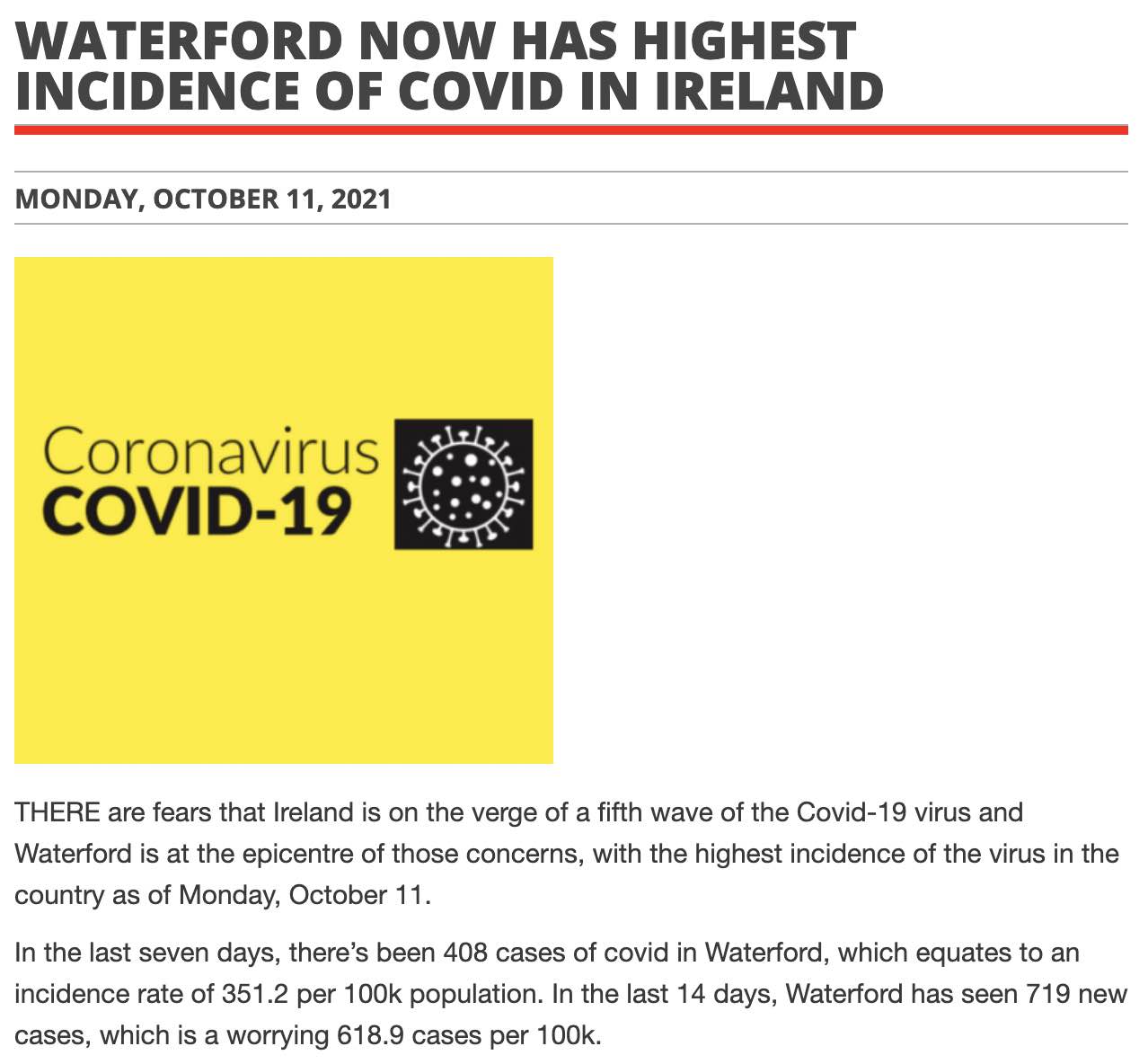 County Waterford has the highest adult vaccination rates in Ireland at 99%+. Followed by County Carlow in Second place at 98%+
County Waterford also has the highest Covid incidence rates in Ireland, followed by County Carlow in second place.
What is going on? pic.twitter.com/wuQaaOL7AS

— Con Murphy (@ConMurphyCarlow) October 13, 2021
(See link for article)
________________
**Comment**
Hopefully by now it's abundantly clear that these dangerous, experimental, fast-tracked injections do not stop transmission or infections and those exposed to the wild virus are more likely to get severe cases which can result in hospitalizations or deaths.  None of this is new and we are warned about it ages ago, but few heeded the warning.
Waterford, where almost every single adult has been double jabbed now has one of the highest infection rates in the country.  Further, the number of "vaccinated" in the ICU is almost as high as the entire number of Covid patients in ICU a year ago.
Refusing to see or admit the truth, the chief clinical officer states it would be worse if it weren't for the "vaccine."
________________
https://medicaltrend.org/2021/10/10/taiwan-death-from-covid-19-vaccination-exceeds-death-from-covid-19/
Taiwan death from COVID-19 vaccination exceeds death from COVID-19
Important excerpts:
(Observer Network News) On October 7th, the death toll after vaccination in Taiwan reached 852, while the death toll after the COVID-19 was diagnosed was 844. The number of deaths after vaccination exceeded the number of confirmed deaths for the first time.
On October 6, the Kuomintang "legislator" Yeh,Yu-Lan bluntly stated in a Facebook post that the vaccine given to save lives has also nearly doubled the number of deaths due to the COVID-19, which is indeed very ironic and confusing.  (See link for article)
________________
https://vaccinedamage.news/2021-10-05-heart-attacks-up-25percent-scotland-covid-jabs.html
Heart attacks up 25% in Scotland since covid jabs were introduced, media plays dumb as to why
The so-called "experts" claim they are baffled by a sudden spike in heart attack cases in Scotland ever since Wuhan coronavirus (Covid-19) "vaccines" were released to the general public.
During the summer, Scotland saw a 25 percent rise in the number of "fully vaccinated" people who had to be rushed to Golden Jubilee National Hospital in Clydebank with partially blocked arteries, a common occurrence among those who get injected.
"Typically the centre, which is the largest of its kind in the UK and treats people from five health board areas, receives 240 patients a month suffering with this form of heart attack, but this rose to more than 300 over May, June and July of this year," reported The Times of London.  (See link for article)
_________________
**Comment**
Scotland is seeing a surge in seriously ill patients requiring a hospital bed.  The article states most are fully "vaccinated."
Mainstream media never mentions the jabs as a possible trigger or cause of all the cardiovascular events despite the fact they are causing verifiable blood clots and imposing inflammatory conditions on the cardiovascular system. The spike protein disrupts human cardiac pericytes function and contributes to micro-vascular disease through CD147-receptor-mediated signaling. A cardiologist warns about covid "vaccine" fraud and hyper-inflammatory immune responses caused by the shots. A pathologist warns spike proteins cause damage in multiple organs, including the heart, which is what we are now seeing in those injured by the shots.
Once you have heart damage the heart does not heal itself. The heart is damaged forever.

We're ruining kids' hearts for life with these shots. Dr. Cole
The latest news about the injuries and deaths being caused by Chinese Virus injections can be found at ChemicalViolence.com.
_______________
https://childrenshealthdefense.org/defender/safety-signals-covid-vaccines-full-transparency-cdc-fda
Safety Signals for COVID Vaccines Are Loud and Clear. Why Is Nobody Listening?
The public deserves a complete and transparent accounting of the Centers for Disease Control and Prevention's safety monitoring, including the results of all interim reports and analyses, whether through a Freedom of Information Act request, Congressional order or some other means.
© [9/29/21] Children's Health Defense, Inc. This work is reproduced and distributed with the permission of Children's Health Defense, Inc. Want to learn more from Children's Health Defense? Sign up for free news and updates from Robert F. Kennedy, Jr. and the Children's Health Defense. Your donation will help to support us in our efforts.
Summary:
There is a disproportionately large number of adverse events reported to the Vaccine Adverse Event Reporting System (VAERS) from COVID-19 vaccines compared with other vaccines.
There are 91x the number of deaths and 276x the number of coagulopathy events reported after COVID-19 vaccination than after flu vaccination.
Safety signals were found for 242 adverse events using the Centers for Disease Control and Prevention's (CDC) methodology.
Full transparency of CDC and U.S. Food and Drug Administration (FDA) safety monitoring is urgently needed.
(See link for full article)
Important excerpt:
What this means in practice, however, is that if the CDC investigators do not understand how these novel vaccines — which use gene therapy technology and have had only limited use in humans — might cause a particular type of adverse event, the presumption is that there is no plausible connection.

For example, the CDC has declared after reviewing over 7,000 reports of deaths reported in the U.S. as of Sept. 7, they were not able to determine a plausible causal relationship for any of them, except for three due to thrombotic thrombocytopenic purpura (TTP) from the Janssen vaccine.

But the methods and criteria they use to make these determinations aren't published anywhere, assuming they even exist. It would be easier to take their word for it if their decision-making process wasn't hidden behind a veil of secrecy.