https://www.lymedisease.org/change-has-to-start-somewhere-lymex-kicks-off-new-efforts-to-find-solutions/
"Change has to start somewhere." LymeX kicks off new efforts to find solutions.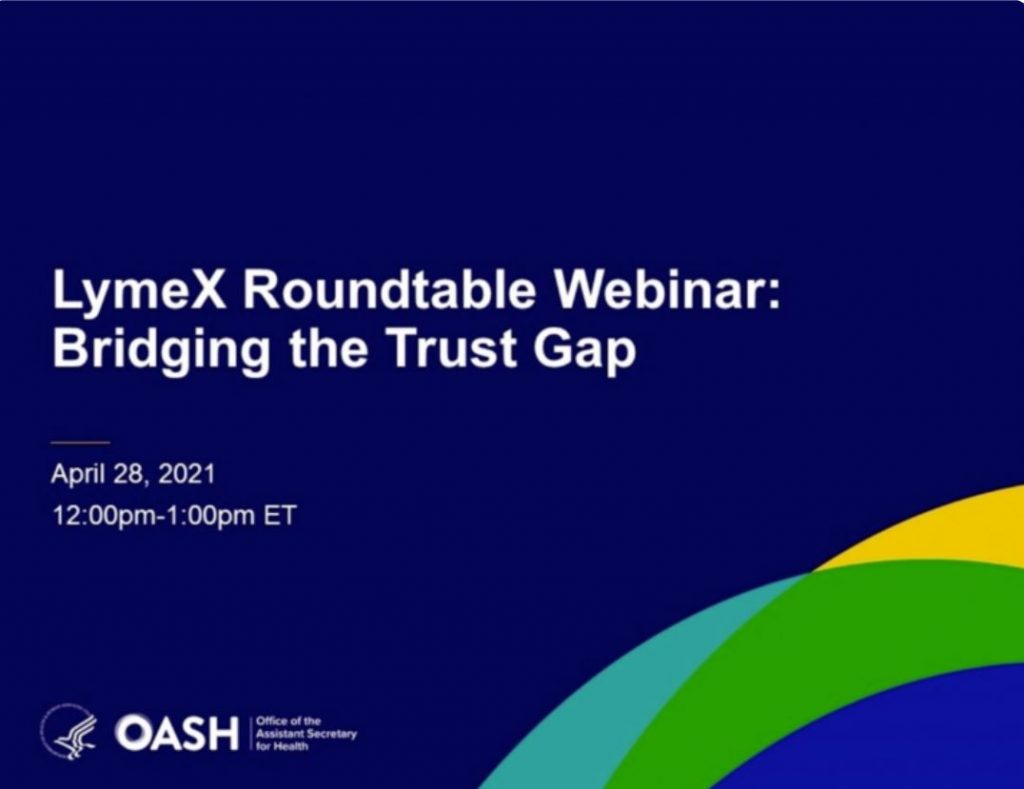 Bridging the Trust Gap, a public webinar kicking off LymeX, was held April 28.
LymeX is a $25 million-dollar, three-year public-private partnership to promote "innovation in Lyme and other tick-borne diseases to improve prevention, diagnosis, and patient outcomes."
At the LymeX Webinar, HHS Chief Data Scientist Kristen Honey provided an overview of why we need LymeX.
Additional talks featured Lorraine Johnson, principal investigator of MyLymeData; Nevena Zubcevik, DO, of Invisible International; Brian A. Fallon, MD,  director of the Cohen Center for Health and Recovery from Tick-Borne Diseases; and entrepreneur Lauren Pfeifer, who discussed new technologies to help patients.
LymeDisease.org's Lonnie Marcus live-tweeted the event. Her tweets are compiled below. At the end of her Twitter summary there is a link to a replay of the webinar on YouTube.
(See link for Tweets)
_______________________
**Comment**
IMO any research or work done with the federal government, using their funding, is a complete and utter waste of time.  They represent The Cabal whom have effectively denied, suppressed, and repeatedly done faulty research that is continually being used to deny patients diagnosis and care.
The title of the piece is "Change Has to Start Somewhere," but we've fruitlessly used this exact approach for over 40 years to no avail.  Again, the statement, "Insanity is doing the same thing over and over and expecting different results," comes to mind.
Further, I must correct Dr. Fallon's erroneous statement that ONLY 10-20% of Lyme/MSIDS patients go on to suffer chronic symptoms.  This false, low number is suppressing the real percentage of patients who suffer with sometimes life-long debilitating symptoms.  Please go here for a great read on this.  In a nutshell, a microbiologist states that the 10-20% only include those patients diagnosed and treated early and does not include those patients diagnosed and treated late.  This ignored group constitutes 30-40% of patients.
 If you add the two groups, a whopping 60% or more go on to suffering long-term debilitating symptoms.
That's a big deal that demands recognition and specifically tailored research to address this heavily suppressed issue.